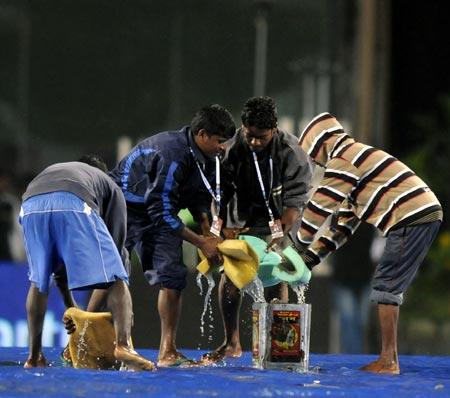 Despite heavy rain for the last few days, the Odisha Cricket Association is confident that Saturday's fifth One-Day International between India and Australia, in Cuttack, will be played as scheduled.
"Yes, it is raining heavy across the state since four days. But we hope the weather will change from tomorrow. Our pitches are intact and well-covered. OCA is planning to hire a chopper from Kendrapara MP BJ Panda to dry the outfield which has soaked in rain water," said OCA secretary Asirbad Behera, in Bhubaneshwar, on Thursday.

Behera said the OCA has already sought requisite permission from the police to use the chopper to dry the outfield at the Barabati stadium.

He is hoping there is no rain for the next two days so that the ground can be ready in time for the match.
Australia lead the seven-match series 2-1.

However, the director of local MET department, Sarat Sahu, said the forecast is not that encouraging.
"We expect that rain will continue till October 27, though it could be less rainfall from tomorrow."

Meanwhile, OCA authorities are leaving no stone unturned to keep the ground match-fit for Saturday. In an innovative way, four wells have been dug around the ground for the water to drain.
Efforts are also on to keep the pitch dry by providing a three layer cover. Though some rainwater gushed into the pitch, the ground staff soaked in some of it by using sponge.

"If the rain spares us at least for a single day on Friday, we will get the ground match fit on Saturday," said Naba Ranjan Patnaik, an OCA functionary.

The fourth ODI in Ranchi on Wednesday was washed out shortly into the second innings with India on 27 for no loss in reply to Australia's 295.

The inclement weather, however, has not deterred cricket-lovers from buying tickets for the match. The stadium has a capacity of 45,000 and already 42,000 seats are sold out, OCA officials said.