Rajasthan were treading cautiously at 102 for three before rain played spoilsport on the opening day of their Ranji Trophy Group A match against Bengal at the Eden Gardens in Kolkata on Thursday.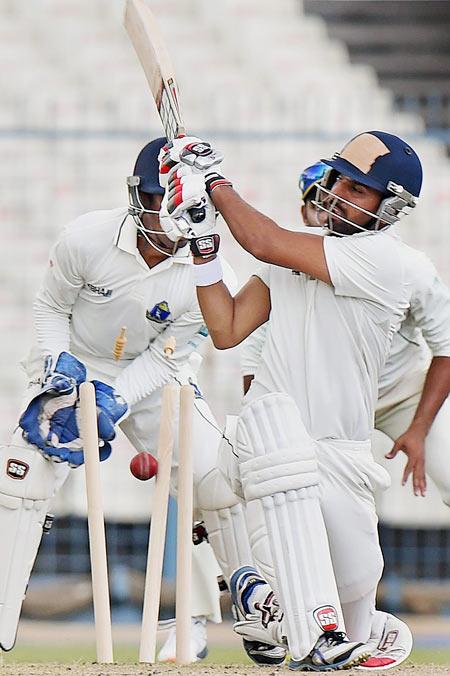 The visitors faced 43.2 overs before the heavens opened up.
Vineet Saxena was unbeaten on 31 with Puneet Yadav yet to open his account when the day's proceedings were called off.
Hosting its first Ranji match of the season exactly a week after the India-South Africa T20I was washed out without a ball being bowled because of a wet outfield, a grim and unpleasant sight was again witnessed at the venue, scheduled to host the World Twenty20 final in less than six months' time.
In the seventh over after lunch, around 12.45 pm, it started drizzling for about five minutes before it began to pour. The 30 groundsmen present, without a head curator, struggled to cover the field and water spilled on to the ground.
The areas near the sight-screen at the pavilion end had pools of water and it was a matter of time before the umpires Rajesh Despande and Navdeep Singh, and Match Referee S Sarath, called off the day's proceedings after a second inspection at 3 pm.
For Bengal, former India left-arm spinner Pragyan Ojha took two wickets for 24 from his 14 overs after Veer Pratap Singh provided the breakthrough in the sixth over after Rajasthan elected to bat.
With the Eden Gardens's chief curator, Prabir Mukherjee, adamant on not returning to the venue after the India-South Africa fiasco, there was no to lead the groundstaff.
The grounds committee chairman, Debabrata Mukherjee, and his assistant, Shankarshan Pal, were seen instructing the groundsmen, who could not handle the downpour.
Former CAB joint-secretary and curator Sujan Mukherjee, who is in-charge of the Kalyani Stadium at its academy, shrugged off the responsibility.
"I'm not looking after the ground... It's being managed by (East Zone curator) Asish Bhowmick. I cannot comment," Mukherjee said.
The day coincided with Sourav Ganguly becoming CAB president at its Special General Meeting and the former India captain, clad in a grey suit, got on the drenched field and took stock of the situation.
Brief Scores:
Rajasthan: 102-3; 43.2 overs (Ashok Maneria 40, Vineet Saxena 31 batting; Pragyan Ojha 2-24) vs Bengal.
Agarwal, Vihari his tons for Hyderabad
Dharamsala: Superb centuries by Tanmay Agarwal (104) and Hanuma Vihari (101) powered Hyderabad to 252 for three in their first innings on the opening day of a Group C Ranji Trophy match against Himachal Pradesh, at the Himachal Pradesh Cricket Association Stadium.
Agarwal blasted eight boundaries in his 270-ball unbeaten innings, while Vihari scored eight fours and a six during his 216-ball stay at the crease.
Put in to bat, Hyderabad lost two early wickets – opener Akshath Reddy (20) and Tirumalasetti Suman (9) -- with just 39 on the board in 13.5 overs.
Agarwal and Vihari then took the onus on themselves and stitched together a 205-run partnership for the third wicket to help Hyderabad end the day on a high.
Their partnership was broken by Ronit More in the 88th over when he had Vihari caught behind.
At draw of stumps, Agarwal was at the crease with Chama Milind (2).
Brief Scores:
Hyderabad: 252-3 in 90 overs (T Agarwal 104 not out, GH Vihari 101; R More 2-47) vs Himachal Pradesh.
Goa dismiss Tripura for 61
Porvorim: A brilliant bowling performance helped Goa skittle out Tripura for a paltry 61 in their first innings on the opening day of the Group C Ranji Trophy match.
R R Singh bagged three wickets, while P Parameswaran (2-27), S B Jakati (2-14) and D W Misal (2-1) took two each.
Amit Yadav acvcounted for the other wicket to fall.
In reply, Goa were tottering at 77 for three at tea as the top three batsmen – A S Desai (20), S A Asnodkar (16) and skipper D S Jadhav (16) back in Goa Cricket Association Academy ground pavilion.
However, after the break, the hosts added another 84 runs, losing two more wickets, to end the day at 161 for 5.
At draw of stumps, Darshan Misal (28) and Rahul Keni (2) were at the crease.
Sagun Kamat (45) was Goa's top scorer, while Snehal Kauthankar (30) was the next highest.
For Tripura, Rakesh Solanki (2-31) picked two wickets, while Rana Dutta (1-32), AK Sarkar (1-24) and TS Saha (1-49) one each.
Earlier, Tripura captain Abhijit Dey's decision to bat first backfired as apart from opener Subhrajit Roy (13) and K K Acharjee (20) none of the other batsmen could reach double figures.
Brief Scores:
Tripura: 61 all out in 31.5 overs (K K Acharjee 20; R R Singh 3-17)
Goa: 161-5 in 53 overs (S kamat 45; R Solanki 2-31).
Manan scalps five as Delhi pack off Haryana for 195
New Delhi: Delhi left-arm spinner Manan Sharma bagged a five-wicket haul to steal the limelight from Virender Sehwag, who failed to make a big contribution against his former team, as Haryana were bundled out for 195 on Day 1 of the Group A Ranji Trophy match.
In reply to the visitors' first innings score, Delhi ended the day on 22 for no loss, with Unmukt Chand (9) and skipper Gautam Gambhir (13) at the crease.
Put in to bat at Feroz Shah Kotla, Haryana were kept in check from the start after pace spearhead Ishant Sharma (2-29) provided early breakthroughs.
Visiting skipper Sehwag (37), though, enjoyed his outing at his once home venue. The swashbuckler taught the Delhi boys a lesson before being run-out in disappointing fashion.
Showing glimpses of his vintage self, Sehwag belted the ball all around the park, hitting five fours and a six in his 61-ball stay.
His two trademark cuts and a six off Manan were a treat for the handful of vociferous supporters who cheered their favourite player from the first-tier balcony above the sight-screen.
The entertainment, though, was short-lived as Sehwag ran himself out, unable to drag his bat at the non-striker's end and Ishant did not miss the furniture.
The 24-year-old Manan (5-57) then spun into action to help reduce the visitors to 85 for five.
The Haryana and middle-order then got together to try and bring some respectability to the score as wicketkeeper-batsman Nitin Saini and Jayant Yadav made 32 and 41 respectively.
Manan accounted for both the wickets and that of Harshal Patel (8) to bag his third fifer in first-class cricket.
"It is a wicket where you have to keep the batsman in check. The batsman will always think that he can score runs on this wicket, but it is the bowlers job to use the slowness of the track to his advantage," Manan said after the day's play.
"It was an honour to bowl to Sehwag in a match. I have bowled a lot to him in the nets. It is very difficult to contain him; he never gives the spinners a chance if he gets going. I just to tried to keep it simple against him and bowl in the corridor," he added.
Brief Scores:
Haryana: 195 all out in 78.1 overs (Virender Sehwag 37, Nitin Saini 32, Jayant Yadav 41; Manan Sharma 5-57, Ishant Sharma 2-29).
Delhi: 22-0 in 9 overs (Unmukt Chand 9 not out, Gautam Gambhir 13 not out; Harshal Patel 0-11).
Karthik leads TN fightback after Dabholkar strikes for Mumbai
Mumbai: India discard Dinesh Karthik led Tamil Nadu's fightback against 40-time champions Mumbai in their Group B Ranji Trophy match after left-arm spinner Vishal Dabholkar struck big blows to leave the visitors struggling on Day 1 at the MCA-BKC ground.
Led by Baba Inderjit, after regular captain and opener Abhinav Mukund pulled out of the game due to indisposition, Tamil Nadu lost India Test opener Murali Vijay cheaply before recovering to 104 for 1.
But Dabholkar struck thrice in quick succession to reduce Tamil Nadu, who were asked to bat first, to 107 for 4 before the visitors ended the day at 249 for six, riding on a responsible, unbeaten knock of 76 by Karthik.
Baba Aparajith, who opened the innings with Vijay in the absence of Mukund, scored 62 off 124 balls, inclusive of nine fours. After his dismissal on 107, it was left to Karthik, who struck eight fours and a six in his 141-ball essay, to pull TN out of the rut.
At stumps, Karthik and Malolan Rangarajan (12 not out) were holding fort.
For Mumbai, Dabhokar, who replaced Harmeet Singh, who was unimpressive in the innings win over Punjab in Mumbai's previous game, ended the day with impressive figures of 4 for 67.
Mumbai medium pacers Shardul Thakur, who sent back Vijay for 8, caught behind with only 20 on board, and Balwinder Singh Sandhu took the other two wickets to fall.
Brief Scores:
Tamil Nadu: 249 for 6 (B Aparajith 62, K Gandhi 31, Dinesh Karthik not out 76, J Koushik 39, M Rangarajan not out 12; V Dabholkar 4 for 67) vs Mumbai.
Pandey cracks ton, Karnataka start well against Vidarbha
Bengaluru: Manish Pandey (104) led the defending champions with a superb century as Karnataka ended the day one of their Ranji Trophy match against Vidarbha at a decent 298 for six.
Sent into bat, Karnataka batsmen held the fort for most part of the day but lost three quick wickets in the last session.
Pandey, who hit his 16th first class hundred, stitched a 148-run stand with Karun Nair (58) for the fourth wicket after the hosts were 87 for two with Robin Uthappa and Rahul back into the pavilion.
Soon after celebrating his impressive ton, Pandey fell to left-arm pacer Thakur, who disturbed Pandey's stumps.
Uthappa, who has had a lean patch so far in this season, got into the groove and was among runs by scoring 59, cracking ten boundaries in 134 balls.
However the day ended in disappointment for KL Rahul (21), who was making a comeback after an injury which he had sustained during the Sri Lanka tour. He got a start but could not convert as he was caught by Ravikumar Thakur off Faiz Fazal.
With Karnataka looking in a commanding position with the score reading 266 for three in the post-tea session, the hosts lost three quick wickets by adding a paltry 32 runs.
From 266/3, the defending champions collapsed to 298/6 with Shreyas Gopal (18) dismissed in the last ball of the day.
The late-day wrecker was Thakur who packed off Pandey and Nair off successive deliveries in different overs - 79th and 81st overs.
Ashish's century drives Railways to 316/5 on Day 1
Ghaziabad: Opener Ashish Singh hit a patient century to guide Railways to 316 for five on the opening day against Uttar Pradesh in the Group B Ranji Trophy cricket match.
Put into bat at the Jawaharlal Nehru Stadium, Railways rode on a 138-run second-wicket partnership between Ashish (101) and Faiz Ahmed (74) to score runs at a decent pace in the 83 overs bowled in the day.
Middle-order batsmen Prashant Awasthi contributed with a gutsy 42, while Arindam Ghosh (37) skipper Mahesh Rawat (2) were at the crease at stumps.
UP's china-man bowler Kuldeep Yadav bagged three wickets, while medium-pacer Ankit Rajput and leg-spinner Piyush Chawla picked up a wicket each on a hard day for the Praveen Kumar-led side.
Brief Scores:
Railways: 316/5 in 83 overs (Ashish Singh 101, Faiz Ahmed 74; Kuldeep Yadav 3-64).
Mohanty fifer helps Odisha skittle out Assam for 92
Cuttack: Odisha pace spearhead Basant Mohanty bagged a five-wicket haul to help skittle out Assam for 92, but the hosts were also in trouble after losing five wickets (52 for five at stumps) on the opening day of the Group A Ranji Trophy cricket encounter at the Barabati Stadium.
Assam medium-pacer Krishna Das also came up with a befitting reply by bagging four wickets and the hosts' top-order were left clueless.
Earlier, put into bat, the Gokul Sharma-led Assam saw two ducks in their innings as Amit Verma top-scored with 20.
Mohanty's fifer was also backed up by Suryakant Pradhan and Alok Chandra Sahoo, who bagged two wickets apiece.
Brief Scores:
Assam: 92 all out in 52.4 overs (Amit Verma 20, Tarjinder Singh 17; Basant Mohanty 5-24, Suryakant Pradhan 2-33, Alok Chandra Sahoo 2-18)
Odisha: 52/5 in 32 overs (Natraj Behera 23; Krishna Das 4-5, Arup Das 1-33).
Panchal hits ton in Gujarat's solid show on day 1
Mohali: Opener Priyank Panchal hit his fourth first class hundred to lead Gujarat to a solid 290 for three against hosts Punjab on the opening day of their Group B Ranji Trophy match.
Nothing went right for Punjab except winning the toss as their bowlers toiled hard all day without much success.
Gujarat openers Panchal (105) and Samit Gohel (54) put on 117 after being invited to bat and the following batsmen carried forward their good work.
The opening stand was broken when Gohel was run out.
Bhargav Merai (29) was dismissed by Yuvraj Singh but skipper Parthiv Patel (41 batting) and y Venugopal Rap (40 batting) ensured that Gujarat build on the good start.
By the stumps they have put on an unbeaten 69-run stand for the fourth wicket.
Panchal was dismissed by Brainder Sran but not before hitting 15 boundaries in his knock that came off 202 balls.
Brief Scores:
Gujarat 1st innings: 290 for 3 in 85 overs.(P Panchal 105, S Gohel 54; Yuvraj Singh 1/17.
Raj's 7-wicket strike helps Services skittle out J&K for 85
Jammu: Services medium-pacer Raushan Raj bagged a seven-wicket haul to help skittle out a hapless Jammu and Kashmir for 85 on Day 1 of the Group C Ranji Trophy cricket match.
In reply to J&K's first innings score, the visitors were 152 for four at stumps with Yashpal Singh (47 not out) and Sufiyan Alam (9 not out) at the crease.
Put into bat at the Gandhi Memorial Science College Ground, J&K lost their opener Adil Reshi (8) in the fifth over and soon the innings fell like a pack of cards.
Raj ably backed by pace spearhead Diwesh Pathania, who bagged three wickets.
For J&K opener Shubham Khajuria (24) and skipper Parvez Rasool (24 not out) not only remained top-scorers but the only two batsmen to get into double figures in an innings which saw two ducks.
Brief Scores:
Jammu and Kashmir: 85 all out in 43 overs (Shubham Khajuria 24, Parvez Rasool 24 not out; Diwesh Pathani 3-37, Raushan Raj 7-38)
Services: 152/4 in 39 overs (Rajat Paliwal 70, Yashpal Singh 47 not out; Umar Nazir 2-38).
Devdhar's 97 takes Baroda to 234/7 on Day 1
Vizianagaram: Baroda opener Kedar Devdhar hit a patient 97 to help the visitors post 234 for seven at stumps on Day 1 of the Group B Ranji Trophy cricket encounter against Andhra Pradesh.
Put into bat, Baroda rode on Devdhar's 12th first-class half-century to counter a disciplined Andhra attack. Devdhar near-miss ton was backed up by Ketan Panchal's 26, while Swapnil Singh (45 not out) and Pinal Shah (22 not out) still fight on.
Left-arm medium Cheepurapalli Stephen led the bowling attack with his four wicket haul as pace spearhead Paidikalva Vijaykumar and Siva Kumar picked up a wicket each.
Stephen was also involved in a crucial run out of Deepak Hooda (0) for the Mohammed Kaif-led side as they kept the opposition run-rate down to 2.75 through the day.
Brief Scores:
Baroda 234/7 in 85 overs: (Kedar Devdhar 97; Swapnil Singh 45 not out; Cheepurapalli Stephen 4-57).
Image: Rajasthan captain Ashok Menaria is bowled out during Ranji Trophy match against Bengal at Eden Garden in Kolkata on Thursday
Photograph: Ashok Bhaumik/PTI