'I hope we put up the same performance as we did in the last series against Australia'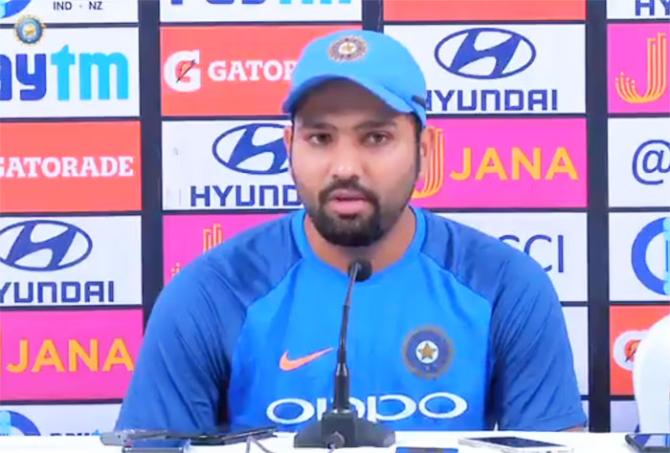 IMAGE: India ODI vice-captain Rohit Sharma addresses the media prior to the team practice session in Mumbai on Friday. Photograph: BCCI/Twitter
India is confident of replicating its recent performance against Australia in the upcoming three-match ODI series with New Zealand, beginning in Mumbai on October 22, says opening batsman Rohit Sharma.
"They had a couple of good practice games here. They got used to the conditions I'm sure about it. But yes, it will depend on how we start and what we want to do as a team. We would like to (continue) from where we left against Australia," the flamboyant opener said before the first training session at the Wankhede Stadium.
"We would like to continue to do that and the good thing is, there is hardly been any time between the Australia series and the New Zealand series, so guys are in their grooves. I hope we put up the same performance as we did in the last series against Australia," he added.
Sharma though admitted that "every new series has its own challenge".
"The greatest strength of this team is that we treat each series at it comes. Every opposition have their own strengths and weaknesses. So the challenge for us will be to adapt to that opposition quickly," Rohit said.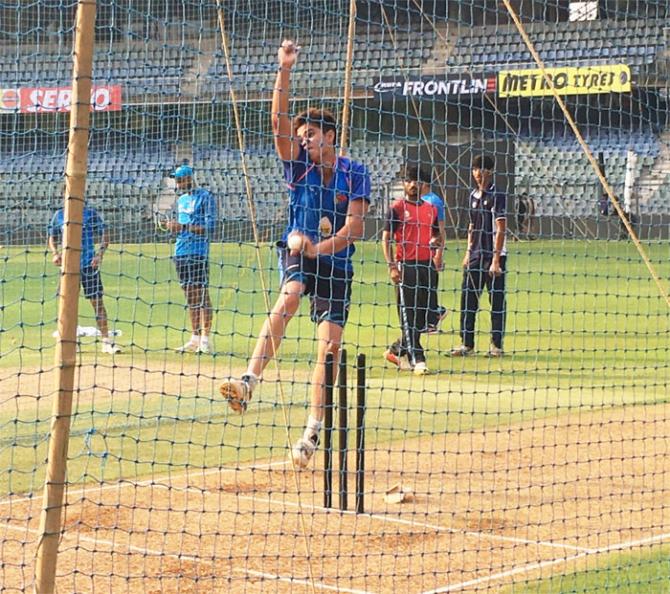 IMAGE: Sachin Tendulkar's son, Arjun bowls at the nets during India's training session in Mumbai on Friday. Photograph: BCCI/Twitter
"We played against Australia (and won 4-1) and they had different team dynamics. New Zealand has different team dynamics. So the strategies will revolve according to that," he added.
Sharma, who was the top run getter against the Australia with 296 runs at just over 59 per innings including one hundred and two fifties, said that the team's strategies won't change much from the last year, when they defeated New Zealand 3-2 in a five-match series.
"We played these guys last year in India, during similar time and their team is also more-or-less very similar to what we played. As far as the strategies and planning are concerned, it won't change much from last time around," said the 30-year-old Mumbai batsman.
Happy with his personal form, Sharma said he has now got into the train and does not want to get down.
"You feel good when you score runs, the last few years especially it's been really good. So in that space I am quite happy right now, but the hunger (for runs) will never go, you will take every series as an opportunity and go out and perform the same. For me, every series I play, I feel it is the first game of my career. I want to keep going."
The Kiwis have left-hand pacer Trent Boult in their squad and Sharma admitted that it would be challenge to face him.
"For us as batters it will be a huge challenge to face a left-arm seamer and come good. Boult, being one of their prime left arm fast bowlers, it gives us a challenge," said Sharma, who has amassed 902 runs in his last 15 ODI innings at close to 70 per knock with three hundreds and as many half tons.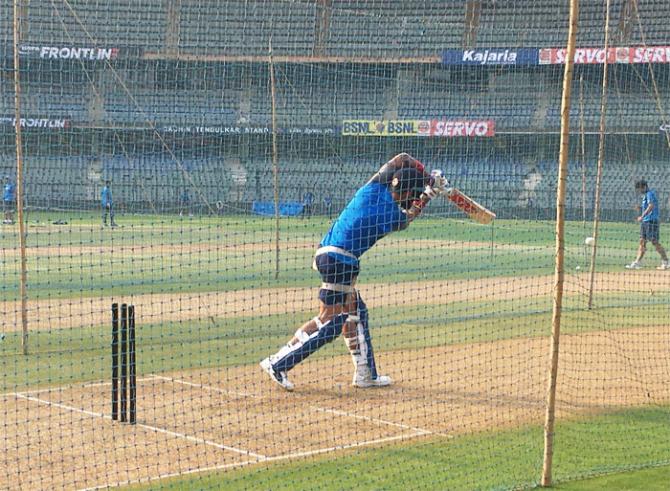 IMAGE: Virat Kohli bats in the nets during the first practice session at the Wankhede Stadium in Mumbai on Friday. Photograph: BCCI/Twitter
Sharma also said that the entire New Zealand bowling attack looked competitive.
"We played them last time, so we know what they will bring to the table and what they are capable of as a bowling unit. It's not just about one left arm seamer, I guess we have to look at their complete bowling unit. Their bowling attack is very competitive and tends to perform together as a unit.
"As I said, we played them last year and they had a very similar bowling attack. It will be the same thing going there and what we did as a team," he said.
Stating that his role in the team hasn't changed much after becoming deputy to captain Virat Kohli, Sharma said: "It has not changed much. It's very similar to what it used to be before. For me as a vice-captain there is a responsibility.
"There is something I look forward to going onto the field, contributing not with just a bat, but also with insight in important thoughts to the captain. I don't think that has changed much and I don't want it to change too much."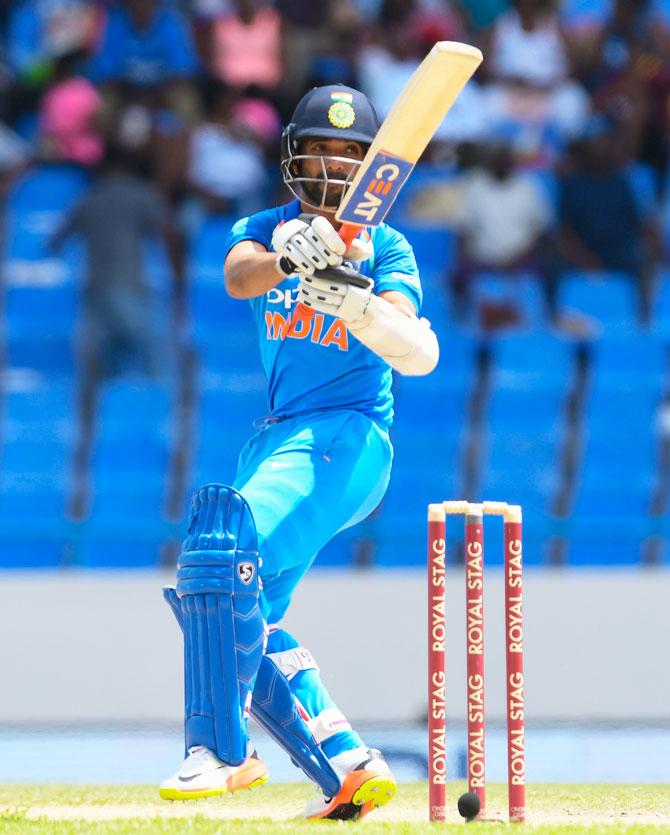 IMAGE: Ajinkya Rahane's batting position in the upcoming series will be decided by the captain and coach, says Rohit Sharma. Photograph: WICB Media.
Ajinkya Rahane had opened the batting for India and hit four half centuries on the trot in the ODI series against Australia in the absence of regular opener Shikhar Dhawan, so asked in which position Rahane will bat with the return of Dhawan, Sharma said it was up to captain and head coach Ravi Shastri to take a call.
"See, I have no idea about that where he (Rahane) will be batting. Yes, Shikhar is back, but speaking of Rahane, he's probably grabbed all his opportunities in the last few series that he has played. Now it's on the captain and the coach, what they want and where they want him to bat.
"A couple of series back the captain came and spoke that he considered him (Rahane) as an opening batsman and I don't know if Kohli wants him to bat at four again. That will be completely his call. If he feels that we need someone like Rahane batting at four in this particular team right now. I don't know if that will happen. It's very unclear. We have to wait and see."
Sharma though added that whatever limited opportunities Rahane got in the last few series, "he has performed well".
"It only shows that the strength of this team is so vast that anyone can come in at any time and take the position. So we all have to be on our toes and keep performing the way we have in the last few years."