'He has done very well and shown there is a spot in T20 for classical player.'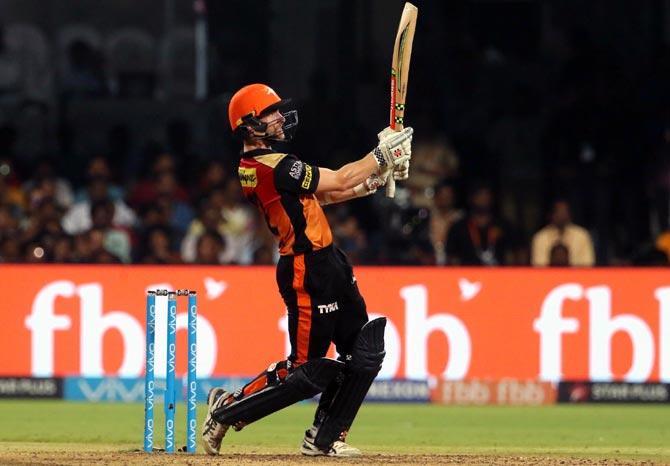 Kane Williamson has shown that classically elegant batsmen, too, could prosper big time in the slam-bang world of Indian Premier League cricket and former Australia batsman Dean Jones wants the likes of Ajinkya Rahane and Gautam Gambhir, who have struggled in this year's IPL, to take cues from the New Zealand captain.

"I did expect Williamson to do well. (David) Warner not playing here has helped him enormously," Jones said on Friday.

"Given the opportunity you take it and he has picked it with both hands and reminded everyone in the world, because it is the best T20 League in the world, how good he is," he said.
Jones, whose most famous Test innings was a double century he struck in stifling heat and humidity in the tied Test against India at Chennai in 1986, noted that Sunrisers Hyderabad captain Williamson has played with far more freedom and gets into a classical position before he hits the ball.

"Because of that he has built confidence. And now Sunrisers have put a lot of pressure on him, because if he hadn't made any runs, Sunrisers would have been in lot of trouble. But he has been the glue.

"You have other guys like Gambhir (who quit midway in IPL-11 as captain of Delhi Daredevils), Rahane, for example, also classical players who might be wise to give him a call, watch him and see how he has gone about getting his strike rates into 130s-140s.

"You tell me that Kane Williamson (who has scored 625 runs from 13 games so far) is stronger than Rahane and Gambhir, of course not, but the fact is that he has played with a bit more freedom and he gets into classic positions before he hits a ball. He has done very well and shown there is a spot in T20 for classical player," Jones explained.

The 57-year-old Jones, who played 52 Tests and 164 ODIs, hailed the display of some young Indian players in the IPL and singled out Shubman Gill of Kolkata Knight Riders for special praise.

"The one I have been impressed the most is Shubman Gill, more of a classical player. I think Prithvi (Shaw of Delhi Daredevils) has got a couple of holes in his technique here and there and will get better. He is a very good player. They are just kids, these boys are just 18 and these guys are smashing sixes and fours and winning games in T20 cricket," he stated.

Jones also spoke highly about rookie Mumbai Indians' leg-spinner Mayank Markande, who has been the find of the T20 tournament.

"Markande has been great and I have loved him. (Shivam) Mavi (of KKR), I have been impressed about how he has gone with his work. I also like Karun Nair (of Kings XI Punjab).

"He has not quite done a lot yet, but he is around for a long time and has got a triple hundred (in Tests). I always like the way he goes about his game. And K L Rahul -- an absolute superstar," the former Australia player remarked.