'They won't take a single penny from the BCCI. In fact they will pay the BCCI.'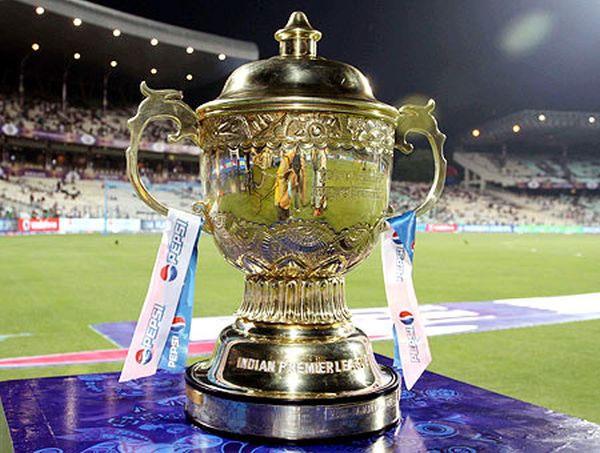 IMAGE: The coveted IPL trophy. Photograph: BCCI
Pune and Rajkot became the new franchises in the Indian Premier League on Tuesday, replacing suspended teams Chennai Super Kings and Rajasthan Royals, for two years.
The Pune franchise was bought by Kolkata-based business tycoon Sanjiv Goenka's company, New Rising, while the Rajkot bid was won by Intex Mobiles.
While Goenka will shell out Rs 10 crore per year to the Board of Control for Cricket in India, Intex Mobiles will pay Rs 16 crore for the two-year deal.
"They won't take a single penny from the BCCI. In fact they will pay the BCCI," BCCI secretary Anurag Thakur said after a meeting of the IPL Governing Council in New Delhi.
The teams were sold through the reverse bidding process for which the base price was set at Rs 40 crore and bidders had to quote an amount less than that. The lowest bidder was given the franchises.
The process was necessitated following the suspension of Chennai Super Kings and Rajasthan Royals for the involvement of some of their officials and co-owners in the IPL betting scandal in 2013, which was probed by the Supreme Court-appointed Justice Rajendra Mal Lodha committee.
Controversy surrounded the 2013 edition of the league and former India pacer Shantakumaran Sreesanth and two other Rajasthan Royals cricketers, Ajit Chandila and Ankeet Chavan, were arrested on suspicion of taking money to concede a fixed number of runs.
However, both Chennai Super Kings and Rajasthan Royals will be allowed back in the league after serving out the suspension.
The interim franchises, which were named on Tuesday, will participate in a draft to first retain their share of players.
Players from Chennai Super Kings and Rajasthan Royals will be divided into two groups of capped and uncapped, and the top names will be sold through the draft system. The two new teams will have a minimum of Rs 40 crore and a maximum of Rs 66 crore to buy their players.
The other three bidders in fray were Harsh Goenka of RPG properties, Axis Clinical and Chettinad Cement, all of whom quoted higher bids than New Rising and Intex Mobiles.