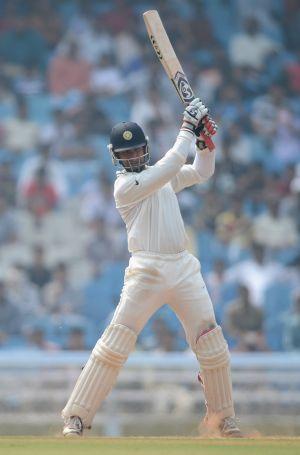 Skipper Cheteshwar Pujara scored his third triple hundred in first-class cricket as India gained a stranglehold over the West Indies 'A' in the third unofficial 'Test' in Hubli n Friday.
The Saurashtra batsman registered an unbeaten 306 as the home side declared their first innings at 564 for 9, just at the stroke of tea, in reply to the West Indies' 268, to take a 296-run lead.
At stumps on Day 3, the Indians had reduced the visitors to 116 for three in their second innings.
The West Indies' top order batsmen surrendered tamely as India discard Zaheer Khan trapped stand-in captain Kieran Powell leg before for six, and Dhawal Kulkarni clean bowled Leon Johnson for one.
Right-arm medium fast Ishwar Pandey claimed the prized wicket of Kraigg Brathwaite, leg before, for 21. The right-hand batsman had been a thorn in the flesh for the hosts with two half centuries and a century in the series.
Narsingh Deonaraine and Assad Fudadin were batting on 44 and 36, respectively, when stumps were drawn for the day. The duo had put on an unbeaten 59 runs for the fourth wicket.
With just a day left in the match, India will look to push for victory by making best use of morning conditions on Saturday, the final day.
Pujara, who became only the second Indian after Ravindra Jadeja to score three triple hundreds, will hope Zaheer, Abhishek Nayar and Kulkarni come good and help his side level the three-match series 1-1.
Friday, though, belonged to Pujara, who displayed an innings of discipline and character to tilt the match in India's way.
Having scored 302 and 352 against Orissa and Karnataka in first-class matches, he sweated it out for nearly 10 hours in the middle for his third triple hundred.
Since November 2012, Pujara has registered three double hundreds and two triple hundreds in first-class cricket. His scores read: 206 not out against England, 203 not out against Madhya Pradesh, 204 against Australia, 352 against Karnataka and 306 not out against West Indies.
Unbeaten overnight on 139, he accelerated the run-rate after
Abhishek Nayar (11) and Paras Dogra (7) were packed off by medium-pacer Assad Fudadin and left-arm orthodox spinner Nikita Miller, respectively, earlier in the day.
The skipper played some delightful shots as he smashed 33 boundaries while adding 177 runs to his overnight score. He reached his triple ton when he cover drove a boundary off left-hand medium fast Delorn Johnson for an exquisite boundary after facing 410 balls.
Pujara, who also has the distinction of scoring three triple-hundreds within a month of domestic first-class cricket, saw wickets tumbling at the other end with contributions of 26, 6 and 19 coming from the bats of Uday Kaul, Dhawal Kulkarni and Zaheer Khan.
Unlike the Indian bowlers, especially Abhishek Nayar and Dhawal Kulkarni, the West Indies bowlers failed to swing the ball.
Nevertheless, Ashley Nurse was their leading wicket-taker with figures of three for 106, while Nikita Miller and Narsingh Deonaraine took two wickets each.
Assad Fudadin and Johnson bagged wicket each.
Scorecard
West Indies 'A' (1st innings): 268
India 'A' (1st innings): (overnight 334 for three)
V A Jagadeesh b D Johnson 16
Gautam Gambhir b Deonarine 123
Cheteshwar Pujara not out 306
Virender Sehwag c Nurse b Miller 38
Abhishek Nayar c sub (CAK Walton) b Fudadin 11
Paras Dogra b Miller 7
Uday Kaul c sub (CAK Walton) b Nurse 26
Dhawal Kulkarni c Cummins b Deonarine 6
Zaheer Khan c Powell b Nurse 19
Bhargav Bhatt b Nurse 0
Ishwar Pandey not out 0
Extras: (B-1, LB-6, W-3, NB-2) 12
Total: (For 9 wkts decl; 150 overs) 564
Fall of wickets: 1-35, 2-242, 3-317, 4-340, 5-359, 6-452, 7-491, 8-531, 9-531.
Bowling: Miguel Cummins 23-4-71-0, Delorn Johnson 22-3-98-1, Jonathan Carter 6-1-22-0, Nikita Miller 40-8-112-2, Ashley Nurse 29-1-106-3, Assad Fudadin 16-3-60-1, Narsingh Deonarine 13-1-78-2, Kraigg Brathwaite 1-0-10-0.
West Indies 'A' (2nd innings):
Kraigg Brathwaite lbw b Pandey 21
Kieron Powell lbw b Khan 6
Leon Johnson b Kulkarni 1
Narsingh Deonarine not out 44
Assad Fudadin not out 36
Extras: (B-1, LB-5, NB-2) 8
Total: (For 3 wkts; 35 overs) 116
Fall of wickets: 1-17, 2-18, 3-57.
Bowling: Zaheer Khan 8-1-32-1, Dhawal Kulkarni 7-1-22-1, Abhishek Nayar 4-0-12-0, Ishwar Pandey 6-3-11-1, Virendra Sehwag 8-0-25-0, Bhargav Bhatt 2-0-8-0.
Image: Cheteshwar Pujara
Photograph: Gareth Copley/Getty Images