Brushing aside the criticism for not scoring quickly enough, Indian batsman Cheteshwar Pujara said positive intent and not strike rate is what all that matters in Test cricket.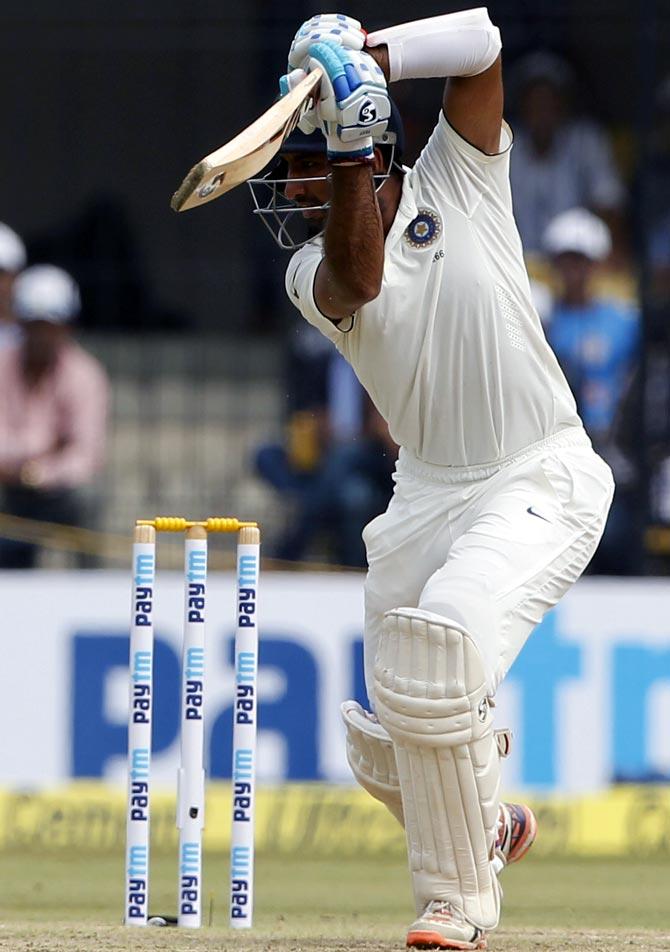 Pujara's 41-run knock in the ongoing third and final cricket Test against New Zealand has already been overshadowed by skipper Virat Kohli's unbeaten hundred and Ajinkya Rahane's 79 not out so far.
"What the message was given was to play with intent. When it comes to Test cricket we don't need to focus much on strike rate, but on positive intent. On such wickets you can't keep on scoring runs and have a strike rate of more than 70 or 80. You have to bat as per the situations. You have to know what the team requires," Pujara said at the end of opening day's play in Indore on Saturday.
Praising the batting of captain Kohli and Rahane, who remained unbeaten as India scored 267 for 3, Pujara: "Virat and Ajinkya batted really well. Virat played a very good innings and got the first century (from either side) in the series and Ajinkya too batted well. Their partnership (unconquered 167 for fourth wicket) was crucial and if the partnership carries on tomorrow it will be good for us," he said.
He was happy that the century landmark which was eluding the batsmen has been breached by Kohli.
"Century was not made, but good scores were made and the top order is getting runs. We were aware that one batsman from the top six must get 100 and we got it today. It's a landmark, but once we get 50 plus it's still a good score," he said.
Pujara, who missed scoring his fourth half century in five innings by 9 runs, said the Indians were looking at a total in excess of 400 from the position they were in.
"We will try to bat as long as possible. The kind of position we are in, we will look to get 400 and if don't lose quick wickets tomorrow and continue like we are doing, we will keep batting. We hope for a big total and when our spinners bowl we expect some more help from the wicket," said Pujara.
The one-down batsman felt India's premier spinner Ravichandran Ashwin could get a bit more help because of the roughs created by the Kiwi left-arm bowlers.
"It was the first day, but still there was some turn, not much, but as the match progresses or from third day the turn will be more. Their left armer is creating rough and there will be more help for the off spinners. One or two balls from left arm spinner (Mitchell Santner) also spun and hopefully on days 2 and 3 there will be some help," he said.
Although New Zealand were trailing 0-2 in the series, Pujara felt they had been playing well.
"They have played good cricket. They came with a plan. Their batting has disappointed and Kane Williamson could not play the second game. We have to give credit to our spinners and fast bowlers, for the way Shami and Bhuvneshwar bowled in the last game."
Image: Cheteshwar Pujara bats on Day 1
Photograph: BCCI