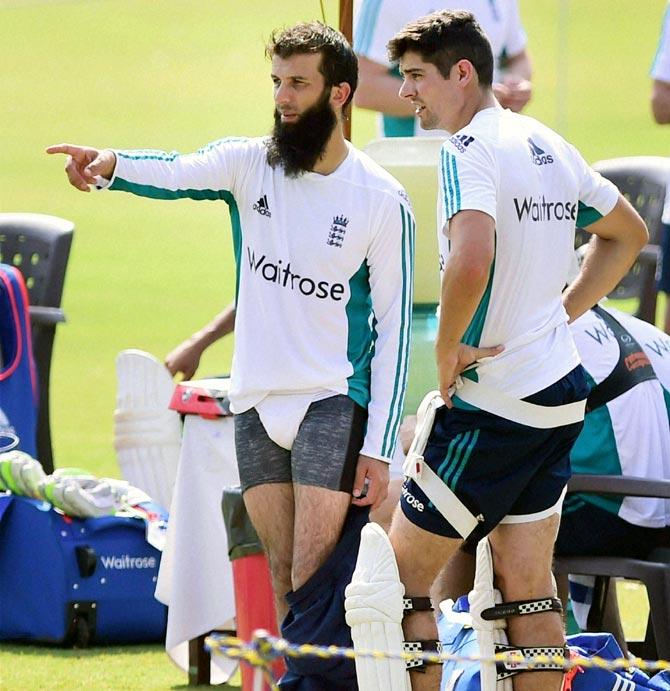 IMAGE: England captain Alastair Cook, right, with Moeen Ali during England's training session at the Cricket Club of India's Brabourne stadium in Mumbai. Photograph: PTI
Alastair Cook's England seem to have neither the form nor the resources to repeat their 2012 heroics against an Indian team determined to cement their top Test rankings in a five-match series starting at Rajkot on Wednesday.
England's two-Test series in Bangladesh was meant to be a dress rehearsal for their batsmen who are likely to be subjected to relentless spin on similarly turning tracks in India.
Instead, Cook and his men landed with bruised egos, having lost the second Test in Dhaka inside three days to settle for a 1-1 share of the series against the world's ninth ranked Test team.
They did not look very convincing in their victory in the Chittagong Test either but bigger shocks awaited them in Dhaka where they lost 10 wickets in a session, exposing their frailties against spinners on turning wickets.
The last time England toured India in 2012, Cook's side suffered a thumping loss in the opening Test at Ahmedabad but then turned the tables on the hosts to win the four-match series 2-1.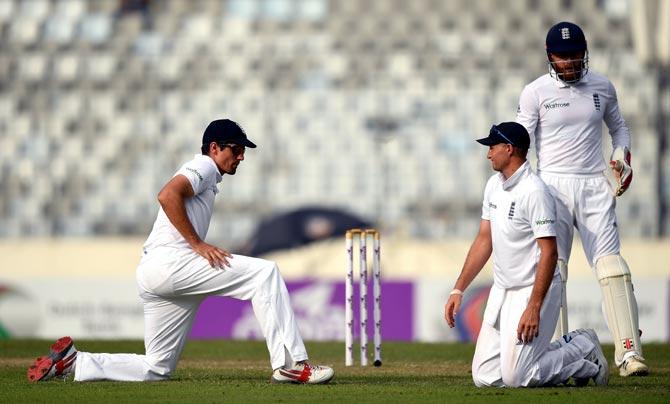 IMAGE: England captain Alastair Cook, left, with team mates Joe Root, centre and Jonny Bairstow. Photograph: Gareth Copley/Getty Images
Since then, India have not lost a Test at home, blanking Australia and West Indies, crushing South Africa and whitewashing New Zealand in September.
Cook accepted his team would go into the series as the underdogs.
"It's a big challenge," the 31-year-old told reporters in Mumbai.
"Any time you play the number one or the number two ranked team in their backyard, who are very comfortable in their conditions, it's a huge task for us.
"It's a huge challenge to these guys who have not played a huge amount of cricket in the subcontinent as a group."
That showed in Bangladesh where teenage off-spinner Mehedi Hasan claimed 19 wickets in his debut series, with 38 of the 40 English wickets claimed by the slow bowlers.
Off-spinner Ravichandran Ashwin, who took 58 wickets in India's last seven home Test against South Africa and New Zealand, will be licking his lips at the prospect of bowling against the English batsmen.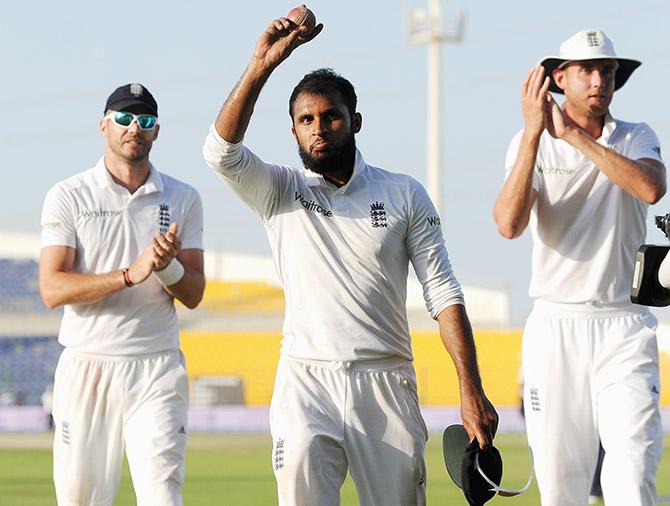 IMAGE: England Leg-spinner Adil Rashid (centre) with teammates. Photograph: Gareth Copley/Getty Images
Virat Kohli's India can also call on Ravindra Jadeja's left-arm spin to provide a foil for Ashwin, currently the top ranked Test bowler.
Batting might not prove to be the touring side's only challenge in the series.
England's 2012 success was built on the heroics of off-spinner Graeme Swann and left-armer Monty Panesar but their slow bowling resources have thinned.
The likes of Moeen Ali, Gareth Batty, Zafar Ansari or Adil Rashid will have to conjure up something special to succeed against Indian's wristy and nimble-footed batsmen.
The tourists received a timely boost with James Anderson cleared to join the Test squad in India even though England's leading Test wicket-taker, recovering from a shoulder injury, will miss the opener in Rajkot.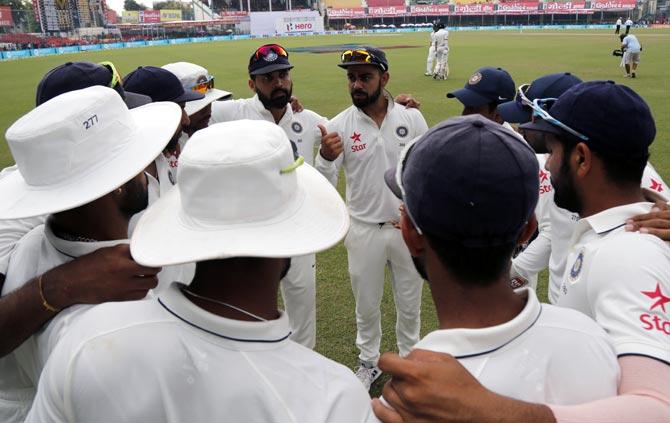 IMAGE: Captain Virat Kohli with his team. Photograph: BCCI
India's only worry seems to be at the top of the batting order with openers Lokesh Rahul and Shikhar Dhawan missing the first two Test while a third injured batsman Rohit Sharma has been ruled out of the entire series with a thigh injury.
Batsman Karun Nair and all-rounder Hardik Pandya are vying to make a Test debut in Rajkot, which will be hosting its first Test at the Saurashtra Cricket Association Stadium.
If England can boast one edge, it might be in its experience using the Decision Review System.
The DRS, with all its component, will be employed for the first time in a bilateral series in India after years of resistance from the local cricket board which has agreed to accept it on a trial basis.