10-4-29-5 – that was Merv Dillon versus Bangladesh on Wednesday.
6-1-11-5 – that was Shahid Afridi versus Kenya.
If Aussie skipper Ricky Ponting needed ammunition to hammer home his argument of the other day, that the smaller nations should not be pitch-forked into this level of competition, Dillon and Afridi provided it in spades.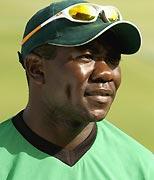 But more than the voice of Ponting, it is that of Kenyan veteran Steve Tikolo that provides pause. This is what Tikolo said at a press conference, just prior to Kenya's first outing of the tournament, against India: "Most of us are really disappointed. After our World Cup performance we have hardly played any games. Going 18 months without a single one-dayer makes us feel disappointed. We are not getting any respect."
"Obviously the ICC," Tikolo reportedly said when asked who was to blame for this state of affairs, "because they are the custodians of the game all over the world. All we had was a series against Pakistan A and India A.
"If you have one-day status and don't play any ODIs, then the status is as good as useless. We need to play more games. We would like to see more teams coming to Kenya. Triangulars are going on, but Kenya aren't being invited."
It is, Tikolo pointed out, vital for nations that have been given one-day status to be in a position to play frequent fixtures. "Without games you only go backwards. You need to play against the best to keep pace. Kenya's future doesn't look good."
Lovers of irony will see this for what it is – a supreme example of a game's governing body 'spreading' cricket around the world like some sort of virus, which kills what it touches.
For the record, since the last World Cup, Kenya have played all of four ODIs – one each against India, Pakistan, Sri Lanka and Zimbabwe. The USA – also elevated for the purpose of this tournament – has played two: versus Australia and New Zealand. That is six ODIs for these two 'minnow' nations in a span of a tick over 18 months.
A halfway decent devil's advocate would point out here that in the same span of time, Bangladesh has played 27 ODIs – a more than healthy rate. And it has done the team no good. A record of 25 losses out of 27, with the sole wins coming against Hong Kong, which is not an ODI-recognised side, and a Zimbabwe that at the time was struggling to put a team together, does not advertise the merit of Tikolo's argument in favour of more games.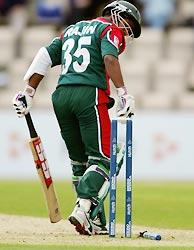 That argument, however, misses one point – Kenya has, by any yardstick, deserved its promotion to the higher ranks more than Bangladesh; it does not follow, therefore, that allowing Kenya to play more games would produce the kind of one-sided results Bangladesh has recorded.
Head to head, the two nations have played seven matches, and Kenya has won six. Kenya, further, has two wins against India in 11 tries; in February of 1996 it even famously defeated the West Indies in a World Cup fixture.
Kenya has, thus, looked ripe for promotion for close to a decade; it was, however, given the promotion only after Bangladesh and since then has received short shrift from those who administer the game.
When Tikolo said that a lack of competitive play was hurting the nation, he spoke a self-evident truth. Check out the team that debuted for Kenya in the 1996 World Cup, and compare it with the current edition – Kennedy Otieno, Steve Tikolo, Martin Suji, Hitesh Modi, Thomas Odoyo figured then, they figure now. And those familiar with Kenyan cricket point out that not enough young talent is emerging to replace, or even challenge, the veterans.
Makes sense. Why would youngsters take to a game that presents few prospects? Why would a young lad aspire to represent Kenya, knowing that he will probably get to play a game a year, if that?
This is the single biggest problem with elevating a lesser team into the top rank and then letting it fend for itself; this is what Tikolo meant when he said "status alone is not enough". You have to respect – another word wrung from the depths of the veteran player's disappointed heart – the country you have elevated, respect its aspirations, and provide it the means to move towards its goals.
The solutions are simple, self-evident. The ICC needs to schedule more tours of Kenya by the top nations – and before it trots out the excuse that the top teams have crowded calendars, it needs to answer the question, why then do so many teams find time to play Bangladesh?
The ICC also needs to work with the leading nations, get them to provide opportunities for Kenya to play – play more – against their respective A sides, and also as a guest team in their domestic competitions.
With exposure comes domestic interest; that in turn spurs young players to take to the game, and that fuels growth.
What part of that is rocket science?
Or is the real reason the fact that organising matches in Bangladesh nets more money, both in terms of sponsorship and ticketing? If that is the case, if financial prospects are the real driver behind all the hi-falutin' talk of 'globalization', then let's at the very least not give the grading to those nations where the ICC believes the game cannot be financially successful.
This way – giving ODI ratings, throwing them head first into World Cups and ICC Championship tournaments, and ignoring them in between – is counter-productive.
Or, as Tikolo put it in terse fashion, "Without games, you only go backwards."
Postscript: Noticed some interesting responses to my earlier piece, about ambush marketing and related concerns. Here's a sampling – and my own responses to those:
1. What Prem doesn't seem to realize is that a cricket match is an event organized by a private club (in this instance, ICC) and as such it is up to the private club to enforce any kind of restriction it wants on those who want to go in and watch this event. It is no one's fundamental right to go in and watch a cricket match. Just as you need to pay ICC to enter, you also
need to comply with their restrictions.
Posted by Mohan on 14-SEP-04
Mohan, the question then becomes, by what right does a private club assume all rights to a game played and watched by millions the world over?
Take one simple example: The BCCI, which runs cricket in India, calls itself a non-profit organisation (never mind that it annually posts profits in the billions). It says in its charter that its purpose is to provide entertainment for the people – and it is on this basis that it gets its tax-exempt status.
How fair is it, then, for it to create a virtual monopoly out of the game? And at a larger level, how fair is it for the ICC to do that?
2. Subject: over-wrought and persecuted, are we?
Aren't we over-reacting a little here and totally working yourself into a fine lather over something that hasn't happened... not unless you want to wave a banner in the stands in shocking pink colours professing your undying love for coterie of "chosen" brands!
Posted by zubin on 15-SEP-04
Oh no, Zubin, no persecution complex whatsoever. Nor do I want to wave any such banner. Oh, by the way, that fan who was ejected from the World Cup venue last year for carrying an 'unacceptable' bottle of soft drink? He wasn't intending to wave it around either; he only meant to use it to slake his thirst. And yet, despite holding a valid ticket, despite having no intention whatsoever of making advertising points, he was denied entry.
Surely there is a difference between 'feeling persecuted' and questioning injustice when you see it?
3. Subject: Poor state of affairs
As one person rightly pointed out that the ICC is a private organization with its own rules and we have no right to question it. It is more like going into a night club. I am sure all you moaners out there will keep your trap shut when it comes to adhering to the dress codes in most of these places. It is the same when it comes to ICC. Although if a lot of fans are against this ICC code, I wonder what kind of marketing startegy it is... but nevertheless, it is their policy and we have to go by their rules. If you have a problem, go start your own cricket council.
Posted by vivek on 14-SEP-04
Is it that simple? Really? For instance, recently in the US, some entrepreneurs started an initiative called ProCricket. Best of intentions – to try and make a compressed version of the sport acceptable to the mainstream audience in this part of the world. To that purpose, they even roped in a few out-of-work stars. And guess what? Permission revoked, for those players to play. For instance, the BCCI told Nikhil Chopra and Ajay Jadeja they could not participate. Tell me why. I mean, is it the board's contention that Chopra is urgently needed for national duties?
Exercise of power, when it is not balanced by exercise of common sense, is unjust, unfair, and – at least to my way of thinking – needs to be questioned.
4. Subject: a little different perspective
The reason for this "protection" law is the result of very visible banners like 'Jeetna hai Today' which I believe is a banner from the pen manufacturer 'Today'. And is designed in such a way that 'Today' is emphasized by making the statement a mix of Hinglish. This definitely is not fair to the corporates who spend millions of $$ to sponsor the sport we love (in exchange for the irritating ads, of course).
Secondly, they are never going to check the brand of the garment or food/drinks you are having. That's practically impossible and stupid. There is no obvious intention of exposure in the brand of jeans you are wearing, unless you hold a LARGE banner reading "LEVI'S 4" in a tournament sponsored by XXX.
They had to make a general rule which would stop such 'free marketing' from happening, or else on what count would they stop banners like 'Jeetna hai Today'?
Please note the meaning of "guarding against products being taken into the ground with the intention of creating exposure" and concentrate on the phrase, 'intention of creating exposure'. If I walk around on a street with a Coke in hand, I don't have an intention of exposure. But If I have their banner in hand, "I SURE HAVE"!
Posted by scarab on 14-SEP-04
Scarab, hi. I have nothing against the ICC keeping out banners that are unacceptable. My point relates only to it trying to keep ordinary spectators from following their preferences in the matter of food and drink. Again, remember the guy who got tossed out of a World Cup game for carrying the wrong form of soda? How did that infringe on any advertising contracts the ICC had? Where was the "intention of creating exposure" in that instance?
5. Subject: Hi Prem! There is an official list of what you can take into the ground!!!
Hi Prem, I bought tickets for the Ind-Pak game at Edgbaston. My tickets came with a covering letter from the organisers, which says I can bring in only the following products: Abbey Well drinking water, Tropicana, Pepsi (and associated products), Gatorade, Walkers Crisps, Britvic range, and Lipton Iced Tea.
Now, come to think of it!!! What if, what if one country decided to be the sponsor of an event, say, Pakistan? Are we then not allowed to wear India T-Shirts inside?????????????
This is crazy... I have never known a marketing clause like this. What if I am allergic to one of these products???? This is force feeding, dictatorship on a different plane...
So Ladies and Gentlemen, welcome to the times of Corporate Dictatorship!!!
With worries, Feroze.
Feroze, hi, thanks for the note – it is this, and not banner-waving attempts to subvert existing marketing contracts – that my article was aimed at.