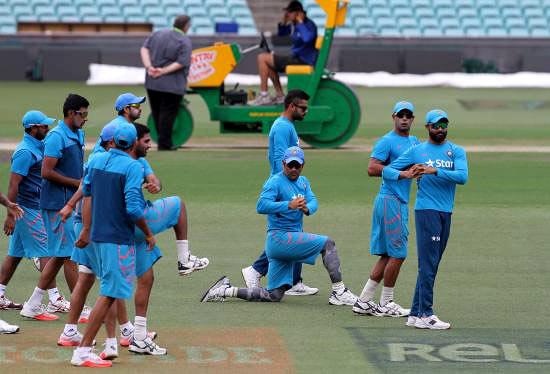 India's players warm up during a practice session in Sydney. Photograph: Solaris Images
The best four teams in World Cup 2015 are ready to face-off for the cricketing world's top honours. Which of them will meet in the final on March 29 at the MCG?
Will it be defending champions India, who steamrolled every team on the way to a well-deserved shot at the trophy?
Or will the all-weather favourites Australia, who blew away a resurgent Pakistan in the quarter-finals, stop India in its tracks on March 26?
- Don't miss our 2015 World Cup coverage
Will New Zealand, whose quarter-final performance should strike terror in opponents' heart, carry forward their incredible form?
Or can South Africa, who finally shed the chokers' tag in the one-sided quarter-final match against Sri Lanka, be more than a match for them?
Prem Panicker, a keen follower of the game and one of cricket's finest writers, analysed, debated and dissected the four semi-finalists on the Rediff World Cup Chat on Monday.
Here's a transcript of it.
HOUSEKEEPING: I'll try and answer in as much detail as possible, but remember there is a character limit here – so some answers might take two posts; if there is a continuation, I'll signal it with a '++' sign
Good afternoon, all. Nice to be back here (Thank you, Rediff) – and nice to see this many people already logged in (Do your bosses know you are goofing off?)
Okay, fingers crossed for connections, here goes: I will take as many questions as I can, starting in three… two… (I have no idea why they have that silly countdown, btw).
The biggest fear is the 'Law of Averages' catching up with the Indian taem in the s/f
That law of averages thing is just something for experts to gas on about. How do you know at what point it catches up? After 5 games? 6? 7? These things, over which you have no control, merely cause needless fear/panic. I doubt the Indians -- or any team -- factor those things into their planning.
I think bowlers should not allow Aussies batsman to stay for long and our batsman should bat sensibly.
*grin* In other words, when our team bats we should score runs and when the other team bats we should keep taking their wickets? Sadly cricket -- even book cricket -- doesn't work that way; the other guy knows how to play, too.
Why is Jadeja in the team till now...surprised ? Axar Patel bowls well, bats better than Jadeja. Jadeja is really a big burden in Indian team. what you say ?
No I am not surprised. He won us the game last time with his fielding alone; he played a very good cameo at the end; he held his end up with the ball. Besides, you don't pitchfork a kid (Akshar, in this case) into such a crunch game -- that is unfair pressure to put on him.
Can India India finally break Austalia'a jinx this summer and come out victorious. Please also suggest if India win toss and score 320, will India able to defend that score.
Prem Panicker
I hope India, if it bats first, doesn't go out there thinking 320 or some such. Too many teams in too many world cups have made that mistake -- of trying to bat too big, and ending up losing too many wickets through impetuosity or misplaced aggression.
3rd consecutive semis for the Kiwis. Will they go all the way through this time at least?
Frankly, from the first round of games on, I have liked the Kiwis for this Cup. Their only real issues were Guptill and Taylor, and those two are hitting form at just the right time. All their other elements work just fine.
How India will chase if Australia bat first and score 320-360? as they did in 2003?
Boss, these are all hypotheticals for which there is no good answer, no? I mean, what if Australia don't score 320? By the same token, Aus once made 434 in an ODI batting first -- and lost. What if?
do u think, dhoni & co., will defeat Aus n take revenge by throwing them out of WC-15 ?
Well if this was the script for a Salman Khan film maybe it would be that simple. It isn't, so it isn't -- not a case of one person deciding I am going to take revenge, no?
Sir, I know we can answer by knowing the pitch condition, weather on that day,etc only. But still like to know from you that what is the maxmium score we can chase AUS in SF and what is the minimum score we can defend. Mine is 290/270.
In a knockout, at a pitch like SCG, I'd imagine anything above 260 will create a heck of a lot of pressure. Teams usually think that way -- aim for what they think they can defend, rather than aim for HUGE scores and end up losing too many wickets. Think of Pak the other day, for example.
knock-out games barely depends on batting or bowling ?
Ask yourself this -- if you bat well and bowl rubbish, can't the other guy overhaul your total? These are not binaries. As Azhar famously said when asked how to win, "You have to bat well, bowl well and field well". Miss a catch for instance and see what happens. Answer: Guptill happens.
As per me both home teams will out from semis.extactly i hope the final between South Africa Vs India..And last step south Africa stay Chokers........It;'s Awsome...
Very nice scenario there, mate. Yeah, I'd imagine that is every Indian fan's hope. Inshallah. That said.... remember that cliche about "glorious uncertainties"? Not to mention glorious certainties...
Comparing parameters of success:1. Opening batsmen2. Opening bowlers3. Xfactor (ABD, Maxwell, McCullum)4. All roundersIndia is weaker than all three semi finalists. Only parameters where India is equal or perhaps better are1. Middle order batting2. Spinners.Do you agree??
I agree basically that our strengths lie in those areas. But I recall John Wright once discussing this, and saying the key really is to up the level of your worst areas. Notice in this tournament? Our seam bowling, usually our worst element, upped itself. Less pressure on the spinners. Same with openers, easing load on middle order.
Hi PremWho will you assign the favourites tag for 2 semis.
If we are just "tagging", Naresh, NZ in the first semi. The second semi is really too close to call, but if you HAD to tag a "favorite", Australia. By a couple of percentage points, at best.
what has been the main reason for the team's success? Hard work and training or pure tactical approach?
I'd imagine success is doing everything well, no? Not just any one thing? They have clearly prepped well for each game -- different tactics versus different players. They've thought out bowling lines for all bowlers. Their batsmen seem to know their roles. I think cohesion is the single element I like about this team. Oh and? FIELDING!! Oof!
NZ seem to dominate in all department batting, bowling & fielding, Is this the best Kiwi team ever?
I recall very good Kiwi teams from before, such as the one Fleming led, but I think this is the best-performing team from NZ I have ever seen -- by a very big margin.
If India Wins the toss Batting first? if so what would be a good score
I think I mentioned this in an earlier response -- it's the SCG, chasing is under lights. Anything above 260 can bring pressure, particularly in knockouts. Obviously the more you get above that the harder it will become to chase -- but 260, I'd think, is absolute par.
Australia is as vulerable to good fast bouncers as anybody else. so emphatically demonstrated by Riaz, but for butter fingers match would have been much closer, even a win for Pak,Indian pacers can cause as much damage as Aussies. donot forget India has better spin attack which is likely to make a difference at Sydney.would fancy India!!
I agree tthat our seam bowlers can make an impact. The thing to be wary about with the Aussies is not their two openers quite as much as the combination of Smith and Clarke at 3 and 4. Those guys don't just hit -- they build innings beautifully. I think that is pretty much the key for India -- taking those guys out.
I think it will be Ind vs NZ for final.....and as final is in Australia, NZ will get dificult to adjust to conditions, as they played all their matches in NZ. Ind on other hand playes maximum matches in Australia.
Hmmmm. Well -- what you articulated is what every Indian fan is hoping for. Fair enough. I wish we could just write the script ourselves, and make things happen that way.
Looking at the history of SCG wicket dont you think we should gamble with Akshar Patel for Jadeja as we have seen he is the most potent spinner of our lot.
If you were a young player without too much time in the middle, would you want to be given your first game of the tournament in the semi-final, with everyone expecting you to work miracles? If you want to play him, you should have let him have a game or two earlier to get used to things.
do u think batting /bowling of all teams has declined look at WI ,ENG , SL , PAK seems only IND , AUS , SA , NZ have proper batting /bowling as compared to 1990s
Oh why 1990s? Compare it to the 1980s then. And I believe that several decades ago there were folks like Trumper and Bradman and all that playing?
i do not know why indians are mad of cricket when only 4-5 countries play this game. cricket is played only by those countries who were under the rule of england. yet this game is popular in india. may be indians have much time to waste whole day. game should be like hockey and football where actually real strength is tested.
Actually, 106 countries officially play this game. BTW, I think we just showed that we are mad about kabbadi, too. As far as I can remember, two or maybe three countries play it. What's that got to do with anything? It's a game, we like it, good for us, no?
what about the chances for Africa in final
Let's wait till they get there first?
I read somewhere that the SCG pitch is more of a spinning track than any other venues in Australia. Do you think this will favor India?
It's not a spinning track per se -- drop in pitches with grass rolled in rarely are. But yeah, it doesn't bounce as much as the WACA and the MCG, the ball tends to keep a bit lower, so it does aid the slower bowlers more than other Australian venues. You are thinking of the SCG Test wickets.
Hi Prem. I feel India should bat Australia out. opt batting on winning the toss and score >300 runs and Ashwin and co can put presuure
Like the recipe for rabbit stew, Ramesh, which begins with "First catch your rabbit", we have to win the toss first, yeah? Teams try not to be that rigid, because if the toss goes against them, they go uh oh there goes our plan.
What is your opinion on Mohamad Shami opening the Indian bowling along with Mohit against Australia?
Umesh Yadav has been bowling superbly at the top, why on earth would anyone want to change that? Besides, Mohit at first change knows exactly what is expected of him, why mess with his mind? Isn't "don't fix what ain't broke" a good thought to hold?
Do you think Indian batting is strong enough to take on quality bowling by Australians?
*shrug* By the same token, invert it -- do you think the Oz batting is strong enough to take on a bowling unit that has bowled the opposition out seven times out of seven? It's a knockout game, boss -- it's nerve, it's sticking to what you know best, it's handling pressure.
sir dont you think, Australian pace attack would be a great challenge for Indian Batsmen?
Well, it is the semifinal of the World Cup -- surely we don't expect schoolboys to come bowl to us? It would have been equally challenging if we were facing NZ. Or SA.
Sine New Zealand miss a quality fifth bowler and will also miss Mile,do you think the match is heavily tilted towards SA?
Milne is the issue, really -- who comes in and how smoothly and quickly can he fit in.
How should Indian deal with Smith and Maxwell. One has score heavily against india whereas other is hitting everything to stands nowadays.
You can only do one thing -- bowl the right lines, in the right areas. It's not as if there is a hitherto unexplored trick in bowling that we can suddenly spring on Smith or Maxwell. And it's pressure. Notice how, even chasing a low score, pressure got to Maxwell vs Pak? He should have been out in single digits.
NZ had a dream run in this WC, playing in NZ. Now you play in large Aus ground. How is it going 2 affect NZ chances
Why should it? If your team is good enough, you play where you have to. India played on Oz grounds and then had to go to NZ, for instance -- didn't mean because we were "used to" Oz, we couldn't play in NZ, no?
do you think we are a batsman short in the middle order. Just image us loosing a couple or 3 wickets too early. Ajinkye, Raine and then Dhoni who will only bring some respectability to scoreline. Can we add perhaps Ambati/ Binny in plave of Rajeda or not at this stage of WC with no practice of other guys.
Said this before in other contexts -- if your team is jelling it is because everyone has settled into assigned roles and responsibilities. It's only if someone is injured -- or you are in a blue funk -- that you will try and fiddle with things in a crunch game at this level. Whoever comes in, the pressure will be crippling.
Your writing is pompous and pretentious. You have this Rediff platform why not try to improving them?
Unfortunately, I was born pompous and pretentious and it is a bit too late to learn something different. I appreciate your feedback though.
I think Ashwin is good middle order batsman, I think he will be wasted, if he comes at No.8
Actually, unless it is the very end, say 45-50 over period I'd really like to see Ashwin come in ahead of Jadeja, saving RJ for a bash at the end. Yeah, Ravi Ashwin is a batsman, really, not a hitter, and a one step promotion might be a good idea
Our Team looks to be confident as our World Cup Team 1983 under Kapil and later had confidently won the Benson & Hedges Cup in the same season which was lead by Sunny Gavaskar, Can we assess the present team similar to the team of 1984, where the strength was all rounders like Kapil, Madanlal, Binny, Mohinder Amarnath.
Oh, almost every time, that is the kind of line up we try for. I don't much like to "assess" across eras -- that team played in England, where the ball swings. The same Jimmy and Roger Binny had bowled say at the MCG, the ball would sit up begging to be bashed. I agree, though, team balance is important.
Wrong decisons happen many times and I agree it was the umpires fault. But it doesn't mean that B'desh can use that as an excuse
Are we STILL talking about that, now?
When is the Pitch actually decided on the match day?
It is already decided. Drop in pitches are picked, put in place well before the match day. You can't move something weighing 100s of tons around just like that.
How can we have a photo with the World Cup Trophy if India Wins ?
You could ask the BCCI, maybe?
who will be man of the series ? batsman or allrounder or bowler? I think this world cup man of the series only pure batsman instead of allrounders like gluesner , yuvi
Well, I can certainly tell you that Yuvraj will most certainly not be the man of the tournament. Unfortunately. Ummmm...
Johnoson's lack of proper form is an aberration. We saw that in the test series!
Precisely my point: He was in form, then he went out of form, for no conceivable reason, and for all you know, with him, he might wake up on Thursday feeling in the form of his life. That guy is a mystery.
Ausies top order not in form and 5'th bowler and 4;th bowler watson also not in form so how much chance for indian victory - AJAY NEMA ( JABALPUR M.P. )
I said this earlier in some other context: I think the India Australia game is way too close to predict. It will turn on little things: luck with the toss, one moment of nerves, one blinder taken or one catch going done, one bad over, stuff like that.
Okay, folks, we have over-run the time -- by 10 minutes I think; sorry, Rediff. See you back here on Wednesday. Thank you for the company -- and enjoy tomorrow. It could be a game for the gods.
- Don't Miss! The Rediff Cricket Show