I have not yet thought about it: Rahul Dravid on future as India coach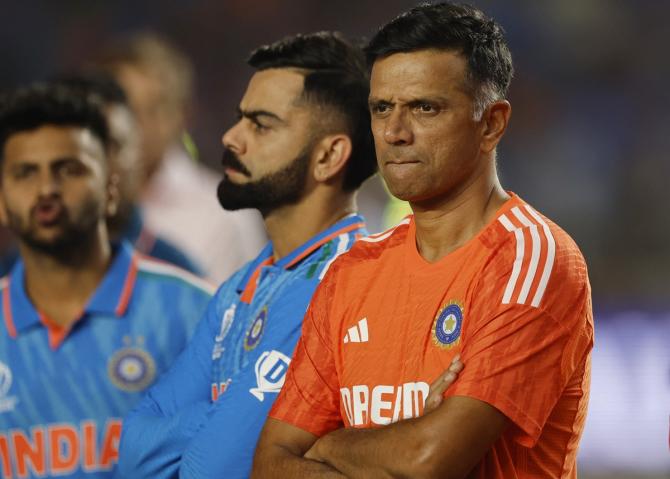 Spent emotionally after enduring a heartbreaking World Cup final defeat, India head coach Rahul Dravid needs time to reflect on his future with the national team even as his his two-year contract ended on Sunday.
India lost the World Cup title clash to Australia by six wickets and with this assignment, 'Mr Dependable's contract with the BCCI has ended officially.
The issue has not yet come up for discussion within the BCCI even though Dravid has guided the team to two ICC tournament finals and one semi-final in his two-year stint.
Asked how he looks at his future and if he is game coaching in a single format, Dravid remained non-committal.
"I haven't thought about it. I've just come off a game. I had no time to think about this and no time to reflect on this. Yeah, I will when I get the time to do that," he said at post match media conference.
"At this point of time, I was completely focused on this campaign and there was nothing else on my mind. And I haven't given any other thought to what happens in the future."
The 50-year-old also said he isn't someone who believes in analysing his own two-year tenure.
"To be honest, I am not really someone who's going to judge and analyse myself. I was really proud to work with. I think the players that I worked with over the last two years in all the formats, it's been a privilege."
He also didn't want to comment whether he would be interested in guiding the team during the next year's T20 World Cup in USA and the West Indies.
"Honestly, I haven't thought about it. I think all our campaign, all our energies were focused on this match, focused on this tournament, and focused till here. And I haven't actually given it any thought or I have no plans, I have had no plans of what's going to happen in the future," said the former India captain.
Asked whether some of the golden generation of Indian cricketers lost out on an opportunity to win a World Cup as next edition in South Africa in four years might be too late, the coach laughed.
"I'm not really thinking about 2027 and who's going to be there and who's not going to be there. There's a lot of time for that. A lot of water will flow under the bridge before that. There'll be a lot of time for that," Dravid said.
Rohit was invested in this team

Terming Rohit as an incredible leader, Dravid spoke about how invested the skipper was in this team and also went out of his way and spent his personal time in the dressing room to strike up a rapport with the boys.
"He's been an exceptional leader. You know, Rohit's really led this team fantastically well. He's certainly got the dressing room, he's given so much of his time and energy in the dressing room to the boys."
"He has always been available for any of our conversations, any of our meetings. Sometimes there's been a lot of planning, a lot of strategy that goes in. He's always committed to those things. He's given a lot of his personal time, energy into this campaign," he said.

Tough to see the disappointment in dressing room

The Indian cricketers were a broken lot after the final and in fact there was a lot of emotions which was tough to see as coach.
"Of course he's disappointed, as are many of the boys in the dressing room. It was tough to see as a coach, because I know how hard these guys have worked, what they've put in, the sacrifices they've made."
"So, it's tough. I mean, it's tough to see that as a coach, because you get to know these boys personally."

We were not defensive:

"We played fearless cricket, we had 80 runs in first powerplay. Sometimes, you have to rebuild innings after losing a few wickets, we were not defensive.
"They also did the same when Head and Labuschagne batted but they did not lose wicket and kept going," said Dravid.

We fell short by 40 runs

India managed a below par 240 and Pat Cummins' team gunned down the target in 43 overs to secure a record sixth title.
After losing three wickets for 81 runs, Virat Kohli (54 off 63) and K L Rahul (66 off 107) went on consolidation mode in the middle overs where the hosts could only find the boundary twice.
Dravid felt that it was a 290-track and they fell some distance short.
"It was a bit slow to start off with when the sun was on. But I thought it played fine. It was probably a 280, 290 kind of wicket. It wasn't 240."
"We should have got those 40 extra runs. That might have put more pressure on Australia. Thought it played really well later on as well. So, I thought it was a pretty good wicket. Sometimes looks can be a bit deceiving. Didn't really have that many tricks."