Former cricketers have criticised Australian captain Ricky Ponting for repeatedly using the umpire referral system, and warned that it could cost Australia a Test match in the long term.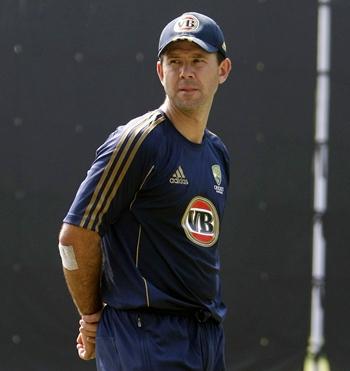 Ponting came under fire on Monday when he unsuccessfully used his two video appeals within nine overs in a tense first session at the Adelaide Oval.
The situation frustrated Doug Bollinger later in the day when he could not refer a confident lbw shout after Brendan Nash shouldered arms. Replays suggested the ball would have hit off stump.
Former Australian captain Bill Lawry said both Ponting and rival skipper Chris Gayle have been premature with their use of the referrals, and said it could cost Australia a Test.
"Both captains have mucked it up ... if there is doubt they (video umpires) are going to stay with the first decision," The Herald Sun quoted Lawry, as saying on Channel 9.
"Now, if we get a shocker where Gayle is plumb lbw and there is no referral it could cost you the match. You've just got to get it right," he added.
Ponting's first referral was when Bollinger's caught-behind appeal against West Indian opener Adrian Barath was turned down.
Video umpire Bruce Oxenford did not overturn the original decision when hot-spot technology showed no conclusive edge and it appeared Barath's bat flicked pad rather than ball.
Ponting used his last video lifeline when Gayle prodded at a ball down leg side and Brad Haddin took a diving catch to his right.
Standing umpire Ian Gould ruled not out and video replays confirmed the ball had flicked Gayle's pad.
Former England captain Tony Greig said Ponting should be more cautious with his use of video referrals.
"I think Ricky got it wrong. I think you have got to be very careful of using up your referrals for nicks because they are very hard to prove," Greig said.
"The big point is knowing when to use them and knowing where your best chance is of getting it turned over."