Pakistan captain Salman Butt and pace bowlers Mohammad Amir and Mohammad Asif were questioned by the London Metropolitan police on Friday following their indefinite suspension from all cricket.
The trio face possible life bans after the International Cricket Council (ICC) charged them under its anti-corruption code on Thursday after an investigation into alleged spot-fixing.
In a statement issued on behalf of the Pakistan Cricket Board and the players, lawyer Elizabeth Robertson said the three had voluntarily attended Kilburn police station to answer questions about allegations in The News of the World newspaper.
The Sunday tabloid said they had been involved in pre-arranged no-balls which were bowled by Amir and Asif in the fourth test against England at Lord's.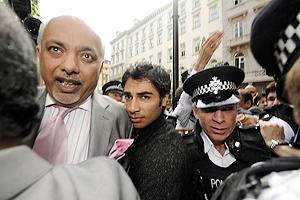 "At no time were they placed under arrest. They were free to leave at any time and they have answered all of the questions that were put to them and have been released without charge or conditions," the statement said.
"They will not be making any further comment at this time, and we ask that you respect their wishes. Indeed it would not be appropriate for them to make any further comment while there is a police investigation going on."
In a statement released later on Friday, the Pakistan High Commissioner in London Wajid Shamsul Hasan said he had heard that the ICC had taken Amir's name off its player of the year list.
"What happened to the principle of 'innocent until proven guilty'?" he asked.
"After the shocking, arbitrary and high-handed suspension of the three Pakistani cricketers through the ICC's uncalled for action, nothing is coming to me as a surprise.
"It is also strange that as per the ICC official's account, the police had shared evidence with ICC while ICC conducted its own investigations. This, in our view, constitutes a breach of trust." At a news conference earlier at Lord's, ICC chief executive Haroon Lorgat said there was no truth in claims that there was a conspiracy against Pakistan cricket.
"On the contrary, we are seeking to ensure that Pakistan continue to play international cricket, albeit at neutral venues," he said.
Pakistan have been forced to play all their internationals abroad after an armed attack on the Sri Lanka team bus in Lahore in March last year.
ICC QUIZ ACTRESS
A former girlfriend of Asif told Reuters on Friday that she had been questioned by ICC officials in Lahore this week as part of the investigation.
Veena Malik, an actress and model who broke up with Asiflier this year, had spoken about the case on television.
"I have cooperated with the ICC because this is about Pakistan and India and because cricket is a global game now. It is the lifeline for many Pakistanis," she told Reuters.
The remainder of the Pakistan team played a one-day warmup game against Somerset in Taunton on Thursday and are due to play Twenty20 matches against England in Cardiff on Sunday and Tuesday, followed by five one-dayers.
Officials said two replacement players would join the team by next week.
In recent years Pakistan have faced ball-tampering accusations, doping scandals, security problems and dressing-room intrigues but Lorgat was keen to stress the ICC remained supportive of Pakistani cricket.
The Pakistan Cricket Board (PCB) disciplined seven players in March, banning some and fining others, after an inquiry blamed infighting within the team for the poor performances on a tour to Australia where they did not win a match.
"Our view was that, yes, it was a dysfunctional tour," said the ICC's anti-corruption head Ronnie Flanagan, who joined Lorgat on the stage at the packed news conference at Lord's.
"Yes, there were things that went on that were not in the spirit of the game. But we have no evidence that those things that went on were for financial gain. There were a lot of other things that went on."