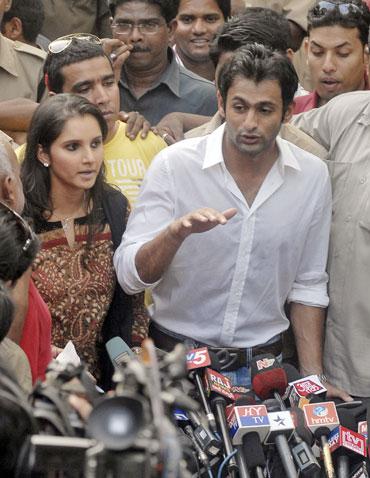 After the murky drama over the last few days, Sania Mirza's bungalow is finally looking like one of a bride-to-be. Relatives and friends have begun streaming in with flowers and gifts for the tennis ace, who will wed Pakistan cricketer Shoaib Malik on April 15.
While Sania has plunged headlong in to pre-wedding ceremonies -- like Shagun and Mehndi -- with a touch of Pakistani tradition, Shoaib is still beset with problems.
The former Pakistan captain had on Wednesday divorced Ayesha Siddiqui despite insisting previously that he was never married to the Hyderabad girl, who claimed that he dumped her because of her weight problems. The divorce followed days of mudslinging in which Ayesha even filed an FIR against Shoaib accusing him of fraud and criminal intimidation.
Hyderabad Police Commissioner A K Khan dropped a bombshell by declaring that police investigation in the case is continuing.
"We have several witnesses to question, some of them are outside Hyderabad, and we have documents which will be sent for forensic examination," he said.
His comments come in the wake of the deal between Shoaib and Ayesha under which he divorced her and she agreed to withdraw the case.
Though the mediators in the issue said they informed the police in writing about the settlement, police sources said they haven't received anything in writing and there are lot of procedures to be completed before the case is closed.
There was more bad news for Shoaib. He will have to go to the court to get his passport back.
Thus, even while he prepares for the "big and beautiful day" of his life, he still has legal hassles to sort out.
He did some shopping and purchased a couple of glittering Sherwanis, matching Pagri and shoes from Manyavar shop in Hyderabad.
Meanwhile, his mother Sultana Farooq, brother Adeel Malik, brother-in-law Imran Zafar, sisters Shazia and Sadaf, bhanja Mamoon and bhanji Zainab arrived in Hyderabad a week ahead of wedding.
Sania's to-be in-laws, who were staying at Taj Krishna hotel, visited the Mirza residence on Thursday afternoon and had lunch there.
It is interesting to note that the wedding cards sent by Mirzas to relatives and friends is only for the reception at Taj Krishna, starting 0830 IST. There is no mention of the nikaah ceremony, where the Qazi, or priest, solemnizes the marriage.
Media reports say the nikaah has already taken place in Dubai, while those close to the family say that the Mirzas want to keep it a private affair.
After the formalization of the divorce between Shoaib and his first wife Ayesha, the Qazi will have to fill the prescribed form describing Sania as the second wife of Shoaib Malik.
While all friends and notable families of Hyderabad are expected to attend the reception on April 17, two close families will be conspicuous by their absence. One is the family of Adil Mirza, whose son Sohrab was engaged to Sania for two years before it was broken off by Sania.
The other is the Siddiqui household, which had attended Sania's engagement with Sohrab, but will not be welcomed after the public spat with Shoaib.