Prime Minister Manmohan Singh spoke to Sachin Tendulkar on Saturday and congratulated him on being awarded the Bharat Ratna -- the highest civilian award in the country.
- Bharat Ratna for Sachin Tendulkar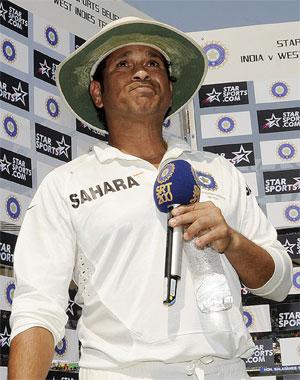 Singh, who made the telephone call to Tendulkar soon after the announcement of the award, wished him many more years of contribution to sports, PMO sources said.
The Prime Minister also called up eminent scientist C N R Rao who shares the honour with Tendulkar.
Tendulkar (40) and Rao (89), both of whom are recipients of the Padma Vibhushan -- the country's second highest civilian honour, join a list of 41 eminent personalities to be chosen for the Bharat Ratna given in recognition of exceptional service of the highest order since it was instituted in 1954.
An outspoken scientist, Prof Chintamani Nagesa Ramachandra Rao is a well recognized international authority on solid state and materials chemistry who has published over 1,400 research papers and 45 books.
He is the third scientist after C V Raman and former President A P J Abdul Kalam to be given the Bharat Ratna.
Prof Rao's contributions have been recognised by most major scientific academies around the world through conferment of memberships and fellowships. He has also been honoured with several national and international awards.
Photograph: BCCI