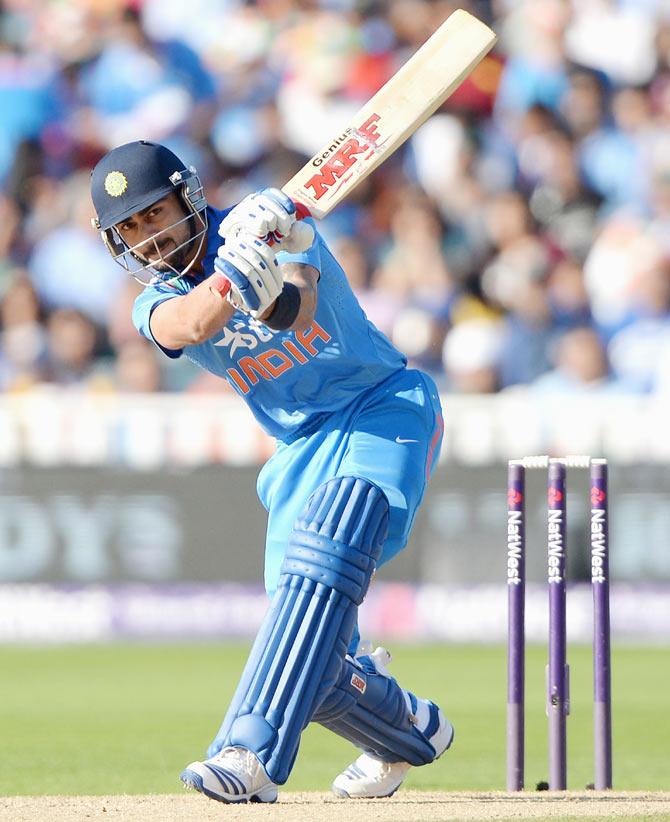 Virat Kohli of India bats. Photograph: Gareth Copley/Getty Images
With the One-Day series set to begin on October 8, West Indies have come to India with revenge on their minds, says all-rounder Darren Sammy.
"We have got lot of guys who are match-winners and hopefully we get a chance to execute that. The last ODI series here we lost 1-2. We went into the final ODI 1-1. It could have gone anyway. Hopefully, this time around it would be even more keenly contested and finally we can beat India in India," Sammy said in Mumbai on Thursday.
India and West Indies are set to play a five-match ODI series, followed by a lone Twenty20 International and three Tests against the West Indies.
Sammy is wary of India's batting mainstay Virat Kohli and hopes he doesn't find form in the upcoming series.
"Virat is a class player. There is no doubt he will be working on his game. He has had tournaments against us, especially here in India. We, as bowlers, will try to exploit the areas in which he has been weak and hopefully he doesn't catch form against us," said Sammy.
Asked who would pose as the biggest threat to his team, Sammy said, "They are world champions. They won the ICC Champions Trophy. They are a good One-day side. They have a lot of good ODI players and we won't single out one person.
'We have a good bowling unit; we need to use conditions well'
Sunil Narine of the West Indies celebrates with Denesh Ramdin after taking a wicket. Photograph: Gareth Copley/Getty Images
"In order to win cricket games, sometimes in 50 overs, you have to target everybody because everybody is a potential match-winner -- from one to eleven -- whether it is batting or bowling. It is a team we have a lot of respect for. We just have to focus on things that we can do well and the quality in our squad," he explained.
The visiting squad has just one specialist spinner in Sunil Narine but Sammy feels the bowling unit has a lot of experience.
"The one proper spinner we have is a match-winner in all formats. He is a champion. But it is a much more experienced unit with guys like Kemar Roach coming back, Jerome Taylor, Ravi Rampaul. We just have to use the conditions well," said the St Lucia-born player.
Talking of his side's chances in World Cup next year, the 30-year old said, "First we have to focus on the world champions, which is India. There are five One-dayers.
"Yes, the World Cup is ahead of us, which is a very important event coming up but we have to do the work here first. The guys have to get the exposure, the experience and we need to start playing and gelling even better as a team and take that to South Africa as well and hopefully by December reach Australia."
'Happy to still be playing One-day and T20s for West Indies and that is what I am focusing on'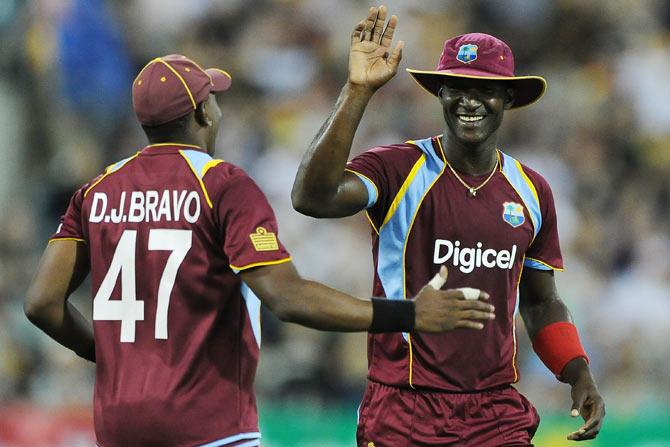 Darren Sammy (right) and Dwayne Bravo of the West Indies share a laugh. Photograph: Matt Roberts/Getty Images
Sammy, who retired from Test cricket in May, says he has no regrets about his decision and will continue to assume the leadership role in the shorter formats of the game.
"I am enjoying my life; I am enjoying my cricket at the moment. I said when I retired that the team was moving in a new direction, they had no space for me. Cricket is not about me, I have always said so. It is time for West Indies cricket to move on with a new captain Denesh (Ramdin) and I am happy. No regrets, I am just happy to still be playing One-day and T20s for West Indies and that is what I am focusing on."
Sammy had decided to retire when the selectors had announced wicketkeeper-batsman Ramdin as his replacement.
Sammy said leading the Caribbean side was a tough job with players coming from different islands and different backgrounds.
"(Being) the captain of West Indies is tough. Captaining any side is tough but captaining West Indies we have players from different islands, different backgrounds, different cultures...it has always been tough. For me, that side of things, I don't miss it but I continue to be a leader in the team and play my role how I am supposed to play it.
"Now we have three different captains. Tests and one-day that pressure goes to (Dwayne) Bravo and Ramdin. I just wait for when it is T20. But I try to be a leader in One-day and T20 cricket," he said.