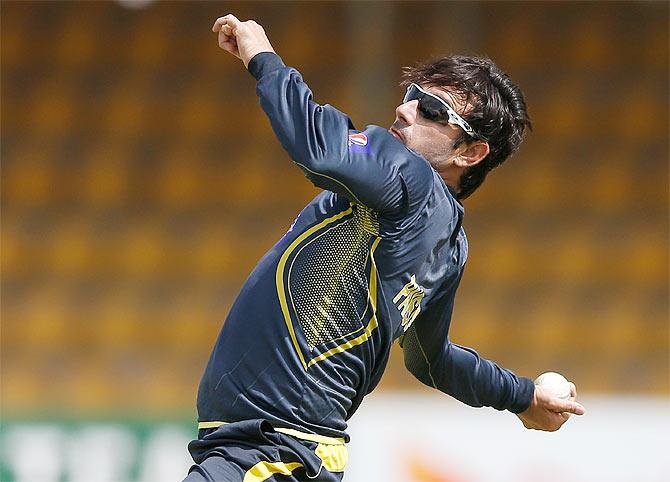 Pakistan's Saeed Ajmal bowls during a practice session. Photograph: Dinuka Liyanawatte/Reuters
The ICC is cautiously optimistic that wearable sensors can provide the technological breakthrough needed to stamp out illegal bowling actions but does not expect them to be ready for trial in matches before mid-2015.
- Ajmal vows to return with clean action, eyes 2015 World Cup
- Akhtar advises Ajmal to challenge ICC ban; Saqlain offers help
- Everything you want to know about controversial Pak spinner Ajmal
Geoff Allardice, the International Cricket Council's general manager of cricket, said in an interview on Wednesday that there has been lots of progress in using the technology but stumbling blocks remain to deploying it in matches.
The ICC on Tuesday banned off-spinner Saeed Ajmal, Pakistan's most prolific test wicket-taker among active players, after biomechanic tests found all his deliveries broke the limit for straightening of the elbow joint.
The latest in a string of suspensions for internationals over their bowling actions, Ajmal's ban has fanned fears that 'chucking' is rife at the highest level of the game but it has also been applauded as a timely crackdown on a highly contentious and often elusive problem.
'There's a fair bit of work to do before we're going to be able to use them in a match setting'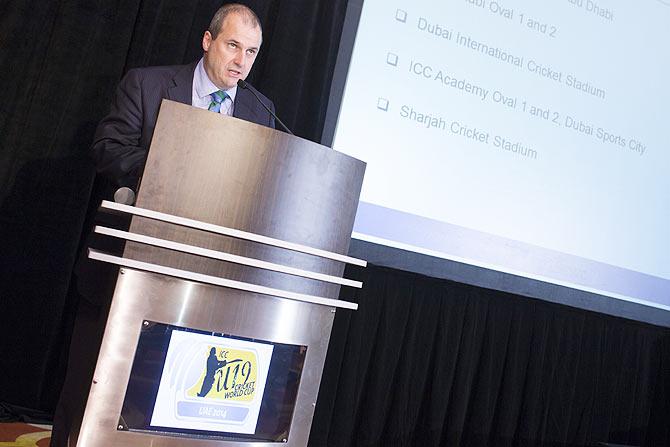 Geoff Allardice, ICC General Manager Cricket. Photograph: Oliver Clarke/Getty Images for ICC
Where umpires have often been reluctant to report their suspicions to match officials, the ICC hopes technology can eliminate subjectivity from the equation, making violations clear-cut through measured, real-time data.
The ICC has been working with Australian researchers to develop wearable "inertial" sensors that can measure bowlers' actions against the permissible limit for over two years.
The programme has reached key milestones and is now in its third and final phase but challenges remain, believes Allardice.
"There's a fair bit of work to do before we're going to be able to use them in a match setting," he said.
"This next stage is probably going to take 18 months to two years. You wouldn't expect it to be trialled in a match setting until mid-2015 at the earliest.
"But the science is encouraging."
The sensors have already been tested on youth cricketers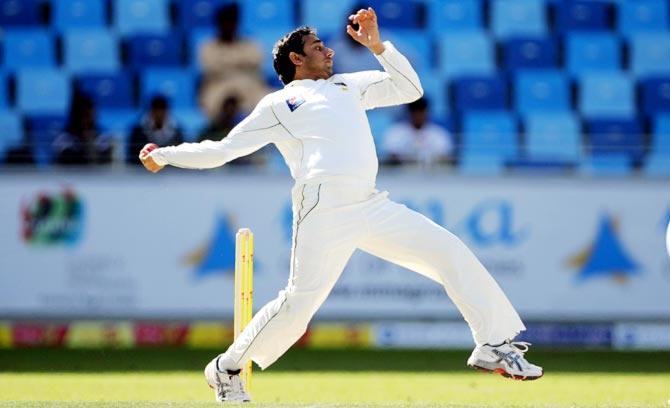 Saeed Ajmal of Pakistan. Photograph: Gareth Copley/Getty Images
While that much is already useful in analysis, the sensors still lack the capability to measure the arm's straightness during the bowling arc, a key to determining the fine line between a legal action and chucking.
"At this stage we're looking to automatically detect the position of the arm at the release with some software that is receiving the signals from the sensors... and how to capture that without any (competing) information," said Allardice, a former first-class batsman and senior manager at Australia's cricket board.
The mounting of the sensors also has yet to be perfected so the data cannot be compromised to an intolerable extent.
"If you're in a match situation, the mounting of the sensors of the arm has to be so that they don't shift position. If they do, then the calibration is disturbed," added the Australian.
The sensors have already been tested on youth cricketers, with players at the Under-19 World Cup in Dubai providing data during net sessions.
The sensors, which are attached to the bowler's upper arm and forearm have reached the point where they can successfully detect the moment when a ball is released in a delivery.
Will it be sole decision maker on the field?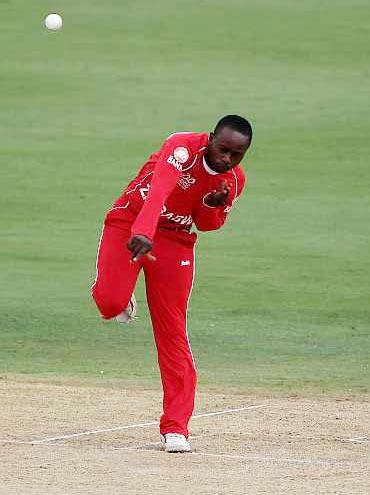 Prosper Utseya of Zimbabwe. Photograph: Getty Images
Crunching the data still required the support of video analysis which, despite advances in digital image resolution, remains a process clouded by subjectivity.
The third phase of the programme is set to kick off at Australia's National Cricket Centre in Brisbane next week and is likely to entail far more time poring over data in laboratories than putting bowlers through their paces.
If the final phase proves successful and the sensors are ready to be road-tested in matches, their application is likely to open up a whole new can of worms, Allardice conceded.
Keeping the devices powered and capable of feeding data to officials on and off the field will take "a lot of engineering".
How the data is shared -- whether after each bowl, at the end of each over or after a day's play -- is also likely to be a matter of fierce debate between the ICC and stakeholders.
"In terms of absolute accuracy, the question is whether it could be used as a sole decision maker on the field," Allardice said.
"It's too early to tell."
Technology, like DRS has not been accepted by BCCI
Mahendra Singh Dhoni. Photograph: Vivek Prakash/Reuters
Though technology has been credited for making the game fairer, it has also been blamed for some howling decisions that have irked players, fans and officials alike.
The Decision Review System, which employs video and audio technologies to verify or correct decisions by umpires out in the field, has proved controversial and India, the game's most powerful association, refuses its use in any bilateral series involving the national team.
Allardice said the national associations would be queuing up to use the wearable sensors if they proved effective, however.
"It really is to help the game of cricket, it won't be a money-making exercise," he said.
"We see that it might be useful for teams who can take it to training sessions.
"The member boards of the ICC are all grappling with how to deal with and identify bowlers with (problems).
"Not just in the peak competitions but also in the grades below."