- 'I've spoken a lot about consistency away from home, I just hope this is the start of it'
- 'It takes a lot of hard work to feel you can walk out onto a ground in an international game and have success and once you get it you want it to stay forever. So you've got to ride that wave for as long as you can'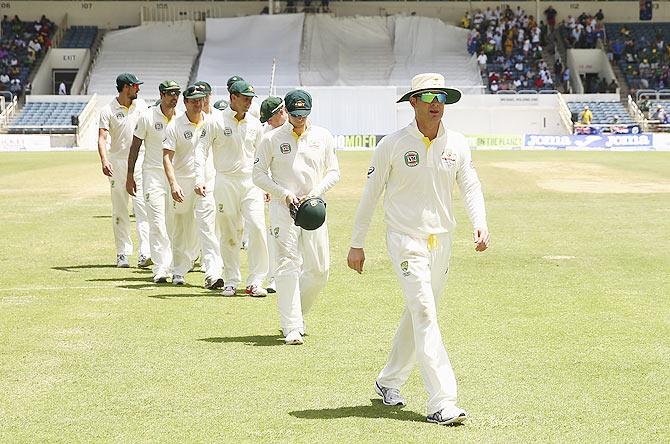 Australia captain Michael Clarke leads his team from the field after winning the second Test against West Indies at Sabina Park in Kingston, Jamaica, on Sunday. Photograph: Ryan Pierse/Getty Images
Australia's short Caribbean tour always looked like something of an hors d'oeuvres for the Ashes and captain Michael Clarke finally allowed himself to address the main course after wrapping up a comfortable 2-0 series sweep on Sunday.
- 2nd Test PHOTOS: Australia thrash Windies by 277-runs to claim series
The tourists needed less than four full days to thrash West Indies by 277 runs in the second test in Kingston, Jamaica and will clearly be charged with confidence going into the first clash against England, which begins in Cardiff on July 8.
"I think I'm allowed to talk about (the Ashes) now," Clarke told reporters at Sabina Park.
"Credit to the boys, I was really honest and made it very clear I didn't want it spoken about at all throughout this series and I'm extremely thankful and proud that none of the guys have spoken about it.
"I'd be lying to say it hasn't been in the back of everyone's mind, but the fact we've been really disciplined on playing really good cricket in these conditions against this West Indies team is a really good achievement from the boys.
"But we're all excited about what lies ahead. I've spoken a lot about consistency away from home, I just hope this is the start of it."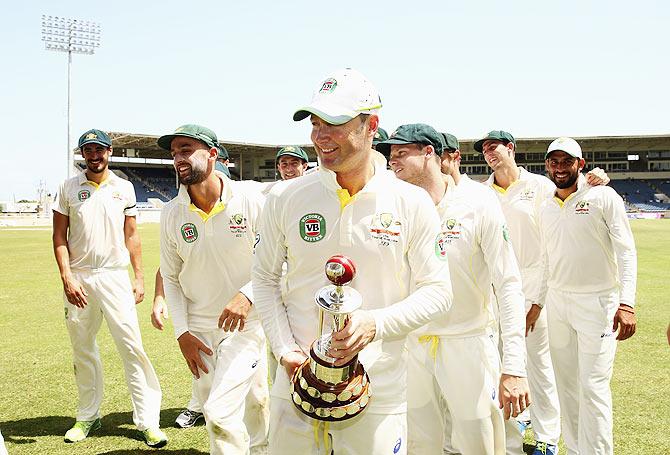 The Australian cricket team celebrates with the Frank Worrell Trophy after defeating West Indies. Photograph: Ryan Pierse/Getty Images
Clarke is acutely aware that Australia have not won an Ashes series in England since 2001 but hopes will be high back home that his 2015 tourists can break that drought.
Steve Smith has been in quite brilliant form with the bat and after the Australian pace bowlers produced the goods on sluggish Caribbean tracks, the selectors will have a job deciding who to leave out against England.
Those decisions lie ahead and Clarke no longer has a seat on the selection panel, so on Sunday he was content to look back on a job very well done.
"Confidence is a vital part of any team and any squad. You have to earn that though," Clarke added.
"It takes a lot of hard work to feel you can walk out onto a ground in an international game and have success and once you get it you want it to stay forever. So you've got to ride that wave for as long as you can.
"You've got to accept in this game that there are going to be tough times.
"But what we've got at the moment is if guys aren't bowling as well as they'd like or making as many runs as they'd like, somebody else is stepping up and I think that's where we're having success."