Sachin Tendulkar has been back in the nets to prepare for the forthcoming All Stars League in the US next month which will feature some of cricketing greats of recent years.
Harish Kotian caught up with the batting legend during his practice session, in Mumbai, on Tuesday.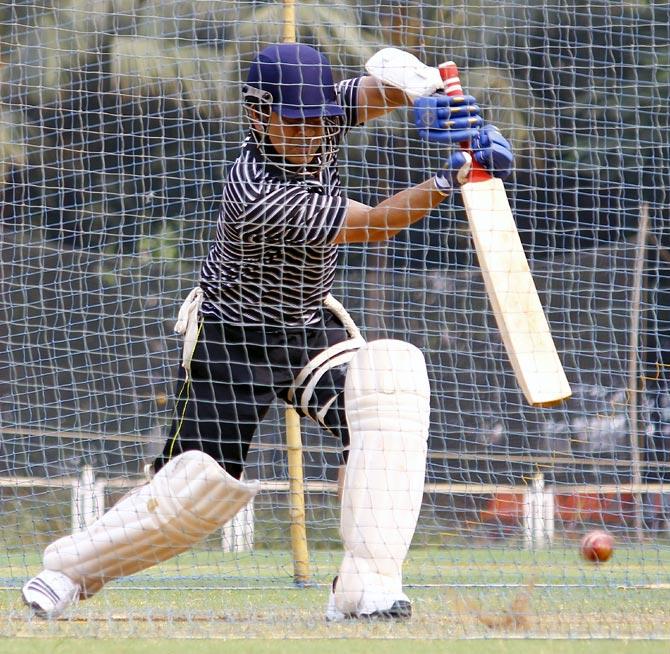 It was like turning the clock back in time as the media converged at the Mumbai Cricket Association's Bandra-Kurla Complex stadium to report on Sachin Tendulkar undergoing a batting practice session for the first time in two years, on Tuesday.
- Also read: Exclusive: The Sachin Tendulkar Interview!
The batting icon has been busy practising for the last 10 days to get in shape for his brainchild, the All Stars Cricket League, to be played in the US next month. Tendulkar and Warne are captaining the two teams which will play against each other in a series of three Twenty20 matches to be played in New York, Houston and Los Angeles.
"I am pacing myself. It's not that I can come back after two years and start doing everything at one go. The last 10 days or so I have been practising a bit and pacing myself, before that I started training a little bit to get into better shape. After retirement things were obviously slightly different, I could eat whatever I wanted to, before that I had to think twice but not anymore," Tendulkar said on Tuesday after his practice session.
The 42-year-old batting great is thrilled at the response he has got for the league from the American public.
"I think the response has been fantastic, really overwhelming and as time goes by and we get closer to the first game, I am sure it is going to get even more so. It is nice to see that all the people living there are taking an interest in cricket and not just the Asians. The Americans have also decided to turn up and that is the feedback I get from my friends," he said.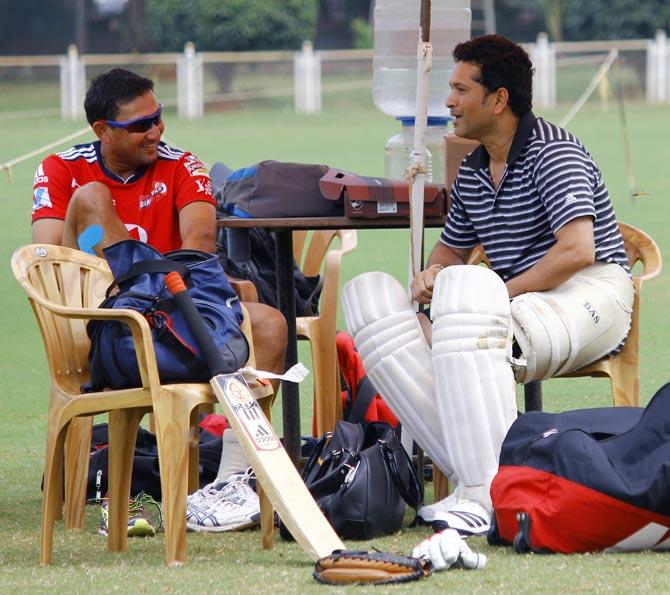 Tendulkar believes it would be a good opportunity to convert some baseball fans into cricket fanatics by giving them an opportunity to watch the cricket matches live.
"A few of my friends who have settled there in the '90s, they had no idea about baseball or basketball, their American friends took them to stadiums and made them understand what baseball was. So I told him it is time for you to reciprocate and get some Americans inside the stadiums and make them understand cricket and I am sure they would love it," he stated.
When asked whom he would like to open the innings with, Tendulkar revealed that Virender Sehwag, who recently retired from international cricket, has also come on board.
"We haven't selected our teams but there is a new surprise, Virender Sehwag is also a part of it. It would be nice. Whether it's [Matthew] Hayden, [Sourav] Ganguly or Sehwag, whoever, they are all top players and we all are looking forward to it and so is Viru [Sehwag] and that is what he told me," Tendulkar said.
- Also read: Unveiled: Sachin and Warnie's plans for America
"It's good for people in America because when they get to know about this, they would be excited. Who doesn't want to see Sehwag?" Tendulkar added with a smile.
The All Stars League will feature some of the greatest players of recent times, including the likes of Jacques Kallis, Kumar Sangakkara, Muttiah Muralitharan, Matthew Hayden, Brian Lara, Ricky Ponting, Allan Donald, Glenn McGrath and Wasim Akram among others.
From the Indian side, apart from Tendulkar and Sehwag, the league would also feature Ganguly, VVS Laxman and Ajit Agarkar.
Tendulkar claimed that all the players would give their best to ensure the matches are played competitively and provide enough entertainment for fans in the US, who would for the first time in their life get to see such star players in action.
"We are all retired cricketers, we want to enjoy, we want to promote cricket. We want to get competitive as much as we can be, as much as the body allows us to be. So it's about having fun, getting our fans closer to us, giving them an opportunity to watch live cricket, get more engaged with cricket," he said.
"I believe that all the players who are taking part in the All Stars League are great players and all of them have played at the highest level for at least 15 years. Their record proves what type of players they were. I just want to say that we are all coming together to promote the game and support the game," he further added.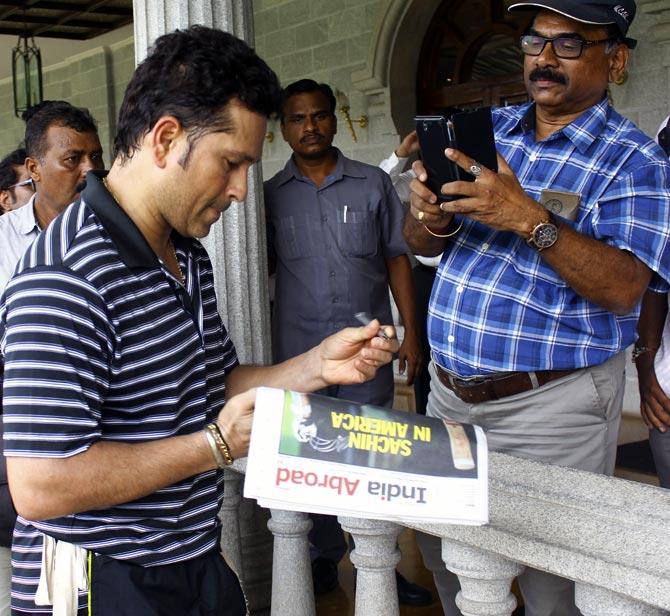 The matches will be held on November 7 at New York's Citi Field, on November 11 at Houston's Minute Maid Park and on November 14 at Dodger Stadium, Los Angeles.
Tendulkar believes the league will give the players a chance to mingle with the crowd as the fielders on the boundary would be much closer to the spectators than they are in a cricket stadium.
"I feel that the interaction of the players with the crowd will be a bit different. When you play for India, you are not in the mood to crack jokes, you only have to focus on the match. But here you have baseball grounds, so the fine leg, third man, deep point, deep square leg, all these fielders who are placed deep they will literally be five feet away from the spectators, so some of the players might even get a chance to have a laugh with the spectators," he said.