'Sachin and I will be tossing a coin in New York City... It will be part of history.'
Shane Warne outlines plans for the Cricket All Stars League to P Rajendran/Rediff.com in New York.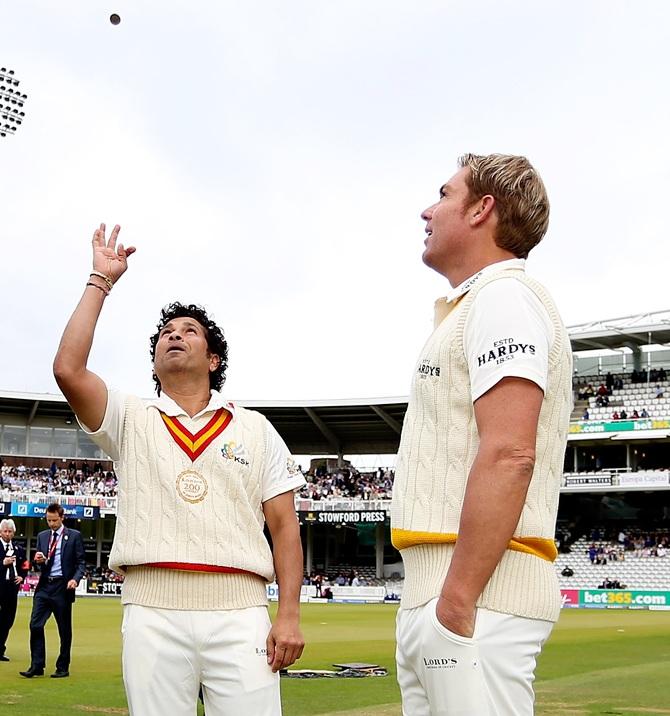 IMAGE: Sachin Tendulkar tosses the coin as Shane Warne looks on. Photograph: Ben Hoskins/Getty Images
It was 1844 when the first international cricket match was held between the US and Canada. It is also reputedly the oldest international sporting event in the modern world, predating the modern form of the Olympic Games by 52 years.
Now cricket icons Sachin Tendulkar and Shane Warne are coming together to get America excited about cricket again.
With their Cricket All Stars League, the duo plan to organise 15 Twenty20 games over 42 months in New York, Houston and Los Angeles.
For this effort, which has solid backing from the International Cricket Council, they are getting the biggest names among recently retired cricketers to come on board.
The matches will be played at Citifield in Flushing, New York on November 7; Minute Maid Park in Houston, November 11; and at the Dodger Stadium in Los Angeles, November 14.
Some of the international players who have reportedly signed on are Wasim Akram, Curtly Ambrose, Jacques Kallis, Glenn McGrath, Brian Lara, Muttiah Muralitharan, Ricky Ponting, Jonty Rhodes, Michael Vaughan.
There were a few Indian players mentioned, including Ajit Agarkar, Rahul Dravid, Sourav Ganguly and V V S Laxman.
The fees each player will get remain to be thrashed out, with some reports putting it at $25,000 a game, and others at $30,000.
Fifteen T20 games are planned over a 42-month period.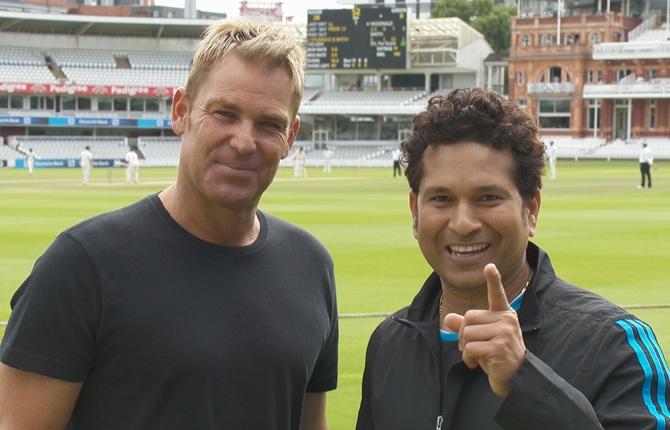 IMAGE: Sachin Tendulkar, right, and Shane Warne expect cricket in the US to be something to look out to.
Shane Warne told Rediff.com that the idea came during a conversation he had with Tendulkar after a match at Lord's to celebrate the Maryleborne Cricket Club's 200th anniversary.
Tendulkar and Warne noted that when they captained the teams there, 30,000 tickets were sold out in one hour.
The Tendulkar-led MCC XI beat the Warne-helmed Rest of the World XI, thanks to Aaron Finch's batting. Tendulkar contributed 44 and took a crucial wicket; Warne did not bowl at all.
Warne expects the contests in the US as something to look forward to.
Unlike the traditional form of the game, Warne pointed out, a T20 lasts for about three hours. There will be cheerleaders and music to keep things exciting, he added.
"It's a very unique thing," he said, adding that the combination of expats and Americans should make the league a big event.
"It is costing Sachin and me a lot (to set up this) start-up company," Warne said, adding that promoting the game was the primary issue.
"Money is not a concern," the great leg-spinner said. "It will be part of history."
Asked if he would be a little rusty since he has been retired for two years, Warne felt pumping adrenaline would bring out the best in all the players.
"Sachin and I will be tossing a coin in New York City," Warne said. "A lot of the people in America (have not experienced this). Many around the world have not had the experience to see Sachin and me live."
"Me bowling and Sachin will create the environment."