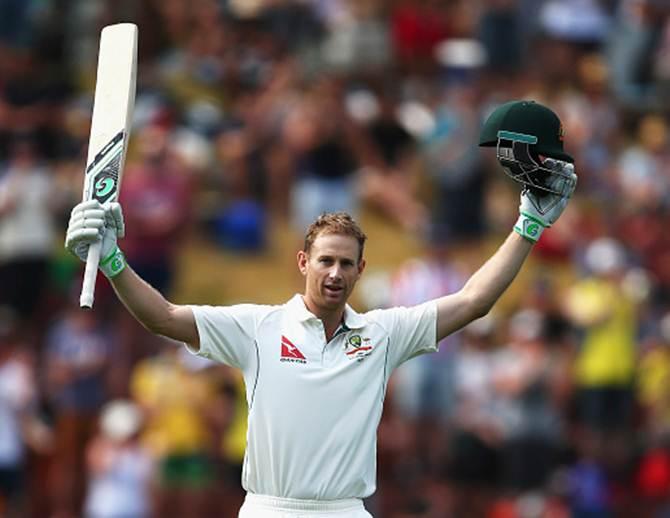 IMAGE: Australia's Adam Voges celebrates after scoring a double century during Day 3 of the first Test against New Zealand at Basin Reserve in Wellington. Photograph: Ryan Pierse/Getty Images
Brendon McCullum's dismissal in the final over of the day put Australia firmly in control of the first Test in Wellington on Sunday, as New Zealand were reduced to 178-4, still 201 runs behind the tourists' mammoth first innings of 562.
Trapped lbw by Mitchell Marsh for 10, the captain's wicket all but ended New Zealand's hopes of saving the Test at the end of the third day's play.
Debutant Henry Nicholls was on 31 and will be joined by Corey Anderson when play resumes.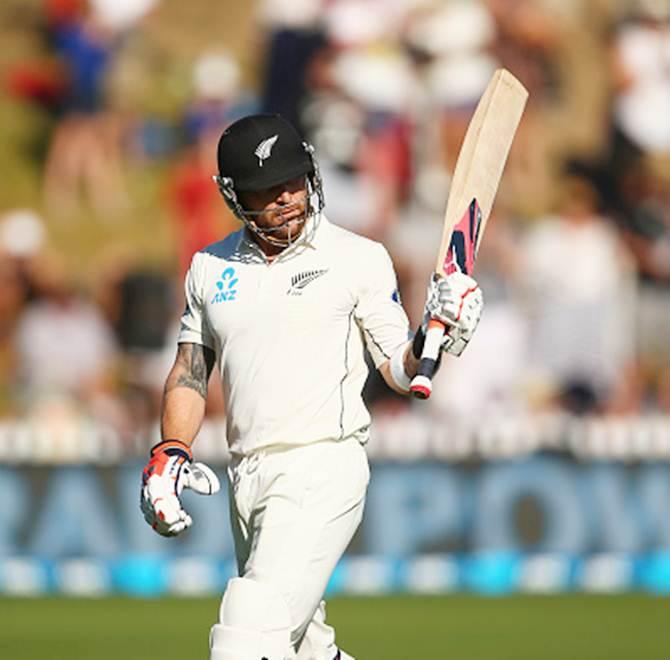 IMAGE: New Zealand batsman Brendon McCullum leaves the ground after being dismissed by Mitch Marsh during Day 3 of the first Test. Photograph: Ryan Pierse/Getty Images
McCullum scored 302 and batted for almost 13 hours to save his team against India on the same ground two years ago, but was unable to mount any sort of a rescue against the Australians.
The 34-year-old appeared anxious and was almost caught behind the wicket twice before all-rounder Marsh removed him with three balls left before stumps.
Adam Voges earlier scored his second Test double-century to drive Australia to a 379-run first innings lead.
The late-blooming Voges, who was 35 when he made his debut in the Caribbean last June, has scored 1,267 runs in a bountiful Test career to date, boasting an average of 97.46.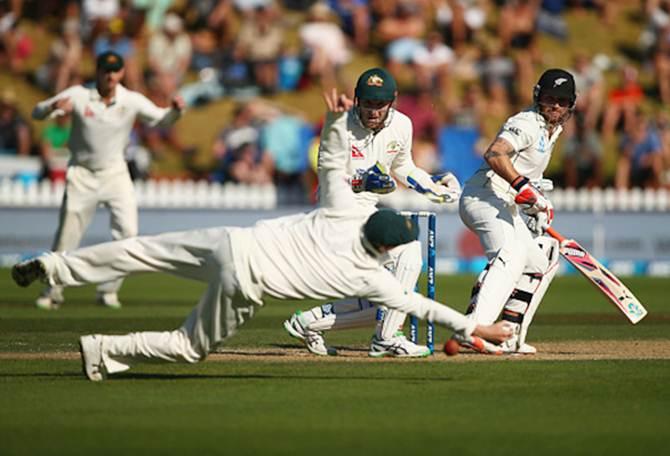 IMAGE: Australia's Steve Smith attempts to catch Brendon McCullum during Day 3 of the first Test. Photograph: Ryan Pierse/Getty Images)
New Zealand's second innings had begun promisingly enough with Tom Latham and Martin Guptill putting on 81 for the first wicket.
Guptill's fall for 45, however, appeared a wasted chance as he had looked well set before slogging off-spinner Nathan Lyon to Marsh at extra cover.
Kane Williamson and Latham took their side through to tea but Williamson fell shortly afterwards for 22 when he feathered a Josh Hazlewood delivery through to wicketkeeper Peter Nevill.
Latham also wasted a golden opportunity to push on when he fell to a poor shot off Lyon for 63 after notching his seventh half-century.
The second and final match of the series is in Christchurch from February 20.
Scorecard
New Zealand (1st innings): 183 (J. Hazlewood 4-42)
Australia (1st innings): (Overnight: 463-6)
J. Burns c Watling b Southee 0
D. Warner c Watling b Southee 5
U. Khawaja lbw b Boult 140
S. Smith c&b Craig 71
A. Voges c&b Craig 239
M. Marsh c&b Boult 0
P. Nevill c Watling b Anderson 32
P. Siddle c Anderson b Bracewell 49
J. Hazlewood c Southee b Bracewell 8
N. Lyon c&b Anderson 3
J. Bird not out 3.
Extras: (b-4 lb-3 nb-3 w-2) 12
Total: (all out, 154.2 overs) 562
Fall of wickets: 1-0, 2-5, 3-131, 4-299, 5-299, 6-395, 7-494, 8-508, 9-532, 10-562
Bowling: T. Southee 31-5-87-2(w-1), T. Boult 33-6-101-2, D. Bracewell 33-4-127-2(nb-2), C. Anderson 18-0-79-2(nb-1 w-1), M. Craig 35.2-2-153-2, K. Williamson 4-0-8-0.
New Zealand (2nd innings):
T. Latham c Khawaja b Lyon 63
M. Guptill c M. Marsh b Lyon 45
K. Williamson c Nevill b Hazlewood 22
H. Nicholls not out 31
B. McCullum lbw b M. Marsh 10
Extras: (b-1, lb-4, nb-2) 7
Total: (for 4 wickets, 62.3 overs) 178
Fall of wickets: 1-81, 2-121, 3-157, 4-178
To bat: C. Anderson, B. Watling, D. Bracewell, M. Craig, T. Southee, T. Boult.
Bowling: J. Hazlewood 17-3-42-1, J. Bird 11-2-26-0(nb-1), P. Siddle 8-0-30-0, M. Marsh 9.3-1-40-1(nb-1), N. Lyon 17-6-35-2.