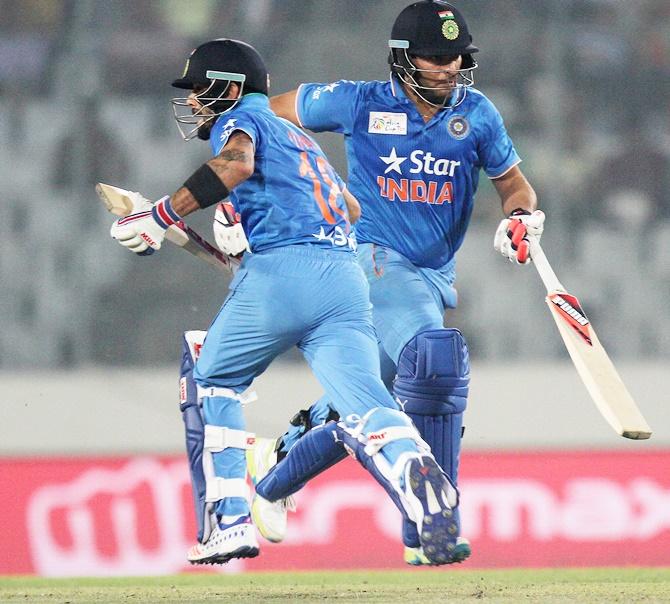 IMAGE: India's Virat Kohli and Yuvraj Singh take a run during the Asia Cup match against Pakistan at the Sher-e-Bangla Stadium in Mirpur. Photograph: Solaris Images
India recovered from three early jolts, inflicted by a devastating spell from Mohammed Aamir, before notching up a five-wicket victory over arch-rivals Pakistan in the Asia Cup T20 tournament, in Mirpur, on Saturday.
Aamir (3-18) rocked the Indian top-order with a fast and furious four-over spell, but the small target of 84 was not good enough to stop the 'Men In Blue', who knocked off the runs with 27 balls to spare.
It required the calm and class of Virat Kohli (49) to take India home without further setbacks. His 68-run stand for the fourth wicket with Yuvraj Singh (14 not out) proved decisive.
Kohli's 51-ball innings had seven boundaries and he looked cut above any batsman who featured in Saturday's game.
This is the second win for India in the tournament and takes them a step closer to the final of the continental championship.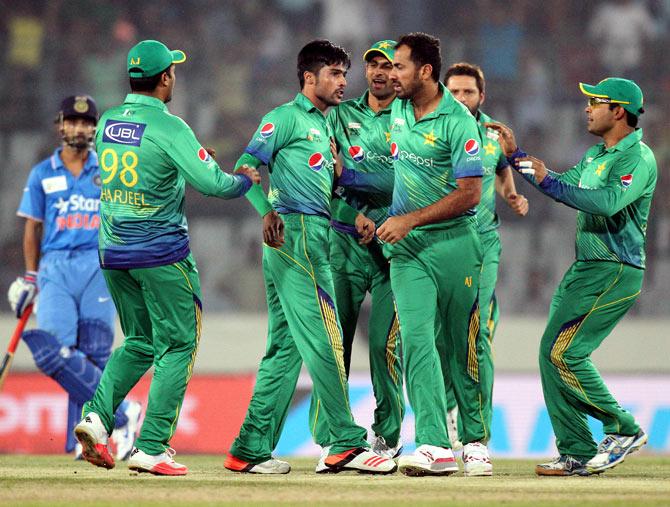 IMAGE: Pakistan players celebrates the wicket of India's opener Rohit Sharma. Photograph: Solaris Images
What was supposed to be a cakewalk turned out to be a brief nightmare for the Indians.
Rohit Sharma (0) and Ajinkya Rahane (0), replacing an injured Shikhar Dhawan, were beaten by Aamir's pace. They found the late movement at ferocious speed too hot to handle. The result was a couple of plumb leg-before dismissals.
IMAGE: Pakistan's Mohammad Aamir celebrates with teammates after claiming the wicket of India's Suresh Raina. Photograph: Solaris Images
Suresh Raina's (1) problems against the short ball are well-documented, and Aamir started teasing him with deliveries that kicked up viciously from length.
Raina cut a sorry figure with his hop, skip and jump technique and when Aamir bowled full, the left-hander, expecting a shirt ball, only lobbed it to Wahab Riaz at mid-on.
India were tottering at 8 for 3 at that stage.
However, Pakistan captain Shahid Afridi had no choice but finish Aamir's spell, in order to get a couple of more wickets and stay in the game.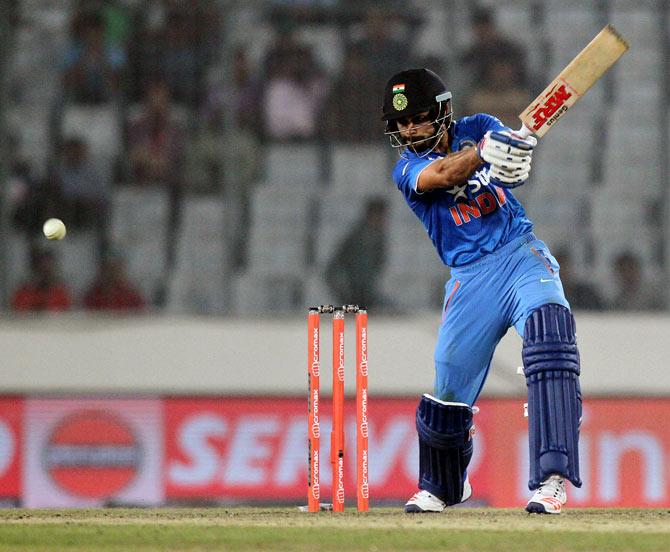 IMAGE: India's Virat Kohli bats during the Asia Cup. Photograph: Solaris Images
But it was Kohli, who has been Pakistan's nemesis for some time now, showed why he is among the best in the world.
He shielded Yuvraj from Aamir by taking the bulk of the strike. His footwork was precise and he played close to the body.
In his final over, Aamir tried to change tactics and Kohli promptly whipped towards square leg and cover drove him for two boundaries.
Once Aamir's spell was over, it was a formality for the Indians, with Kohli gaining more confidence.
Mohammed Irfan was deftly steered through third-man while Wahab was shown full face of the bat during the two imperious cover drives.
Yuvraj's job was to chip in with the singles and stem the rot that set in due to the top-order collapse and he did his job.
By the time, Kohli was adjudged leg-before off Mohammed Sami's bowling and India were eight runs short of victory.
It was Dhoni who cover drove Wahab to finish off the match.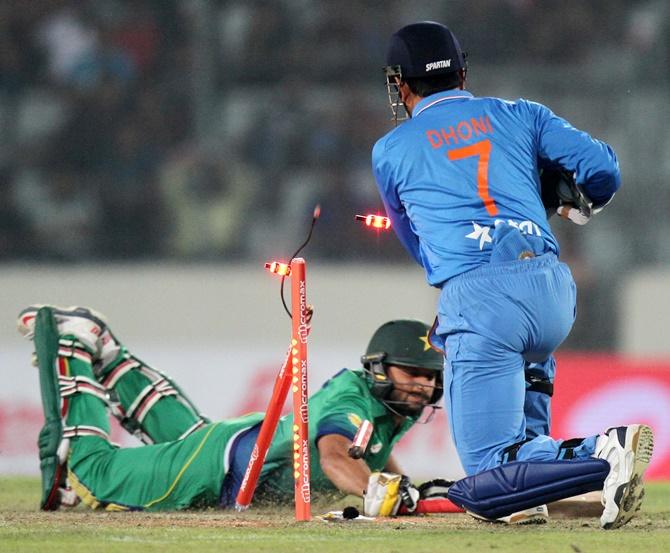 IMAGE: India's Mahendra Singh Dhoni runs out Pakistan captain Shahid Afridi during the Asia Cup match. Photograph: Solaris Images
Earlier, India's bowlers demolished Pakistan batting up with a superlative show.
A collective effort from the bowlers was backed brilliantly by the fielders as it became a no contest from the moment Dhoni opted to field on a pacer-friendly wicket.
The Indian bowlers made good use of the conditions and the fielding unit also put relentless pressure to effect two run-outs which threw the Pakistan innings into disarray.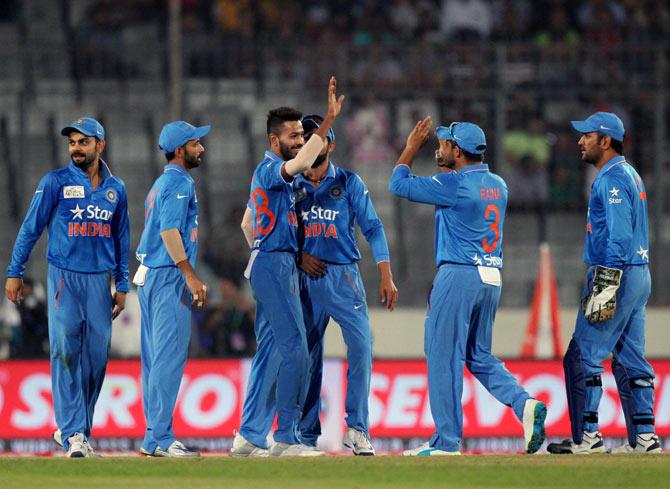 IMAGE: India's Hardik Pandya, centre, celebrates with teammates after dismissing Shoaib Malik. Photograph: Solaris Images
Ashish Nehra (1-20) and Jasprit Bumrah (1-8) dealt initial blows while new sensation Hardik Pandya (3-8) kept up the pressure and recorded the best figures among the bowlers.
Such was the pressure on Pakistan, that spin twins Ravindra Jadeja (2-11) and Ravichandran Ashwin were introduced in the 12th and 13th over respectively.
The only Pakistan player to score more than ten runs was wicketkeeper Sarfraz Ahmed (25).
This was their lowest score in a T20 against India, as they managed only eight boundaries.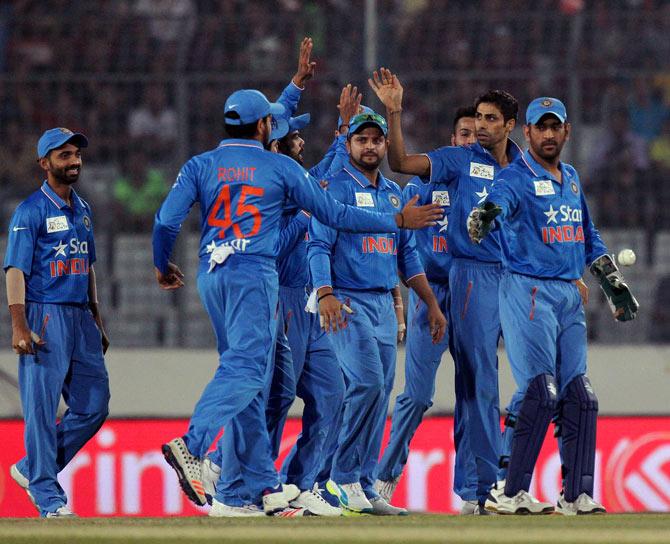 IMAGE: India celebrate the wicket of Mohammad Hafeez. Photograph: Solaris Images
Nehra struck with the third delivery when he got one to kick up from a length.
Mohammed Hafeez (4), failing to read the extra bounce, attempted a square cut with little room to play the shot and Dhoni took an easy catch.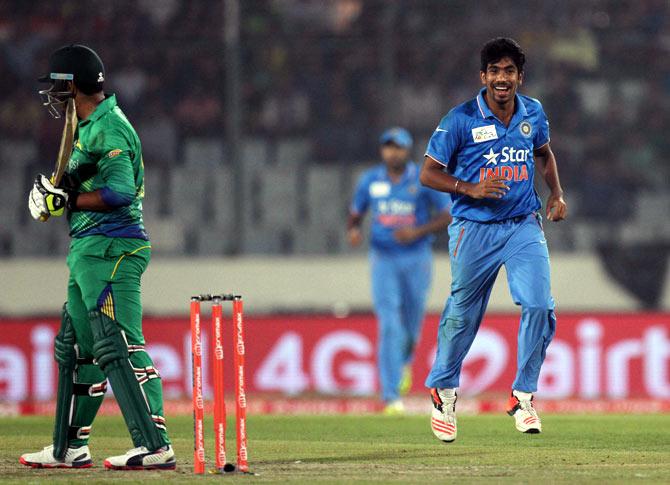 IMAGE: India's Jasprit Bumrah celebrates the wicket of Pakistan's Sharjeel Khan. Photograph: Solaris Images
Left-handed Sharjeel Khan (7) pulled Jasprit Bumrah in the fourth over but was undone by the extra bounce and seam movement as he was caught by Ajinkya Rahane at first slip.
Manzoor (10) was run-out in the very next over in freakish manner.
Striker Shoaib Malik tapped one towards short cover and non-striker Manzoor immediately responded by taking a few strides.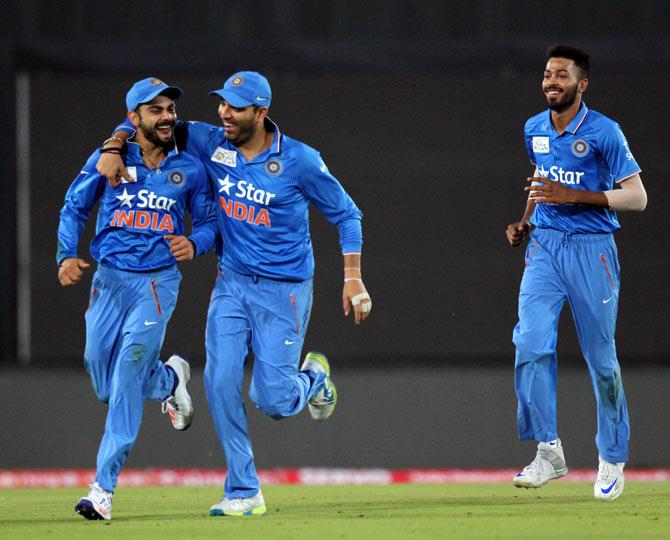 IMAGE: India's Virat Kohli and Yuvraj Singh celebrates after the run-out of Pakistan's Khurram Manzoor. Photograph: Solaris Images
But an alert Kohli sprinted and successfully aimed at the stumps at the non-striker's end with Manzoor being hopelessly short of his crease.
Hardik Pandya made it 35 for four when Malik (4) chased a fuller delivery moving away, giving Dhoni his second catch of the match.
It didn't take much time to make it 35 for five as Yuvraj, introduced in the attack before Ashwin and Jadeja struck with his first ball. He flighted one that dipped and spun into Umar Akmal (3), who played a half-forward defensive stroke. It was a plumb leg before and umpire did not take much time to raise the dreaded finger.
Skipper Shahid Afridi (2) challenged India's best fielder Jadeja going for a non-existent second run only to be run-out by a two feet distance, leaving Pakistan gasping at 42 for six by the end of 8th over.
At the halfway stage, Pakistan were 47 for six and truly out of the game.