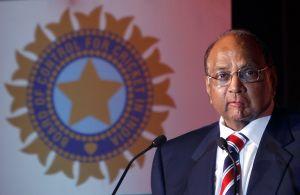 Union agriculture minister Sharad Pawar was elected unopposed as Mumbai Cricket Association president after BJP leader Gopinath Munde's appeal against the rejection of his application to contest for the top post in Friday's polls was turned down.
Election officer S M Gorwadkar said, "After the date of withdrawal of nominations for the one post of president there is only one validly nominated candidate.
"Therefore, as per the election bye-law No 12, I declare that Shri Sharad Pawar is elected unopposed as the president of the Mumbai Cricket Association in the biennial election 2013 for the term of two years, commencing from the date of his assuming charge of the post of the president and shall remain in the said office until his successor is elected."
Pawar, who was a former Board of Control for Cricket in India and ICC president, thus returns as MCA president following his first tenure from 2001 to 2011.
The MCA elections for various other posts take place on Friday and it will be interesting to see if Munde approaches the court to appeal his case.
Former Maharashtra Deputy Chief Minister Munde, whose application to contest the polls was rejected by the election officer on the basis of his residential status, had appealed against the verdict, but that too was rejected.
Munde's application was rejected by the election officer on Saturday as the address on his electoral registration was Beed after which he filed an appeal which was also turned down.
According to MCA rules, only a Mumbai resident can become a governing member of the cricketing body.
Explaining the rationale behind the rejection of Munde's appeal, outgoing MCA chief Ravi Savant had earlier on Thursday said that as per a Bombay high court order of 2006, a person could have residences in different cities, but he is considered a permanent resident of only that place where his name appears on the electoral rolls.
"Mr Munde had filed an appeal with which he had attached various documents to show that he has a residence in Mumbai. But that only indicates he has got a residence in Mumbai. But the rule says he has got to be a resident of Mumbai. Whatever was shown to us did indicate he has got a permanent residence in Mumbai.
"(But) Bombay high court has answered in 2006 that a person can be taken safely as permanent resident where he is listed in the voters list. I may have two places (of residence) but to be a permanent resident of one place the criteria is the voters' list," Savant said.
Image: Sharad Pawar
Photograph: Vijay Mathur/Reuters