A gritty unbeaten half-century by Parvinder Singh helped Uttar Pradesh overcome a jittery start and post 206 for 5 in the first innings, on the second day of the three-day practice match, against the visiting West Indies, in Kalyani, on Friday.
The West Indies scored a healthy 466 in their first innings, courtesy a patient 112 by veteran Shivnarine Chanderpaul and an impressive 94 by Narsingh Deonarine.
Right-arm medium pacer Imtiaz Ahmed was pick of the UP bowlers with figures of five for 117. Veteran India discard left-arm pacer Rudra Pratap Singh took three for 86.
Stocky right-hander Parvinder quickly settled down after the West Indies reduced UPCA to 96 for four and remained undefeated on a well-crafted 78.
With Prashant Gupta (39), he added 107 runs for the fifth wicket to stem the rot that was engineered by left-arm spinner Veerasammy Permaul (2-61).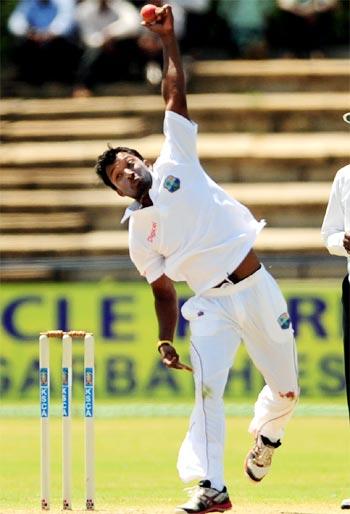 At stumps, Parvinder, who hit 11 boundaries and two sixes, was at the crease with wicketkeeper-batsman Amir Khan.
UP still trail the West Indies by 260 runs, with warm-up game slowly and steadily meandering towards a predictable draw.
Earlier, the match began an hour late because of wet outfield. The West Indies, resuming the day at 333 for 4, went past the 450-run mark.
Their most experienced batsman, Chanderpaul, who was nine short of his 68th first-class hundred, got to the mark in a 197-run fifth wicket partnership with Deonarine, who was dismissed six runs short of what would have been a well-deserved century.
Seamer Ahmed, who impressed on the first day by picking a couple of wickets, including that of Chris Gayle, added the wickets of Chanderpaul (112; 15x4, 2x6) and Deonarine (94; 10x4, 2x6) in successive overs after UP took the second new ball in the 81st over.
But rookie Permaul, who was selected ahead of the experienced Shane Shillingford, seized the opportunity. The 24-year-old all-rounder put up a sterling display with the bat, remaining unbeaten with a useful contribution of 38-ball-46 (8x4, 1x6).
His 67-run ninth-wicket partnership with Tino Best, who was equally aggressive in an 28-ball 35 (3x4, 3x6), was the highlight of the morning session as the West Indies were bowled out in 103.3 overs.
On a wicket that had little to offer, the UP opening duo of Tanmay Srivastava and Mukul Dagar face little difficulty against the Windies pace attack of Tino Best and Sheldon Cotterrell.
Left-hander Srivastava (23) looked fluent during his short stay while the portly Dagar (42) was a little tentative before Cotterrell broke the 41-run opening partnership castling the former.
West Indies skipper Darren Sammy brought on Permaul and the left-arm spinner provided another breakthrough, dismissing former India batsman Mohammad Kaif (16).
Dagar was bowled by Best before he could complete his half-century, while in the next over right-hand batsman Arish Alam (0) became Permaul's second victim as the UP middle-order collapsed before Parvinder revived their innings with Gupta.
Scorecard
West Indies (1st innings): (Overnight 333/4; 79 overs)
C Gayle b Ahmed 18
K Powell b Alam 64
D Bravo b Singh 61
M Samuels c Khan b Ahmed 12
S Chanderpaul lbw Ahmed 112
N Deonarine lbw Ahmed 94
D Ramdin b Singh 2
D Sammy c Singh b Ahmed 10
V Permaul not out 46
T Best c Ahmed b Singh 35
S Cotterrell run out 6
Extras: (lb-5, w-1) 6
Total: (all out; 103.3 overs) 466
Fall of wickets: 1-33, 2-145, 3-149, 4-163, 5-360, 6-367, 7-367, 8-387, 9-454.
Bowling: Singh 24.3-4-86-3, Rajpoot 6.3-1-29-0, Ahmed 25-5-117-5, Chawla 24-2-134-0, Gupta 7.3-0-38-0, Alam 16-2-57-1.
Uttar Pradesh (1st innings):
T Srivastava b Cotterrell 23
M Dagar b Best 42
Md Kaif c Powell b Permaul 16
P Singh batting 78
A Alam c Ramdin b Permaul 0
P Gupta c Ramdin b Sammy 39
A Khan batting 0
Extras: (lb-5, nb-3) 8
Total: (for 5 wickets; 53 overs) 206
Fall of wickets: 1-41, 2-71, 3-93, 4-96, 5-203
Bowling: Best 10-3-44-1, Cotterrell 9-0-37-1, Sammy 10-2-33-1, Permaul 17-4-61-2, Deonarine 5-0-23-0, Gayle 2-1-3-0.
Image: West Indies spinner Veerasammy Permaul
Photograph: West Indies Cricket Board