The government of Pakistan, on Friday, withdrew its appeal filed against the Islamabad High Court's decision to reinstate Zaka Ashraf as the Chairman of the Cricket Board.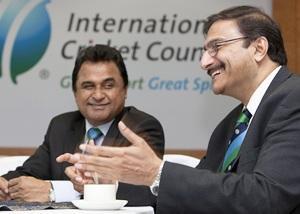 The government's advocate Asma Jehangir confirmed the withdrawal of the appeal as the hearing was scheduled on Friday.
She didn't give any details but sources said the move could be the first step towards the government directly appointing an ad-hoc committee and new chairman to run cricket affairs in the country.
The IHC bench hearing the appeal last week had made it clear that since the Prime Minister as chief patron of the PCB had powers, the government should appoint a new Chairman but it couldn't rule on the reinstatement of Ashraf.
The appeal was filed by Jehangir on January 24, challenging the IHC verdict that had set aside the government's statutory order of appointing television anchor and columnist Najam Sethi as acting PCB chairman.
Ashraf, who returned from Dubai, on Thursday, after attending the ICC executive board meetings, is yet to meet the Prime Minister to discuss cricket affairs.
The reinstatement of Ashraf has led to an uncertain situation in Pakistan cricket since he belongs to the Pakistan Peoples Party which lost in the last general elections.
Traditionally, the ruling party has its nominee running cricket affairs in the country.