All the tickets available online for purchase by the general public to watch iconic batsman Sachin Tendulkar playing his farewell Test match against the West Indies at the Wankhede Stadium here have been sold out, the Mumbai Cricket Association (MCA) said.
"The tickets are all sold out, even on internet. The online tickets were sold out last night," MCA vice-president Ravi Savant said.
The website meant for booking tickets online for the second and final India-Windies Test scheduled from November 14 had crashed soon after it opened on Monday and Savant said, "it was a technical error and that had been resolved".
KyaZoonga.com, the official ticketing partner for the game, was swamped with huge number of surfers who wanted to buy tickets for the much-awaited match, which will also be the retiring batting legend's landmark 200th game.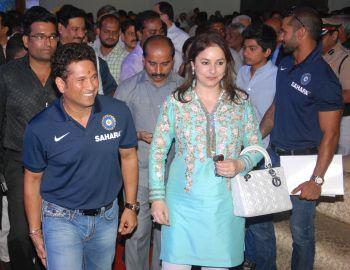 The website had witnessed a record number of hits – more than 19 million - within its first hour of ticket sales.
Around 3,000-4,000 tickets were made available for the online sale. The price category for the online sale was – Rs 500, Rs 1,000 and Rs 2,500. The stadium has the capacity to seat 32,000 people.
KyaZoonga.com said that the website never crashed but was overloaded.
"The site never crashed. It was overloaded and slow. Therefore the transactions happened slowly," KyaZoonga.com co-founder and CEO Neetu Bhatia said.
Meanwhile, it was learnt that BCCI president N Srinivasan was not present at the MCA event held yesterday to felicitate Tendulkar, where they named their Kandivali facility after the veteran, though he had been sent an invitation by the association.
"Of course (we invited them). The president had some work. There are other functions also, so anyway he can't stay for four days," said Savant, who is also a vice president of BCCI.
Image: Sachin Tendulkar with wife Anjali