Rajneesh Gupta is amazed at Evin Lewis' whirlwind knock.
Evin Lewis made a mockery of India's rather respectable total in the one-off Twenty20 International.
Lewis blasted an unbeaten 125 off just 62 balls giving the West Indies their highest successful chase at home.
The major records Lewis established/broke during his innings are as under: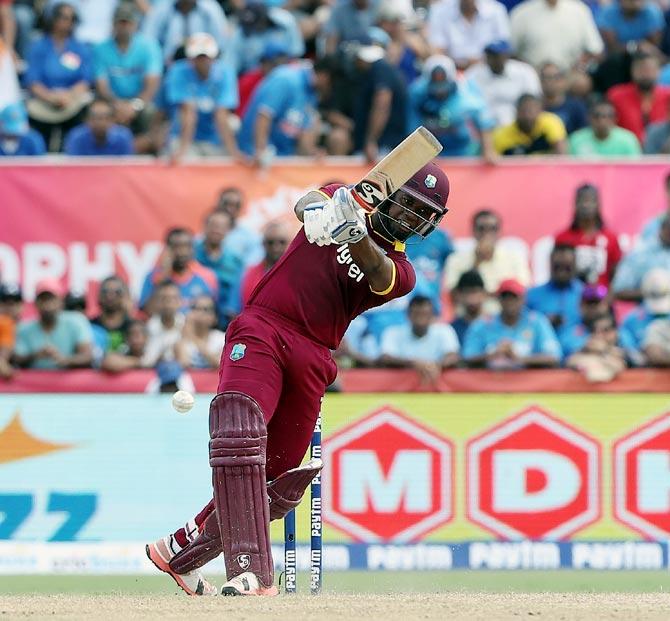 The highest T20I innings ever played by any batsman against India.
The highest T20I innings for the West Indies and the third highest of all time.
The highest T20I innings ever in a chase in Twenty20 Internationals.
Lewis became the third batsman to score TWO hundreds in Twenty20 Internationals and the first to do so against a particular opponent.
The 12 sixes he hit are the third most by any batsman in a Twenty20 International innings.
Lewis scored 96 of his runs in boundaries -- 6 fours and 12 sixes -- the joint fourth-most in an innings in Twenty20 Internationals.
Lewis' innings broken up
| | |
| --- | --- |
| Dots | 21 |
| Singles | 17 |
| Twos | 6 |
| Threes | 0 |
| Fours | 6 |
| Sixes | 12 |
Lewis versus each Indian bowler
| vs | Balls | Runs | Strike Rate | 4s | 6s |
| --- | --- | --- | --- | --- | --- |
| Ravindra Jadeja | 13 | 32 | 246.15 | 0 | 5 |
| Mohammed Shami | 10 | 24 | 240.00 | 3 | 1 |
| Ravichandran Ashwin | 13 | 28 | 215.38 | 1 | 3 |
| Kuldeep Yadav | 13 | 23 | 176.92 | 1 | 2 |
| Bhuvneshwar Kumar | 13 | 18 | 138.46 | 1 | 1 |
Lewis vs Pace/Spin
| vs | Balls | Runs | Strike Rate | 4s | 6s |
| --- | --- | --- | --- | --- | --- |
| Pace | 23 | 42 | 182.60 | 4 | 2 |
| Spin | 39 | 83 | 212.82 | 2 | 10 |
Lewis' innings progress
| | Runs | Strike Rate | 4s | 6s |
| --- | --- | --- | --- | --- |
| First 20 balls | 36 | 180.00 | 3 | 4 |
| Next 20 balls | 42 | 210.00 | 2 | 1 |
| Next 22 balls | 47 | 213.64 | 1 | 7 |
Highest individual innings against India in Twenty20 Internationals
| | Runs | Balls | Venue | Year |
| --- | --- | --- | --- | --- |
| Evin Lewis (West Indies) | 125* | 62 | Kingston | 2017 |
| Shane Watson (Australia) | 124* | 71 | Sydney | 2016 |
| Evin Lewis | 100 | 49 | Lauderhill | 2016 |
| Chris Gayle (West Indies) | 98 | 66 | Bridgetown | 2010 |
| Brendan McCullum (New Zealand) | 91 | 55 | Chennai | 2012 |
| Aaron Finch (Australia) | 89 | 52 | Rajkot | 2013 |
| Lendl Simmons (West Indies) | 82* | 51 | Mumbai | 2016 |
Highest individual innings in a chase in Twenty20 Internationals
| | Runs | Balls | Opposition | Venue | Year |
| --- | --- | --- | --- | --- | --- |
| Evin Lewis | 125* | 62 | India | Kingston | 2017 |
| Babar Hayat (Hong Kong) | 122 | 60 | Oman | Fatullah | 2016 |
| Richard Levi (South Africa) | 117* | 51 | New Zealand | Hamilton | 2012 |
| Alex Hales (England) | 116* | 64 | Sri Lanka | Chittagong | 2014 |
| K L Rahul (India) | 110* | 51 | West Indies | Lauderhill | 2016 |
| Martin Guptill (New Zealand) | 101* | 69 | South Africa | East London | 2012 |
| Chris Gayle | 100* | 48 | England | Mumbai | 2016 |
| Alex Hales | 99 | 68 | West Indies | Nottingham | 2012 |
Players with more than one hundred in Twenty20 Internationals
| | Runs | Balls | Opposition | Venue | Year |
| --- | --- | --- | --- | --- | --- |
| Chris Gayle | 117 | 57 | South Africa | Johannesburg | 2007 |
| | 100* | 48 | England | Mumbai | 2016 |
| | | | | | |
| Brendan McCullum | 116* | 56 | Australia | Christchurch | 2010 |
| | 123 | 58 | Bangladesh | Pallekele | 2012 |
| | | | | | |
| Evin Lewis | 100 | 49 | India | Lauderhill | 2016 |
| | 125* | 62 | India | Kingston | 2017 |