No. 2-ranked India and table-toppers South Africa clash in a six-match series, starting in Durban on Thursday.
South Africa have to just draw the series to retain the top spot.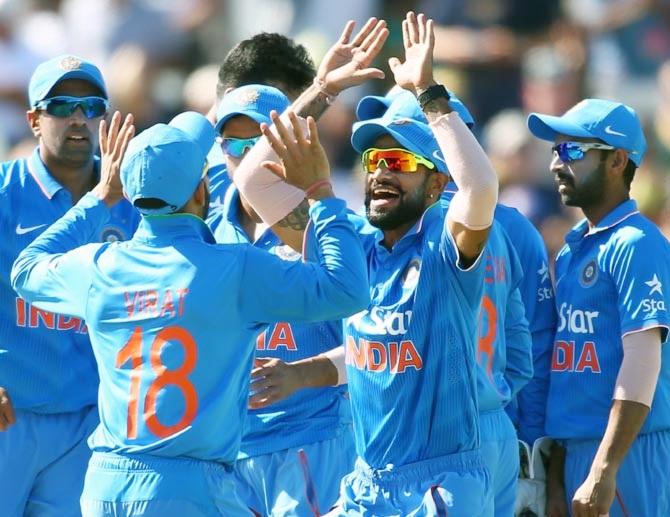 IMAGE: India's players celebrate the fall of a wicket. Photograph: Paul Kane/Getty Images
The number one ODI status will be on the line when second-placed India and table-toppers South Africa clash in a six-match series, starting in Durban on Thursday.
The Virat Kohli-led India can top the One-Day International rankings by winning the series by 4-2 or better, while to retain the top spot, South Africa have to just draw the series.
However, India will slip behind third-placed England by a fraction of a point if South Africa win the series 5-1 or better.
Meanwhile, India captain Virat Kohli continues to lead the ICC ODI Player Rankings for batsmen with 876 points, just above South Africa's AB de Villiers (872).
Australia's David Warner is placed third with 823 points followed by Rohit Sharma (816), Pakistan's Babar Azam (813).
Mahendra Singh Dhoni dropped a place to 13th, just above another Indian, Shikhar Dhawan.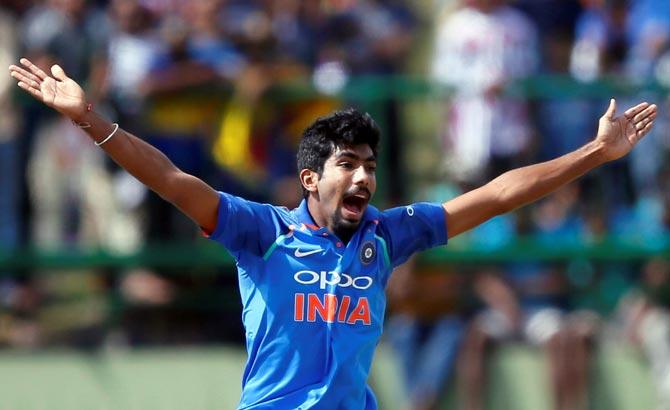 IMAGE: Pacer Jasprit Bumrah is ranked No 3 among bowlers. Photograph: Dinuka Liyanawatte/Reuters
Amongst the bowlers, Indian pacer Jasprit Bumrah (728 points) is static at third behind leader Imran Tahir (743) of South Africa and New Zealand's Trent Boult (729).
Left-arm spinner Axar Patel is the only other Indian in the top 10 at No 10 10, with 643 points.
No Indian features in the top 10 of the ICC ODI Players' Rankings for all-rounders, which is headed by Bangladesh's Shakib Al Hasan, followed by Pakistan's Mohammad Hafeez and Afghanistan's Mohammad Nabi.
In the ODI teams' ranking, World champions Australia, meanwhile, dropped two places to fifth, while ICC Champions Trophy winners Pakistan conceded three points following an action-packed month of white ball cricket, which saw 17 ODIs being played between seven sides in Australia, Bangladesh and New Zealand.
While the 50-over tournament champions, Australia slipped in the team rankings table, England and New Zealand were rewarded for impressive performances against Australia and Pakistan respectively.
England (116) moved up to third after gaining two points and New Zealand (115) rose to fourth after earning three points.
Following a 4-1 series defeat, Australia are now fifth on 112 points, while Pakistan, after being swept aside 5-0 by New Zealand, are sixth on 96 points. The top five sides are still separated by just nine points.
In Bangladesh, the hosts went head to head with Sri Lanka and Zimbabwe in a tri-series, which culminated on Saturday with Sri Lanka beating Bangladesh in the final by 79 runs.
From this series, all three sides retained their pre-series rankings, but Bangladesh conceded two points to slip to 90 and Zimbabwe earned a point to move to 53. Sri Lanka stayed on 84 points.
Also in action will be 11th-ranked Afghanistan and 10th-ranked Zimbabwe in Sharjah; the two sides will contest a five-ODI series in Sharjah from February 9 to 19.