India's stand-in captain Gautam Gambhir did not disclose the XI but gave enough indications that he would not make wholesome changes to the squad that will take on New Zealand in the opening one-dayer of the five-match series, in Guwahati on Sunday.
Shorn of experience in the absence of regular skipper MS Dhoni and and senior players like Sachin Tendulkar, Virender Sehwag and Zaheer Khan, Gambhir, more than experimentation, stressed on the need to win the series.
"The most important thing right now is to win the game, to win the series rather than thinking about giving opportunity to all the players.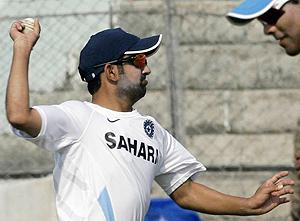 "We are just about to begin the series and it's too early to say that you need to give opportunity to all the players," Gambhir, who has been appointed skipper for the first two ODIs, said on Sunday.
"It's an international series and you are playing for your country. Rather than giving opportunity to all, it's all about winning the series and then taking it from there."
The skipper will open the batting with Murali Vijay while the middle-order would remain the same as the one that played against Australia in Visakhapatnam last month.
This means Virat Kohli, Yuvraj Singh and Suresh Raina are likely to form the backbone of Indian batting.
Wicket-keeper Wriddhiman Saha is all set to make his one-day debut while Saurabh Tiwary, who had played in the team's last ODI, is likely to add spark down the order.
Going by the skipper's words, all-rounder Ravindra Jadeja and pacer Munaf Patel, who did not play in Visakhapatnam, might have to wait for their turns.
Yusuf Pathan, who has been picked following his scintillating show in the Ranji Trophy, is likely to make the cut ahead of Sreesanth. That would mean R Vinay Kumar and Asish Nehra would have to share the new ball.
Off-spinner Ravichandran Ashwin, who is also decent with the bat, is likely to retain his place in the line-up.
The skipper was effusive in his praise for Saha and said: "He has done well in domestic cricket playing for Bengal. It's a good opportunity for him. We all feel that he is a very good wicket-keeper, it's just about scoring some runs. It's all about carrying he momentum into international cricket. He is among runs, so he will be feeling confident."
The XIV will be picked again after the second ODI in Jaipur and, according to sources, Dhoni will continue to be rested with Gambhir retaining the captaincy for the series.
The only change the selectors might make for the last three ODIs would be to test Rohit Sharma ahead of the tired Raina.
Team India (likely): Murali Vijay, Gautam Gambhir (captain), Virat Kohli, Yuvraj Singh, Suresh Raina, Yusuf Pathan, Saurabh Tiwary, Wriddiman Saha (wk), Ravichandran Ashwin, R Vinay Kumar and Ashish Nehra. a