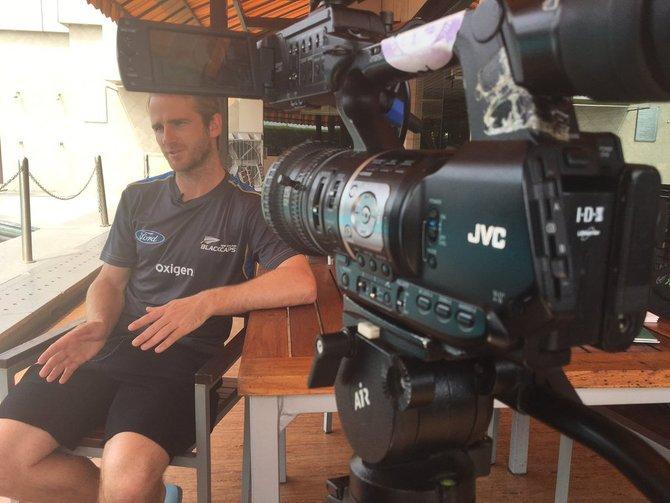 IMAGE: New Zealand captain Kane Williamson. Photograph: Twitter.
With spin expected to have an impact on the outcome of the opening Test starting in Kanpur on Thursday, New Zealand captain Kane Williamson is hoping that the lessons learnt during the World Twenty20 in India will help his side's spinners counter the hosts.
New Zealand had reached the semi-finals of World T20 and Mitchel Santner (4/11 in 4 overs) had recorded the best figures for a Kiwi spinner in Twenty20s en route to their knock out stage appearance.
Those figures had come for a winning cause against India in Nagpur and he was well supported by Ish Sodhi, who took three wickets in that match. These two spinners -- Santner and Sodhi -- will challenge the Indian batting line-up in this Test series.
Asked if Kiwi spinners can match that of India's, Williamson said he was quite optimistic.
"They (India) have got very good spinners, naturally very experienced in these conditions. We have some exciting young talent. We showed that in the T20 World Cup. That was huge for us. Yes, the formats are different, but I am hoping we can build on from those experiences," Williamson said ahead of Thursday's first Test.
"A lot of learning experiences to be had. Certainly this is one of them, being exposed in these conditions. They are suited to spin bowling so we are hoping they can play a big part in the series."
Williamson did not make a big issue of having just one practice game under their belt in the build up to the series but said if Kotla track had offered more spin, it would have been better for them.
"The wicket in the warm-up game was still slow, and it did deteriorate a little bit. So, there was some good practice there. Perhaps it would have been nicer if it had spun a little bit more. At the same time a lot of positives came out of it and practice wickets were good yesterday once the grass was shaved off," he said.
"All the preparation you can get is important. The nature of the international cricket is such that you go from one tour to another and you cannot get everything perfect but we have come at the back of some cricket which is important. We have had a week in Delhi to prepare as well and the guys are looking forward to the cricket."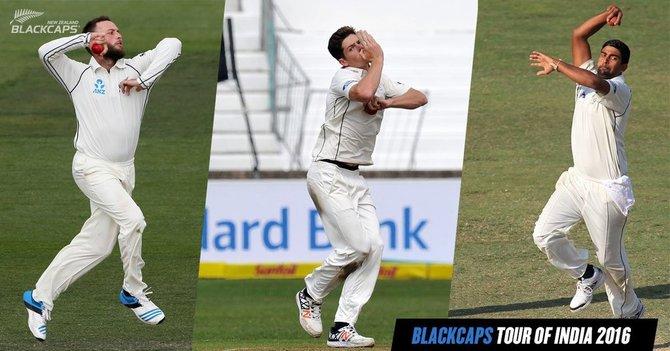 IMAGE: New Zealand spinners Mark Craig, Mitchell Santner and Ish Sodhi. Photograph: New Zealand Cricket.
Talking abut the Green Park wicket, he said nobody will really know about it until the match starts.
"Certainly it looks very dry, not a lot of grass on it. Coming here we thought spin would be a factor, and we certainly think it will be in this game. I guess when the grass gotten shaved off the practice wickets, there were some similarities in how it looked. But practice wickets are never prepared exactly the same," he said.
Williamson also said that playing on turning track may well boomerang on the hosts.
"We are certainly hoping so. We know it's going to be a challenge. I suppose they are tough for both teams though. It's important we adapt quickly and if we do and play positively then let's see," he said.
As talks continued on spin, Williamson reminded that reverse swing will also bring seamers too into the picture.
"Spin will be a big part of the series. If you look at the last couple of years I suppose most games are like this. It's been runs and wickets and things have happened quite quickly, so I believe playing positive cricket is important.
"How our spin bowlers bowl will be important. But at the same time we are hoping for a bit of reverse swing and that certainly brings the seamers into it. We will see how things unfold," said Williamson.
The young and affable Kiwi captain said his side may not have a great record here but they will try to play positively. They have not won a Test in India since 1998.
"The record is not great. It is a tough place to play turn, not too many people's records are great, but it's important to go out and play positively, with bat and ball. Presence in the field give ourselves the best chance.
"We want to go out there and play positive cricket and enjoy ourselves. Some teams have certainly come here and it's been a real challenge. Another reason is India are a very good side. We know that when we play in that fashion (energetic cricket), it gives ourselves the best chance so will be certainly be looking to do that."