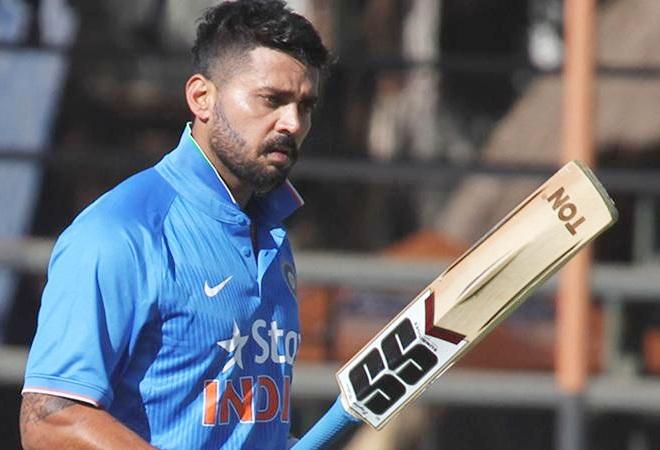 India's Murali Vijay celebrates after scoring a half century against Zimbabwe.Photograph: BCCI
After a five-year wait, opener Murali Vijay finally registered his maiden One-day International half-century, in the second match against Zimbabwe on Sunday.
The India opener is now determined to make a mark in the 50-over format.
India crush Zimbabwe by 62 runs to seal ODI series 2-0
Returning to the ODI squad after two years, Vijay scored 72 off 95 balls -- the highest score in the match -- to earn India a series victory and the man-of-the-match award.
It was Vijay and Ajinkya Rahane (63) who laid the foundation for India's 62-run victory with a 112-run opening partnership that helped the visitors put up 271 on the board.
"I am really happy considering how important the start was for us in these conditions. After the first match we sat together as a team and spoke about it. We said we cannot give away early wickets because it puts pressure on the middle-order," Vijay said.
"I felt Ajinkya and I did really well to bat the way we did in the first ten overs because the ball was doing a bit. I could have got a big one but that is a part of the game. I am satisfied with my performance, as, in the end, the team won."
Vijay had scored just one off nine deliveries in the first ODI, his comeback match.
Asked if he approached the second game any differently, the opener replied: "To be honest, no! I played only nine balls in the first ODI but I could feel that my feet were moving really well and I was seeing the ball well. I didn't want to change anything after one game.
"I had to believe in my ability and just focus on backing myself to execute the plan that we went in as a team. I knew there is nothing wrong with my batting. It was just the shot selection issue that came in the picture again.
"Today I just wanted to take some time in the middle because wickets like these tend to act a bit funny. You feel like you are in but one good ball can suddenly get you out," said Vijay, who made his ODI debut against South Africa at Ahmedabad in 2010.
The 31-year-old had to work hard for his initial 50 runs before going for a couple of big shots.
"In the first 10 overs I hit a couple of good shots but the ball went straight to the fielder. That's when I got the sense that things are probably not going my way. So I decided that rather than pushing for it and doing something different, I should just wait for it," Vijay said.
"Both Ajinkya and I were rotating the strike well and there was no need to do anything fancy. I felt that the wicket was easing up a bit after the first 10 overs and I thought if I could stay in till the 25th over, I can compensate for the initially low strike-rate," he added.
Vijay had to endure a frustrating phase when he injured his wrist and was unable to play big shots. The Tamil Nadu batsman said it was the Australian Test tour, where he emerged as India's second-highest run-scorer after Virat Kohli, that gave him confidence.
Asked about the two big shots he played on Sunday in the second ODI, he said: "I always enjoy hitting sixes. After my wrist injury when I could not hold the bat with my natural grip, I had to make a few tweaks so that I don't aggravate the injury. Because of that I felt like I had lost my range. It was really frustrating and irritating.
"But I went through that grind and now after the rehabs and with time I am again feeling good about my wrist and getting that range for big shots. The Test success helped me get a lot of confidence in terms of my fitness. Now I am getting the whip off my bat I used to get earlier."
On his partnership with Rahane, he said they both back one another and communicate well.
"We both have a positive intent within us. We had some good partnerships in the Test matches in Australia and we have been playing together for a while now. So we know each others game a little better. It is very simple; we just back each other, communicate, especially with running between the wickets and just take it one plan at a time."