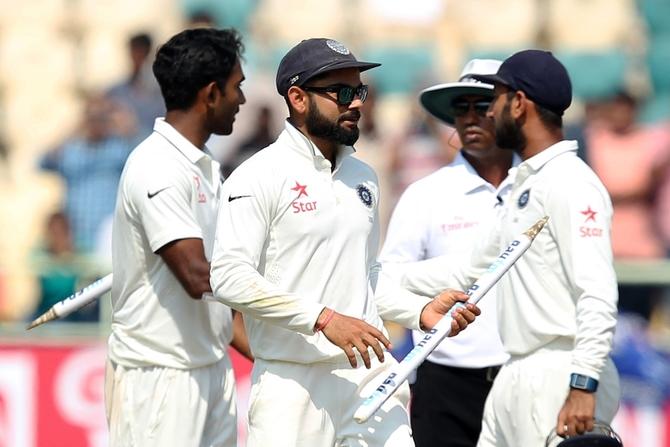 IMAGE: Indian skipper Virat Kohli (centre) celebrates with Jayant Yadav (left) after winning the second Test against England in Vizag. Photograph: BCCI.
The BCCI has always announced handsome performance incentives over the year whenever the senior or U-19 teams have done well in bilateral series or limited overs tournament but in current scenario, the richest cricket board's hands are tied as per Supreme Court order.
The Supreme Court of India has passed an order that limits the BCCI's financial freedom and power until the board and its state associations comply with the Lodha Committee's recommendations.
With BCCI needing the apex court's permission for disbursal of any amount, the Virat Kohli-led team that beat England 4-0 in the just-concluded five-Test series may have to wait to a little longer to get richer by a few more crores.
"Nothing can happen before Supreme Court hearing on January 3," a senior office-bearer told PTI on conditions of anonymity.
Normally, the incentives for the senior men's team has been on the higher side with as much as Rs 2 crore being given in 2015 when Kohli's boys beat South Africa 3-0 in a four-match series.
But with BCCI's failure to adhere to the directives issued by the Supreme Court appointed Justice RM Lodha committee in toto, the dibursal of funds now needs apex court's permission. And that is precisely the reason that Kohli and Co needs to wait.
It will be interesting to see if BCCI puts an application about their intent of rewarding the team for such a performance.
In fact it was the Supreme Court that had earmarked an amount of Rs 58.66 lakh per Test match for organisation.
The BCCI also had to appeal for Rs 25 lakh per limited overs match against England.