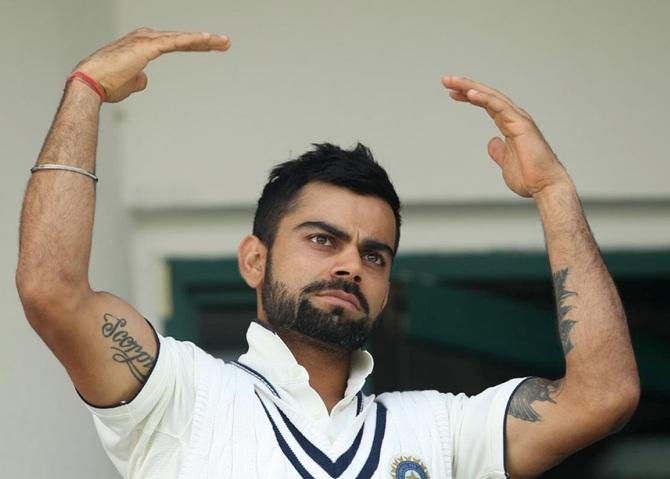 IMAGE: India captain Virat Kohli. Photograph: BCCI
Former India off-spinner Erapalli Prasanna on Friday took a dig at Virat Kohli and said if the current skipper feels he is the boss of Indian cricket then the team can do without a coach.

Prasanna sounded cynical in his response when asked about the rift between Kohli and Anil Kumble, who quit as Indian cricket team coach recently.

"Why do they require a coach, if the captain is the boss? I don't think they even need the services of batting or fielding coaches (Sanjay Bangar and R Sridhar)," the former spin great said.

Prasanna also questioned Kohli's captaincy abilities.

"Kohli is undoubtedly a very good player but I do not know whether he is a good captain or not," he said.

Kumble quit as India's coach in the aftermath of their ICC Champions Trophy final loss to arch-rivals Pakistan, stating that Kohli had reservations about his coaching "style" and their partnership was "untenable".

The Indian team will be without a coach during their limited overs tour to the West Indies, where they play five ODIs and one-off T20 match starting at Port of Spain on Friday.

"If a legendary cricketer like Anil Kumble is not respected, I do not think neither of them -- Bangar and Sridhar -- will have the guts to speak to Kohli in a confident way. None of them are as experienced like Kumble," Prasanna said.

"Just hire somebody for the physical training and that will be enough. If such is the attitude of a captain I don't think you require a coach," the 77-year-old said, seemingly upset with Kohli's behaviour.

"We can go back to the good old days of appointing a manager to look after the logistics, if he (Kohli) takes up the responsibility. The role of a coach is not defined," he added.

The Cricket Advisory Committee (CAC) consisting former cricketers Sachin Tendulkar, Sourav Ganguly and VVS Laxman has been entrusted with the responsibility of recommending the coach to the BCCI but Prasanna said the appointment system needs an overhaul.

Prasanna further said the time has come for India to look beyond old warhorses like Yuvraj Singh and Mahendra Singh Dhoni.

"I don't think they will be able to continue till the next World Cup in 2019, they will be 38 then. We need fresh and young legs and players who are extremely agile," he said.

"Okay, Dhoni will be the wicketkeeper but Yuvraj is going to be a liability as a fielder. In fact, the selectors should have tried out more youngsters for this West Indies tour, as they are one of the weakest teams at the moment."