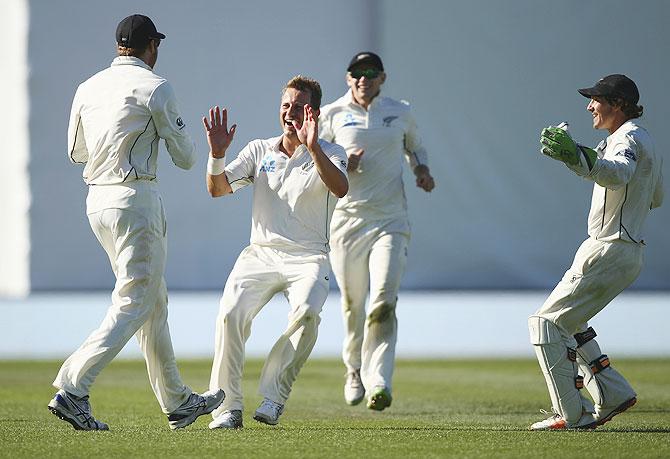 IMAGE: New Zealand's Neil Wagner celebrates after taking the wicket of Australia's Steve Smith on Day 2 the 2nd Test at Hagley Oval in Christchurch on Sunday. Photograph: Ryan Pierse/Getty Images
New Zealand quick bowler Neil Wagner defended his use of the bouncer but admitted to feeling "shaky" when he felled Steve Smith with a blow to the head in the second Test in Christchurch on Sunday.
- Smith earns praise after battling head knock to hit century
- Burns & Smith put Australia in command
Century-maker Smith collapsed and lay prone on the ground for several seconds before staggering to his feet.
After he was given the all-clear following medical attention he continued his stand as Australia closed in on New Zealand's first innings 370 in the second Test.
The danger of head blows has been highlighted since Australian Phillip Hughes died after being struck on by a bouncer 15 months ago.
"It's not nice is it? It's bit of a shaky feeling," Wagner said when questioned about how he felt when Smith went down.
"It's never one's intention to hit someone in the head and see him go down like that.
"I ran up straight to him and he flashed his eyes a little bit and I was a bit worried at the start and he said he's fine and he took a bit of time."
Wagner, New Zealand's go-to bowler to break stubborn partnerships with his use of the short-pitched ball, defended the bouncer as an effective weapon.
"Short-pitched bowling is just about trying to throw them off their game and try to get a wicket in some sort of way," he said.
"Obviously they (Australia) made things look pretty easy so we were just trying to throw him off that."
Wagner used the delivery to good effect late on the second day by removing Joe Burns for 170 and Smith for 138 to have Australia 363 for 4 at stumps.
Both went in similar fashion as they tried to pull down short-pitched deliveries and hit the ball to Martin Guptill at square leg.
Being New Zealand's enforcer is not Wagner's normal role but "is something that gets given to me and I love doing any role that is given to me," he said.
"When Baz (Brendon McCullum) comes to me and asks me to do a certain role or plan then it's just what I need to do for the team to try and get a result or a wicket.
"Obviously the two wickets at the end helped us and were quite crucial."