Hamish Rutherford's century on debut helped New Zealand to a 235-run first innings lead over England on Friday before rain and fading light stopped them from extending their advantage by cutting short the third day of the first Test.
Rutherford scored a dynamic 171, the second highest score by a New Zealander in his first Test, to help the hosts reach 402 for seven in reply to England's 167 when play was stopped about 20 minutes into the third and final session of the day.
Umpires Asad Rauf and Paul Reiffel decided the light mist that had been drifting across University Oval for 45 minutes was too bad to continue and no further play was possible.
New Zealand captain Brendon McCullum, who was unbeaten on 45, and Bruce Martin, who had made 17, will resume their promising 32-run partnership on day four.
McCullum, one of the best exponents of aggressive batting in Test cricket, would have been looking to up the tempo in the final session and give his bowlers another crack at the England batsmen sooner rather than later.
With the entire first day having been washed out but the pitch still a good batting surface, the hosts probably need some time to try and bowl out the much vaunted England lineup for a second time.
NEW BALL SUCCESS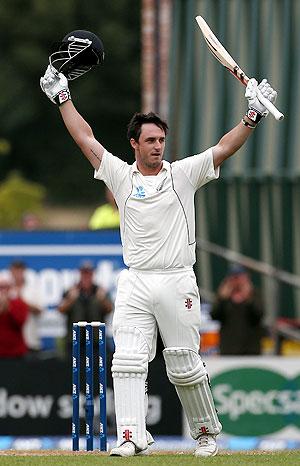 Rutherford became the ninth New Zealander to score a century on debut before England's bowlers wrested back some of the advantage they had ceded with five wickets falling in the second session.
The lefthander added just four runs to his lunch score of 167 when he popped a catch to substitute fielder Chris Woakes off James Anderson with the first delivery of the second new ball.
The 23-year-old, who had a double century well within his sights, cut a disconsolate figure as he trudged off, only acknowledging the standing ovation from the crowd on his home ground as he approached the boundary rope.
"To be fair you get picked to score runs and that's the job you do, so while it's great to get the first ton, just a raise of the bat," Rutherford said in a televised interview of his undemonstrative acknowledgement after he was dismissed.
"To get out first ball with the new ball was very disappointing, I wanted to bat another half an hour after lunch and go from there.
"I don't like getting out (but) ...it was nice to get it here at my home ground. I do know what the surface is doing, the surrounds and the crowd too."
Mathew Sinclair's 214 against West Indies in 1999 is the highest score by a New Zealand batsman on debut.
Swing bowler Anderson (4-108) was the pick of England's bowlers. After dismissing Rutherford he had the opportunity for a double strike in the same over when Dean Brownlie was dropped at third slip by Joe Root.
Anderson was incensed by the missed opportunity but still managed to dismiss Ross Taylor for 31 and Brownlie for 27 before Stuart Broad bowled BJ Watling (nought) and Tim Southee (25) to drag their side back into the match.
Peter Fulton (55) and Kane Williamson (24), the last New Zealand player to score a century on debut, were the only wickets to fall in the morning session.
Scorecard
England (1st innings): 167
New Zealand (1st innings): (overnight 131-0)
P. Fulton c Prior b Anderson 55
H. Rutherford c sub b Anderson 171
K. Williamson b Panesar 24
R. Taylor c Trott b Anderson 31
D. Brownlie b Anderson 27
B. McCullum not out 44
BJ Watling b Broad 0
T. Southee b Broad 25
B. Martin not out 17
Extras (lb-8) 8
Total (for seven wickets, 108 overs) 402
Fall of wickets: 1-158, 2-249, 3-267, 4-310, 5-321, 6-326, 7-370
Bowling: J. Anderson 29-2-108-4, S. Finn 26-3-102-0, S. Broad 24-3-89-2, M. Panesar 22-2-83-1, J. Trott 2-0-4-0, J. Root 5-1-8-0
Photograph: Photograph: David Gray/Reuters