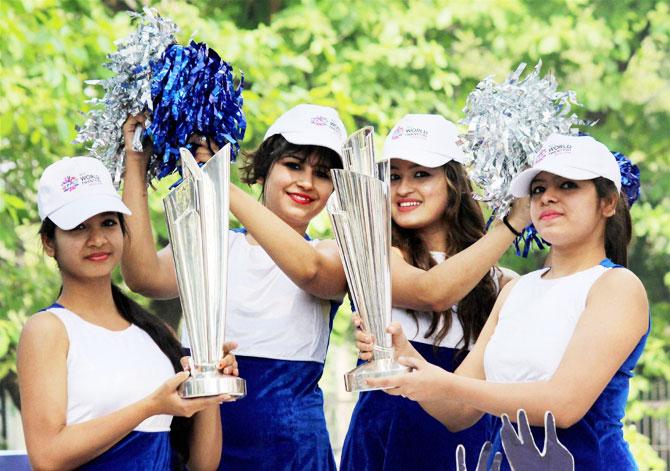 IMAGE: Models display the ICC T20 World Cup Trophy during an event for its public viewing in Nagpur on Saturday. Photograph: PTI
India pacer Umesh Yadav was the cynosure of all eyes at an event in Nagpur on Saturday when the ICC World T20 trophies were introduced to the Orange City as part of the tournament's host city tour.
Yadav interacted with around 20 kids hailing from interiors of tribal dominant block in Maharashtra's Chandrapur district.
The kids were roped in as sanitation messengers.
On the occasion, the International Cricket Council (ICC) in partnership with UNICEF and the Board of Control for Cricket in India (BCCI) launched the 'Team Swachh' clinics.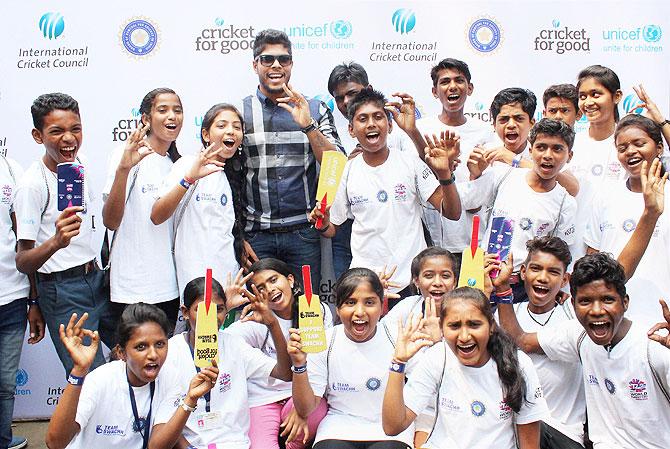 IMAGE: Vidarbha Cricketer Umesh Yadav at the launch of Swachh Clinics team, an initiative of the ICC, Unicef and BCCI to spread awareness on sanitation, ahead of ICC T20 World Cup in Nagpur, in Maharashtra on Saturday. Photograph: PTI
Nagpur residents got a glimpse of the Men's and Women's T20 trophies as they were taken around the city in specially designed trucks.
The 28-year-old bowler spoke about importance of hygiene and sanitation in the specially designed Team Swachh Wash clinic, set up inside the Vidarbha Cricket Association premises.
Nagpur hosts India's first match of the ICC World T20 against New Zealand on March 15.