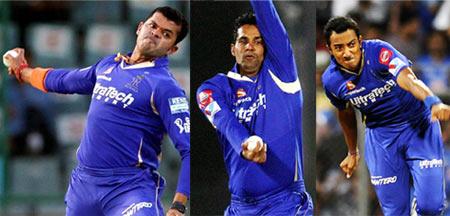 The Justice Mukul Mudgal Committee is likely to extend its probe in the IPL betting and match-fixing scandal to Narayanaswami Srinivasan and 12 others, including some prominent cricketers, after the Supreme Court on Tuesday ignored a panel of the Board of Control for Cricket in India for the job.
"We have given our consent. It is subject to the Supreme Court approval on Tuesday (April 29)," said Justice Mudgal, who headed the three-member committee that had earlier submitted a report into the spot-fixing and betting scandal of IPL-6 in a sealed envelope to the court, citing serious allegations against Srinivasan and some capped players.
The consent of the panel headed by Mudgal, a retired Chief Justice of Punjab and Haryana high court, was conveyed to the Committee's counsel, Gopal Subramanium, after the court had earlier on Tuesday morning asked whether it would be willing to continue its inquiry.
Mudgal told the media that once the court accepts their consent, the committee will finalise the procedure on how to move forward and also decide whether any new member should be included.
During its earlier probe, Mudgal was assisted by Additional Solicitor General L Nageshwar Rao and lawyer Niloy Dutta.
Also read: Lalit Modi relishing prospect of Mudgal panel continuing IPL probe
A bench, headed by Justice A K Patnaik, said on Tuesday afternoon that it would pass its order, on April 29, regarding the assistance that the panel would require for the probe.
It said the committee will be given assistance by investigating agencies.
During the proceedings in the morning, the court sought the panel's consent by 1400 IST, but in the afternoon Subramanium could not appear before it and the matter was posted for next Tuesday.
Image: The IPL's tainted trio of Shantakumaran Sreesanth, Ajit Chandila and Ankeet Chavan.