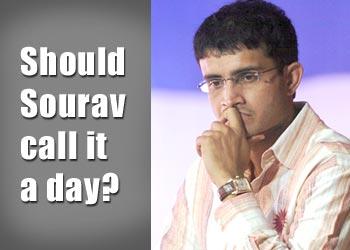 Sourav Ganguly's international career could well be over after the Indian selectors strangely kept him out of the Indian team for the first Test against England in Nagpur.

Board of Control for Cricket in India Secretary Niranjan Shah said the selectors are looking towards the future and the emphasis is on grooming youngsters.

'The selection committee says it wants to look towards the future; it does not want look backwards now. This is what Kiran More has said in his press conference. I think Sourav Ganguly now stands a slim chance to play in the future,' Shah told the BBC's Hindi service.

At 33, the captain most responsible for making Team India the power it now is does not seem to feature in coach Greg Chappell's scheme of things.

Should Sourav call it quits? Or should he continue playing domestic cricket, prove that he still has lots left in him to take on the best in the business and stage a comeback?
Tell us what you think.