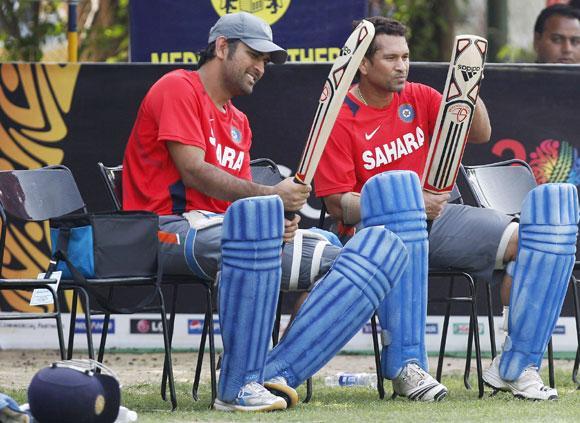 IMAGE: Mahendra Singh Dhoni (left) with Sachin Tendulkar.
India's limited overs captain Mahendra Singh Dhoni is on the verge of breaking another record in One Day Internationals.
The 35 year-old batsman is only four sixes short of eclipsing none other than legendary batsman Sachin Tendulkar's record of scoring the most number of sixes for India.
Looking at the list of players with most sixes in ODI history, India's Captain Cool is currently positioned at No. 6 with 192 sixes from 275 ODIs.
Tendulkar (195 sixes from 463 ODIs) is currently India's leading six hitter and is placed at fifth position among international batsmen.
Former Pakistan captain Shahid Afridi is leading in the list of hitting most sixes in ODIs. He has hit 351 sixes in 369 innings.
Known as a finisher for India, Dhoni has hit sixes at a phenomenal rate as compared to the Indian run machine Tendulkar, who mainly played conventional strokes.
India will be hosting New Zealand for a five match ODI series in October and Dhoni can be expected to break Tendulkar's record during the series and become India's top six hitter in ODI cricket.
Most six hitters in ODIs
Shahid Afridi: 351 from 398 ODIs
Sanath Jayasuriya: 270 from 445 ODIs
Chris Gayle: 238 from 266 ODIs
B McCullum: 200 from 260 ODIs
Sachin Tendulkar: 195 from 463 ODIs
MS Dhoni: 192 from 275 ODIs