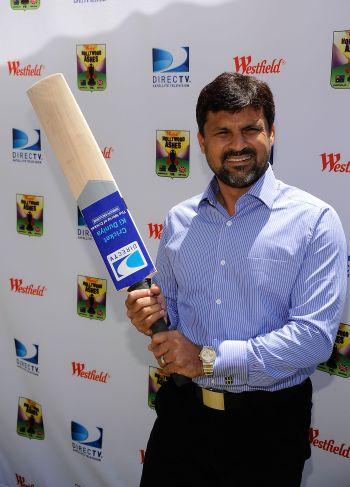 The Management Committee of the Pakistan Cricket Board appointed former wicketkeeper Moin Khan as head coach of the national team for the upcoming Asia Cup and World T20 Cup tournaments in Bangladesh, ignoring former Test captain Waqar Younis for the top job.
The management committee which met in Lahore under new chairman Najam Sethi also appointed former Test captain Zaheer Abbas as chief cricket consultant of the Board who will accompany the team on all tours.
PCB Chief Operating Officer Subhan Ahmad told a media conference that the committee appointed Moin on the recommendations of the coaching committee which included Javed MIandad, Intikhab Alam and Wasim Akram.
"The coaching committee had given us some options and we chose option one which was Moin Khan," he said.
Moin was serving as manager of the national team since last October after being appointed to the post by Sethi in his previous tenure. But when Zaka Ashraf took charge, he immediately sacked Moin as manager who then applied for the post of chief coach.
At the same time, the Committee reversed most of the major decisions taken by Ashraf who was sacked as PCB chairman on Monday through a notification issued by Prime Minister Nawaz Sharif.
The PM appointed the managing committee which later picked Sethi as its chairman and that of the Board.
"The MC today reviewed all decisions taken by the previous chairman and have reached the conclusion that no appointment letter was issued to Aamir Sohail for the post of Chief Selector and Director Game Development," Ahmad said.
"There is no record of any appointment letter being issued to Aamir Sohail, so he holds no post in the Board," he added.
Ahmad said similarly the Committee had also declared null and void the appointments of Basit Ali as head of Karachi Regional Academy and Muhammad Illyas as chief selector for junior cricket and women's cricket as their appointments were not in accordance with service rules of the PCB.
He said the Committee, however, decided to retain Zakir Khan, who is director international operations, as manager of the national team for the Asia Cup and World T20 Cup.
Ahmad said similarly the two-year contract given to national team bowling coach Muhammad Akram had also been ratified by the committee. He said that Shoaib Muhammad will be work with Moin as fielding coach. He also said the committee reappointed Tafazzul Rizvi as legal advisor on the PCB panel.
He said that the present national selection committee would continue to do its job with member Azhar Khan to work as acting chief selector.
Image: Moin Khan
Photograph: Frazer Harrison/Getty Images