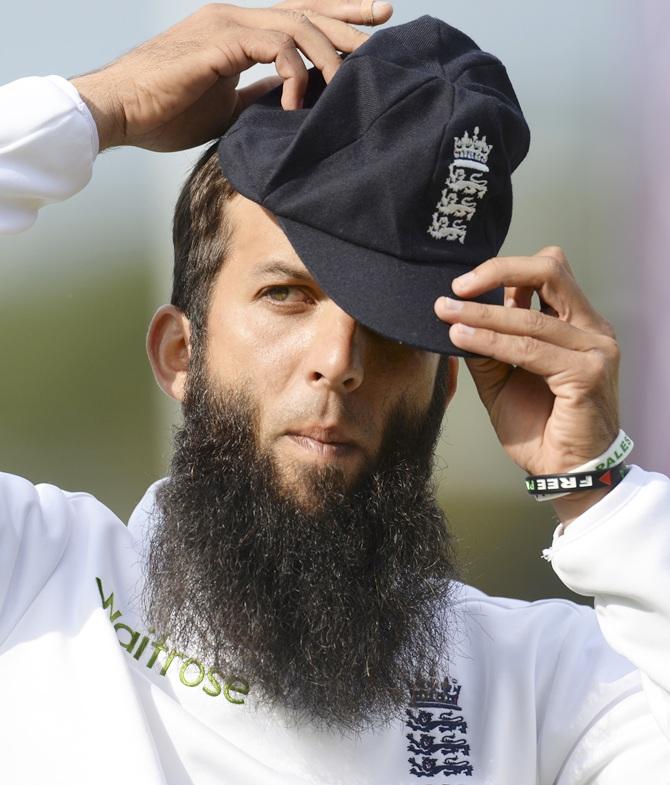 IMAGE: England all-rounder Moeen Ali. Photograph: Philip Brown /Reuters.
England's security advisor Reg Dickason has played down speculations that his side's Muslim players, Moeen Ali and Adil Rashid have any concerns about touring India for the five-match Test series, starting from November 9 in Gujarat.

Dickason's comments came following reports of Pakistan origin ICC Elite panel umpire Aleem Dar's withdrawal from standing in the series due to the escalating tension between India and Pakistan.

Although the ICC confirmed that Dar was never scheduled to stand in the upcoming Test series, it seems the cricket's governing body might have taken the decision after he was pulled out of an ODI series between India and South Africa last year because of threats.

"We have no real concerns but we're certainly aware of the issues Aleem Dar has.I know it was reported that he wasn't going, that he'd been pulled out, but according to the ICC he's just been rostered at another event. But Shiv Sena had some issues with Aleem there and went to the BCCI offices. So we're certainly aware of that but we don't expect any real issues," he was quoted as saying by ESPNcricinfo.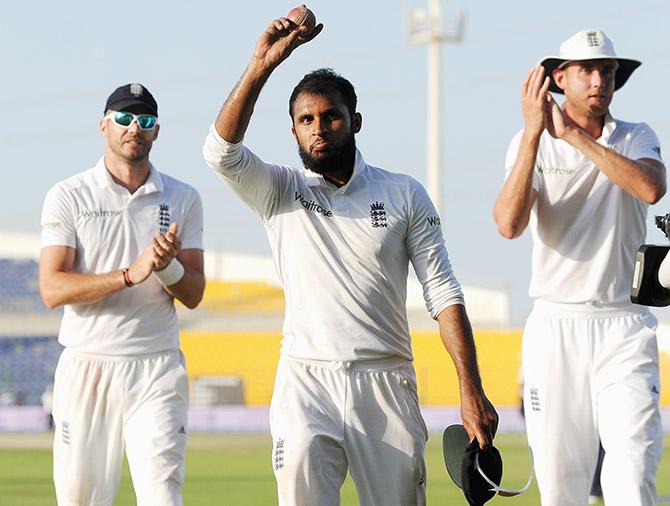 IMAGE: England leg-spinner Adil Rashid (centre). Photograph: Gareth Copley/Getty Images..
Recently, England's limited-overs skipper Eoin Morgan and Alex Hales pulled out of the Bangladesh tour due to security concerns, However, Bangladesh provided a high-level security operation during the Test series to put the visitors at ease.
Keeping that in mind, Dickason indicated that although protection levels would be less apparent in India, he added Moeen and Rashid had not expressed their concerns over the same.
"I've spoken to him and Adil and they seem ok to me. They haven't expressed any doubts to me," he said.
Dickason further expressed general satisfaction that the security plans drawn up by the BCCI would be appropriate to withstand any kind of threat that may arise.
"It'll be similar to Bangladesh but a different layout. It was very overt here and it won't be as overt in India. The road clearances that we got here that are usually reserved for heads of state we probably won't get in India. But we'll get adequate transit protection," he said.
"The BCCI get a host-city security plan which is a generic issue from a master security plan which is put across the whole event. There will be some subtle differences but it won't be too many," Dickason added.
In 2008, England were forced to abandon the last two ODIs against India in the wake of Mumbai terrorist attacks, but they returned to the country to complete the Test series under heavy security.