Mithali Raj made cricketing history last week.
Rajneesh Gupta tells us why.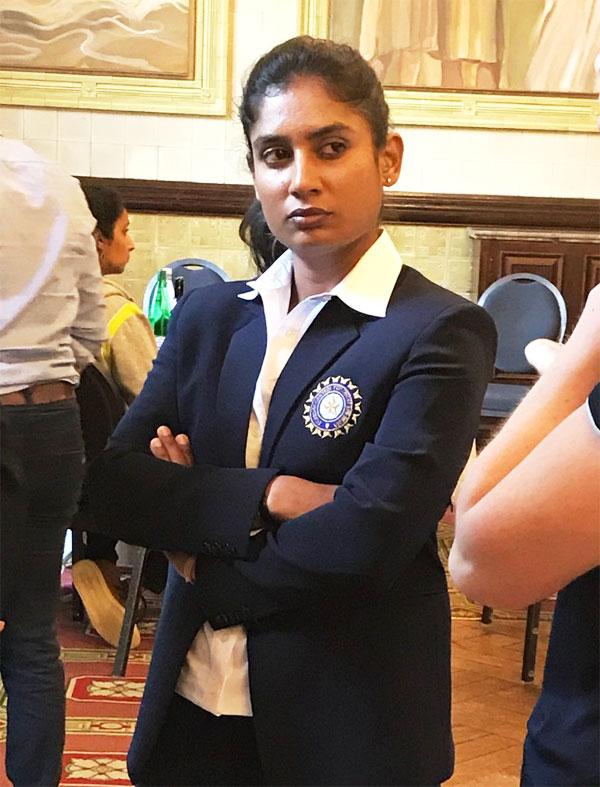 IMAGE: Mithali Raj, cricket legend.
Mithali Raj, the Indian women team's cricket captain, became the leading run-scorer in women's One-day Internationals during her innings of 69 against Australia in the ICC Women's ODI World Cup, surpassing England's Charlotte Edwards.
A glimpse of Mithali's awe-inspiring ODI career:
Career highlights
Made her ODI debut at the age of 16 years, 205 days vs Ireland in 1999.
Scored 114* on ODI debut -- the highest score by an Indian on debut and second highest by any player in this format at that time.
Mithali at 16 years, 205 days is still the youngest to score a hundred in women's ODIs.
Played 74 consecutive innings between 2000 and 2007 without scoring a duck -- the longest streak for any player at that time (since broken by Australia's Karen Rolton).
Played 109 consecutive matches between 2004 and 2013 -- the longest streak for any player in women's ODIs.
Has a career span of over 18 years -- the longest for an Indian player in this format.
Scored seven fifties on the trot this year -- the most any player has ever scored in consecutive innings in this format.
Has batted at every position from number 1 to 9 in women's ODIs.
Led India for the first time in 2004 vs the West Indies at the age of 21 years, 94 days to become the youngest captain for India in this format.
Led India in 106 ODIs winning 65 and losing 38 with three no result games (a win percentage of 61.32)
Has won 18 Woman of the Match awards -- the second most in women's ODIs after the West Indies' Stafanie Taylor (20). Among the Indians no one else has won more than six!
Performance against each opponent
| | | | | | | |
| --- | --- | --- | --- | --- | --- | --- |
| | Matches | Runs | Highest Score | Average | 100s | 50s |
| England | 48 | 1,605 | 98 | 48.63 | 0 | 16 |
| Sri Lanka | 25 | 926 | 108* | 154.33 | 2 | 7 |
| Australia | 30 | 896 | 89 | 34.46 | 0 | 7 |
| New Zealand | 26 | 817 | 91* | 38.90 | 0 | 5 |
| West Indies | 18 | 616 | 109* | 51.33 | 1 | 3 |
| South Africa | 14 | 447 | 69* | 44.70 | 0 | 6 |
| Ireland | 10 | 335 | 114* | 111.66 | 1 | 2 |
| Pakistan | 10 | 262 | 103* | 52.40 | 1 | 1 |
| Bangladesh | 1 | 73 | 73* | - | 0 | 1 |
| The Netherlands | 1 | 51 | 51 | 51.00 | 0 | 1 |
Performance in each country
| | | | | | | |
| --- | --- | --- | --- | --- | --- | --- |
| | Matches | Runs | Highest Score | Average | 100s | 50s |
| in India | 71 | 2,323 | 109* | 55.30 | 3 | 15 |
| in England | 35 | 1,187 | 114* | 43.96 | 1 | 10 |
| in Australia | 18 | 580 | 89 | 38.66 | 0 | 5 |
| in New Zealand | 15 | 541 | 98 | 41.61 | 0 | 4 |
| in Sri Lanka | 15 | 521 | 73* | 104.20 | 0 | 6 |
| in South Africa | 17 | 469 | 91* | 58.62 | 0 | 6 |
| in Pakistan | 5 | 165 | 108* | 165.00 | 1 | 0 |
| in Ireland | 4 | 157 | 66 | 52.33 | 0 | 2 |
| in West Indies | 3 | 85 | 57 | 28.33 | 0 | 1 |
Performance at home and away
| | | | | | | |
| --- | --- | --- | --- | --- | --- | --- |
| | Matches | Runs | Highest Score | Average | 100s | 50s |
| Home | 71 | 2,323 | 109* | 55.30 | 3 | 15 |
| Away | 69 | 2,248 | 94* | 44.07 | 0 | 22 |
| at Neutral venues | 43 | 1,457 | 114* | 60.70 | 2 | 12 |
Performance in each calendar year
| | | | | | | |
| --- | --- | --- | --- | --- | --- | --- |
| Year | Matches | Runs | Highest Score | Average | 100s | 50s |
| 1999 | 3 | 118 | 114* | 59.00 | 1 | 0 |
| 2000 | 3 | 152 | 69* | 76.00 | 0 | 2 |
| 2002 | 15 | 323 | 61 | 29.36 | 0 | 1 |
| 2003 | 12 | 497 | 98 | 45.18 | 0 | 3 |
| 2004 | 15 | 539 | 88 | 77.00 | 0 | 5 |
| 2005 | 15 | 300 | 91* | 42.85 | 0 | 3 |
| 2006 | 23 | 684 | 108* | 45.60 | 1 | 5 |
| 2007 | 7 | 163 | 55 | 27.16 | 0 | 1 |
| 2008 | 15 | 526 | 74 | 52.60 | 0 | 6 |
| 2009 | 7 | 247 | 75* | 61.75 | 0 | 2 |
| 2010 | 5 | 287 | 91* | 143.50 | 0 | 4 |
| 2011 | 9 | 240 | 109* | 30.00 | 1 | 0 |
| 2012 | 12 | 414 | 94* | 51.75 | 0 | 4 |
| 2013 | 4 | 132 | 103* | 66.00 | 1 | 0 |
| 2014 | 8 | 266 | 104* | 53.20 | 1 | 0 |
| 2015 | 5 | 141 | 81* | 47.00 | 0 | 1 |
| 2016 | 9 | 378 | 89 | 63.00 | 0 | 3 |
| 2017 | 16 | 621 | 73* | 77.62 | 0 | 9 |
Performance as a player and a captain
| | | | | | | |
| --- | --- | --- | --- | --- | --- | --- |
| | Matches | Runs | Highest Score | Average | 100s | 50s |
| as a player | 77 | 2,486 | 114* | 45.20 | 2 | 17 |
| as Captain | 106 | 3,542 | 108* | 57.12 | 3 | 32 |
Batting first and second
| | | | | | | |
| --- | --- | --- | --- | --- | --- | --- |
| | Innings | Runs | Highest Score | Average | 100s | 50s |
| 1st match innings | 90 | 3,295 | 114* | 43.93 | 4 | 28 |
| 2nd match innings | 74 | 2,733 | 103* | 65.07 | 1 | 21 |
Performance in won and lost matches
| | | | | | | |
| --- | --- | --- | --- | --- | --- | --- |
| | Matches | Runs | Highest Score | Average | 100s | 50s |
| Won match | 105 | 3,786 | 114* | 75.72 | 5 | 30 |
| Lost match | 74 | 2,242 | 98 | 33.46 | 0 | 19 |
| No result | 4 | - | - | - | - | - |
Performance at each batting position
| | | | | | | |
| --- | --- | --- | --- | --- | --- | --- |
| | Matches | Runs | Highest Score | Average | 100s | 50s |
| Opener | 6 | 305 | 114* | 101.66 | 2 | 0 |
| 3rd position | 81 | 3,311 | 109* | 54.27 | 3 | 30 |
| 4th position | 67 | 2,207 | 91* | 45.97 | 0 | 18 |
| 5th position | 6 | 181 | 53* | 45.25 | 0 | 1 |
| 6th position | 1 | 3 | 3* | - | 0 | 0 |
| 8th position | 2 | 9 | 8 | 9.00 | 0 | 0 |
| 9th position | 1 | 12 | 12* | - | 0 | 0 |
Leading run-scorers in Women's ODIs
| | | | | | | |
| --- | --- | --- | --- | --- | --- | --- |
| | Matches | Runs | Highest Score | Average | 100s | 50s |
| Mithali Raj | 183 | 6,028 | 114* | 51.52 | 5 | 49 |
| Charlotte Edwards (England) | 191 | 5,992 | 173* | 38.16 | 9 | 46 |
| Belinda Clark (Australia) | 118 | 4,844 | 229* | 47.49 | 5 | 30 |
| Karen Rolton (Australia) | 141 | 4,814 | 154* | 48.14 | 8 | 33 |
| Claire Taylor (England) | 126 | 4,101 | 156* | 40.20 | 8 | 23 |
| Debbie Hockley (New Zealand) | 118 | 4,064 | 117 | 41.89 | 4 | 34 |
| Stafanie Taylor (West Indies) | 104 | 3,911 | 171 | 43.45 | 5 | 27 |
| Suzie Bates (New Zealand) | 103 | 3,733 | 168 | 42.90 | 8 | 23 |
| Sarah Taylor (England) | 107 | 3,558 | 147 | 40.89 | 6 | 17 |
| Alex Blackwell (Austalia) | 139 | 3,257 | 114 | 35.02 | 3 | 23 |
| Amy Satterthwaite (New Zealand) | 100 | 3,142 | 137* | 38.79 | 6 | 16 |
Leading run-scorers for India in women's ODIs
| | | | | | | |
| --- | --- | --- | --- | --- | --- | --- |
| | Matches | Runs | Highest Score | Average | 100s | 50s |
| Mithali Raj | 183 | 6,028 | 114* | 51.52 | 5 | 49 |
| Anjum Chopra | 127 | 2,856 | 100 | 31.38 | 1 | 18 |
| Jaya Sharma | 77 | 2,091 | 138* | 30.75 | 2 | 14 |
| Harmanpreet Kaur | 75 | 1,743 | 107* | 32.88 | 2 | 8 |
| Anju Jain | 65 | 1,729 | 90 | 29.81 | 0 | 12 |
| Punam Raut | 50 | 1,463 | 109* | 32.51 | 2 | 9 |
| Hemlata Kala | 78 | 1,023 | 65 | 20.87 | 0 | 3 |