'We need to see the bigger picture preparing for the World Cup.'
Rediff.com's Norma Godinho reports.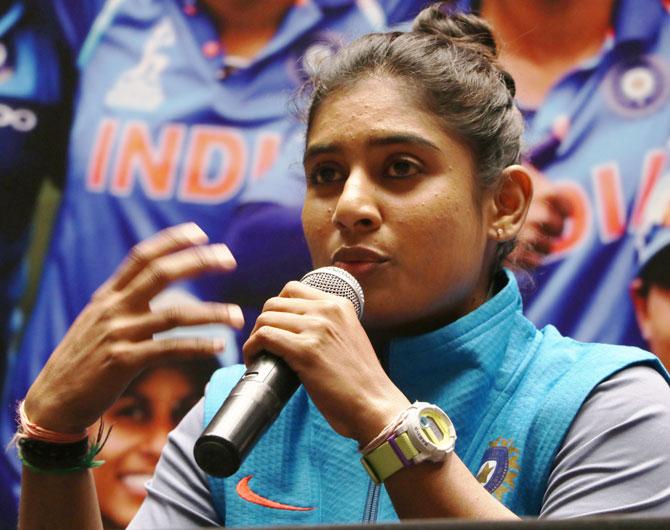 IMAGE: Mithali Raj, the captain of the Indian women's ODI team. Photograph: Hitesh Harisinghani/Rediff.com
As the doors of the media room at the BCCI office swing open, in walk Mithali Raj and Jhulan Goswami, two veterans who have served Indian women's cricket for well over a decade.
Jhulan and Mithali stride in with confidence and wide grins as the flashbulbs go off, freezing the moment in time.
The Indian women were whitewashed by the Australians in a three-match ODI series this month, a performance in stark contrast to the one they put up in South Africa last month.
Mithali, India's one-day captain, prefers looking ahead to the T20 tri-series that involves Australia and England and kicks off in Mumbai on Thursday, March 22, aware of the challenges that beckons the team.
"The series will be tough because Australia and England are good in this format. Both teams have players who have come here after a successful outing in the women's Big Bash League in Australia. So they have a lot of experience in this format," says Mithali, revealing that India's focus is now on the ICC women's T20 World Cup in November.
"Our agenda right now is to prepare well for the T20 World Cup. Hence, keeping that in mind, this series is important for us. This tri-series allows us to experiment with and give lots of players opportunities to play in the Indian team," the skipper adds.
"It also allows us to figure what combinations work for us so we can perform well in this format".
"It is important that before the World Cup we have our combinations right and for that we have to have a few changes in the squad, irrespective of whether the results goes our way or not," Mithali points out.
"We need to see the bigger picture preparing for the World Cup," adds Mithali.
The BCCI earlier this month rewarded India's women cricketers with professional contracts.
Mithali and three of her team-mates became the world's richest women cricketers overnight.
According to Reuters, the more than threefold increase to Rs 5 million rupees a year means Mithali, Jhulan, T20 Captain Harmanpreet Kaur and Smriti Mandhana leapt abbove their counterparts in Australia and England in the pay stakes.
Holly Colvin, the International Cricket Council's women cricket officer, told Reuters that the contracts women's cricketers were awarded in Australia, England and India were a step in the right direction.
'We think it is a great step that more women's players are being rewarded with professional contracts and are able to focus solely on the game that they love,' Colvin said.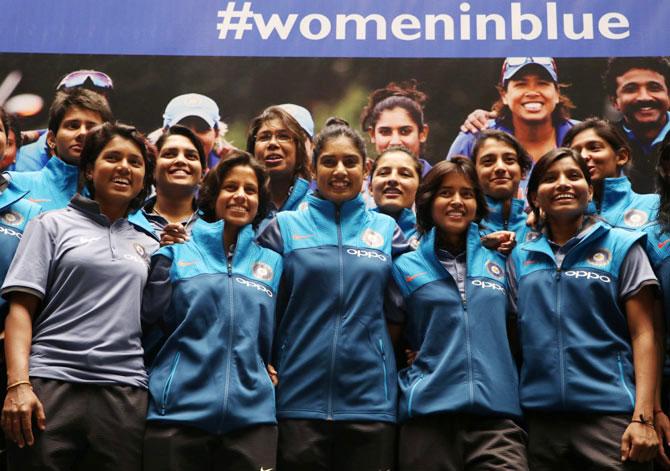 IMAGE: Mithali with her team. Photograph: Hitesh Harisinghani/Rediff.com
Mithali mirrors those thoughts.
"Giving contract to women's cricketers is a great decision because when you have a contract in place, the players tend to invest more. You know you are getting paid to give your best performance," the captain explains.
"Each time you walk into the ground you are expected to be professional and perform to the best of your ability."
"There are a lot of players who come from the interiors of India where they are financially not very sound. With the contract system, every cricketer can now aim to play for India and know that they are financially secure to take it as a profession," says Mithali, herself a retired Indian Air Force officer's daughter.
India's chances have been boosted by Jhulan's return. The veteran pace bowler was sidelined for a month by an injury she sustained in South Africa.
"It was a tough time being sidelined," says Jhulan, "but I would like to thank the NCA (National Cricket Academy) and its support staff for ensuring that I was fit for this tri-series."