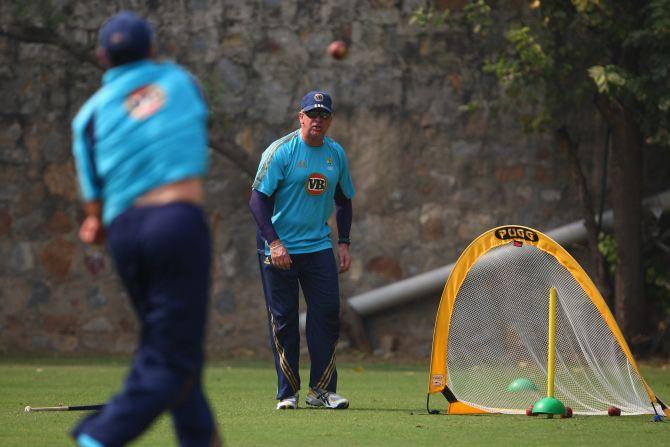 Mike Young. Photograph: Michael Steele/Getty Images
Having enjoyed two successful stints with Australian cricket, American fielding guru Mike Young, who has also had a stint with India in December last year, is set to join the Kangaroos once again ahead of the ODI tri-series against India and England.
With fielding consultant Greg Blewett in Adelaide for the birth of his child, Young will link with the side once the 15-member squad for the tri-series and the World Cup is announced.
Blewett will then return during the tri-series and work with Young for the rest of the summer.
Many believe that Young has been employed to help the hosts improve their fielding show after being guilty of dropping a string of catches in the four-match Test series against India but Cricket Australia spokesperson was reported saying on its website that the decision was taken months ago and has nothing to do with the team's recent spills.
Channel Nine reported that the Australians had missed 17 chances or half chances over the course of the series.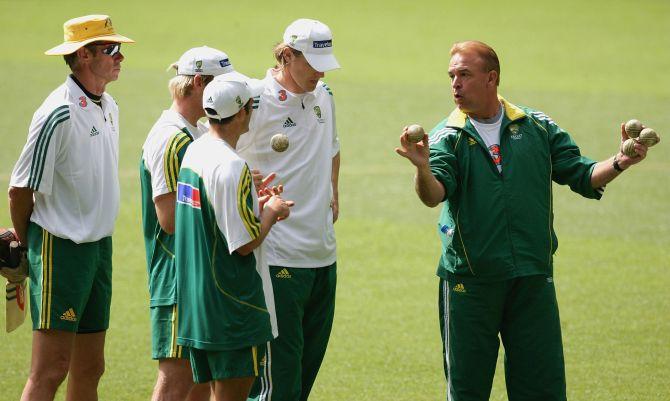 Mike Young. Photograph: Hamish Blair/Getty Images
Speaking on the dropped chances in Sydney, Lehmann said that it was a confidence issue and had nothing to do with their training methods.
"Lehmann again backed his side's work ethic when quizzed about their fielding during the Sydney Test this week.
"It's not a skill level or concentration or any of those issues," he said on Thursday.
Young, a former minor league baseball player and coach, first became involved in cricket in 1999 when he was invited to join a Queensland training session by then Bulls coach John Buchanan.
When Buchanan was elevated to the Australia coaching job, Young was brought on board and was credited with a sharp increase in Australia's fielding standards up until 2005, when his contract wasn't renewed.
When Australia's fielding slipped during their 2005 Ashes loss, Young was again called on by Buchanan. He was involved in Australia's World Cup wins in 2003 and 2007 and their Ashes whitewashes in 2006-07 and 2013-14, and has also worked as a consultant with teams in India, England, South Africa and New Zealand.
This summer will be Young's third separate stint with the side in less than two years.