Image: Flowers and a cricket bat are left outside Phillip Hughes property. Photograph: Joosep Martinson/Getty Images
Cricketers and fans around the world are paying tribute to Phillip Hughes via a social media campaign by leaving their cricket bats out and sharing a picture with the message #putoutyourbats on Twitter.
Paul Taylor, a Sydney resident, would have never imagined that his simple gesture #putoutyourbats on Twitter could create such an overwhelming emotional resonance, commemorating the tragic demise of late Australian cricketer Phillip Hughes.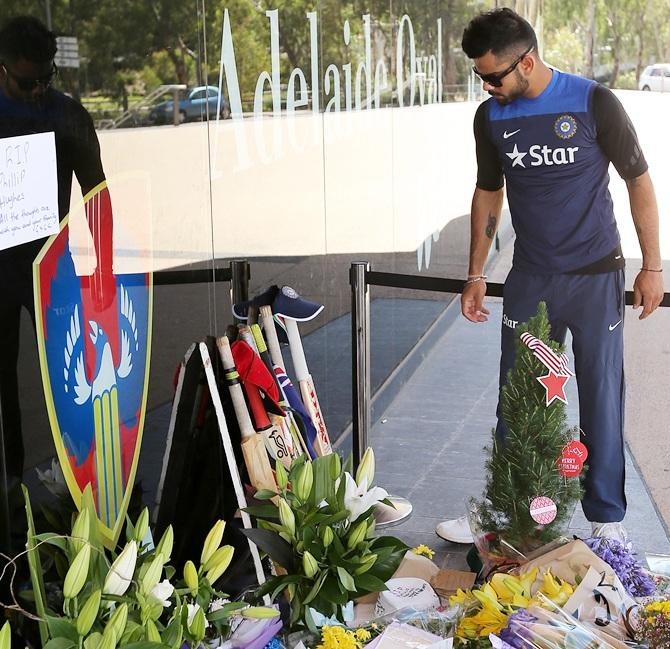 Image: Virat Kohli of India leaves a bat and cap at a memorial for Phil Hughes outside the Adelaide Oval during an India training session. Photograph: Morne de Klerk/Getty Images
Pictures of bats posted with hashtag #putoutyourbats have flooded Twitter, after the 25-year-old cricketer succumbed to his injuries at St Vincent's hospital, where he battled for life for two days after being hit on the head by a bouncer from Sean Abbot in a domestic match.
Taylor, who grieved at the loss of Hughes, thought of conveying cricketers' emotion by using this simple gesture. He said that at no point he expected this would create such a widespread response among the online community.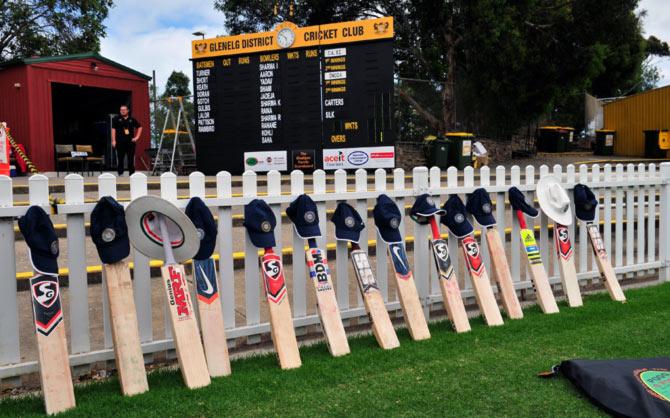 Image: India's players pay tribute to Phil Hughes at Gliderol Stadium in Adelaide. Photograph: David Mariuz/Getty Images
According to him, he walked through his lounge to pick his bat and cricket cap, and just simply placed them at the front door, adding that he hopes this outpouring of support for the Hughes family had given them some sort of comfort in knowing that the wider cricket community is there with them during this grieving period, News.com.au reported.
Taylor further said that he didn't want to take any attention away from the family and friends of Phillip Hughes and hence decided not to speak with media until after Hughes' funeral.
He wrote on his Twitter account that he was 'amazed and humbled' by the response.