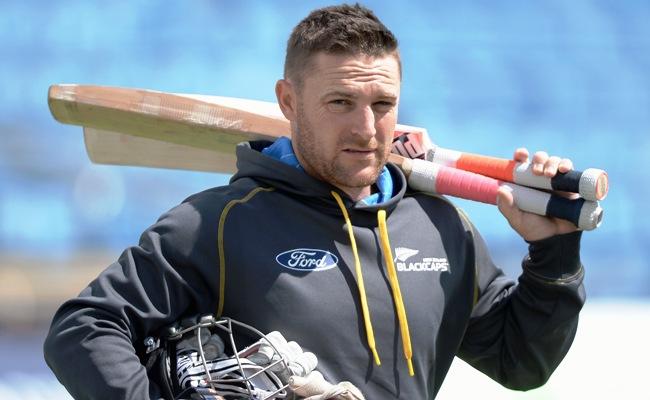 Former New Zealand captain Brendon McCullum has used the Marylebone Cricket Club Spirit of Cricket lecture to criticise the sport's governing body for its handling of match-fixing evidence.
Speaking at an annual function at Lord's on Monday, McCullum said he felt let down that his report of alleged match-fixing approaches from former New Zealand teammate Chris Cairns were leaked.
Cairns was acquitted of match fixing-linked perjury charges following a two-month trial in London at last year, at which McCullum gave evidence.
The 34-year-old said the leaking of his initial testimony had a huge personal effect on him and his family because of the intense media scrutiny and fears his experience will put off others who may want to provide evidence to authorities.
"No witness should ever have to go through such a scenario again," he said.
"The leak has never been explained to me. To my knowledge no one has been held accountable and, in those circumstances, it is difficult to have confidence in the ICC.
"It goes without saying that, if players do not have confidence in the organisation, they will be reluctant to report approaches and the game is worse off."
McCullum said his decision to testify against former friend Cairns was difficult, but one he felt morally obliged to do.
He also believes the 11 life bans handed to confessed match-fixer Lou Vincent, who gave evidence against Cairns, was short-sighted.
Former Black Cap Vincent was suffering from mental health problems when he was involved in corrupt activities from 2008 to 2012.
"I have no doubt that the severe punishment of Lou has robbed the game of a golden opportunity to have him provide education to players, something I feel could have made a difference in the future. Further, it ignored his extreme vulnerability in a callous way."
McCullum's speech also reflected on the New Zealand team he retired from in February, reflecting on the rise of the New Zealand team under his watch.
He attributed it partly to the death of Australian batsman Phil Hughes in 2014.
"There was an instinctiveness that took over, no fear of failure, just playing and being in the moment," he said.
"I reminded the team that there would be no harsh judgment on any player's performance and no consequences for failure."
McCullum retired from international cricket this year but is still playing in various Twenty20 leagues around the world, including England's domestic T20 competition.