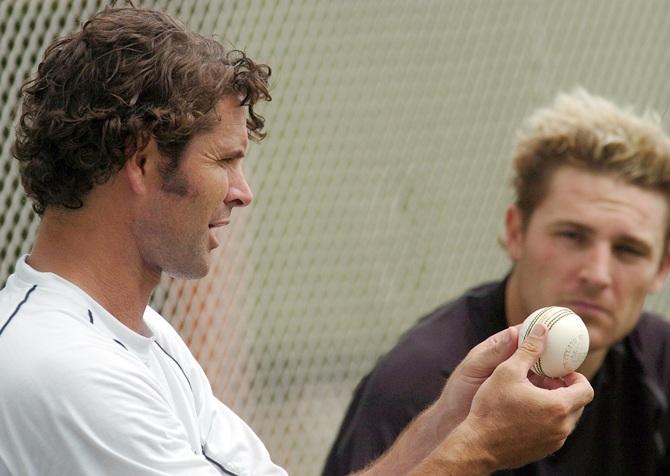 IMAGE: In older, happier times: Brendon McCullum, right, watches Chris Cairns as he examines a cricket ball. Photograph: Phil Walter/Getty Images.
Former New Zealand skipper Brendon McCullum has insisted that he can never forgive his ex-team-mate Chris Cairns after the latter effectively lobbied to destroy his credibility over match-fixing allegations.

Cairns had been linked to match-fixing following statements by Stephen Fleming and McCullum. However, he was cleared of any wrongdoing in a court of law and by the ICC's anti-corruption unit.

McCullum, who had told the jury that Cairns had approached him three times in total over fixing a match, insisted that he felt as if his character had come under-fire during the prejury trial.

"I felt that I was the one on trial and I found that really hard to deal with. I'm a very forgiving person. I don't keep a lot of grudges... the last thing I wanted to see was one of my former teammates rotting away in jail and I'm actually pleased he's not," McCullum was quoted as saying by Sport24.

"But I can't forgive the other behaviour, the way... (he) effectively lobbied to put me in the gun publicly and heap a lot of pressure on. Hence I want nothing more to do with him," he added.

The 35-year-old further expressed that he never wanted to see Cairns again.

"I'm sure he'll get on with his life, and I'll get on with mine, and let's hope they never cross paths. I'm done with it now and I want to move on with the rest of my life and I sure as hell hope that my career is not defined by my involvement with Chris Cairns," he insisted.

Reflecting on the long delay between Cairn's alleged approach in 2008 and when he reported the incident to authorities in 2011, McCullum said, "I did not want to rat on a mate."

Cairns, who had represented New Zealand in 62 Tests and 215 ODIs, saw his reputation take a beating when former Indian Premier League chairman Lalit Modi accused him of match-fixing while he was playing for the Chandigarh Lions in the now defunct Indian Cricket League in 2008.

While Cairns is charged with perjury and perverting the course of justice, his lead adviser Andrew Fitch-Holland is accused of perverting the course of justice. However, both have denied the charges.