Mumbai Cricket Association has formally requested the BCCI to allot the second and final Test between India and the West Indies to the Wankhede Stadium so that Sachin Tendulkar could play his milestone 200th Test before the home crowd.
"We have put in our request. If it is going to happen, then we should be the first claimants. We would like to have it over here since he is from Mumbai," Savant told reporters.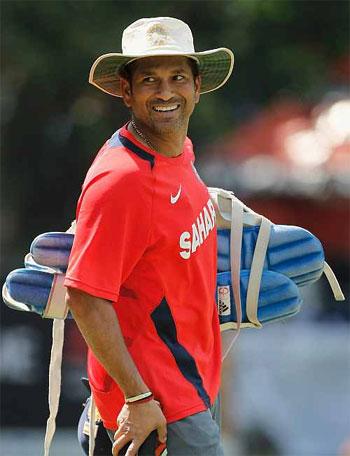 Tendulkar has played 198 Tests since making his debut in 1989 against Pakistan in Karachi.
Turning his eye towards BCCI's AGM at Chennai on September 29, Savant, who is also the Board's treasurer, was certain that incumbent president N Srinivasan would chair the meeting.
"Yes, he will lead (the meeting) as the president," Savant said. Srinivasan had stepped aside after the Bombay High Court had termed the BCCI's two-member probe commission as "illegal and unconstitutional" and the BCCI's appeal against this verdict in the Supreme Court is pending.
"N Srinivasan had recused himself, so that there were no accusations that he had influenced (the report).
"The point is that there was an amendment in the IPL governing council rules that was perhaps not brought to the Bombay High Court's notice. If that is considered, then may be the decision can be different," said Savant.
"They have only called the constitution (of the probe commission) as illegal, but the High Court has restrained itself from making any comment on the findings. They have not said it is biased or there is collusion," he added.
Savant said the two retired Madras High Court judges T Jayaram Chouta and R Balasubramanian, who were members of the probe commission, had based their findings on the bail application of spot-fixing accused cricketers Ankeet Chavan and Sreesanth who have now been banned for life by the BCCI.
Sreesanth and Chavan, along with their Rajasthan Royals teammate Ajit Chandila, were arrested by the Delhi police for their alleged involvement in the spot-fixing scandal during
the last Indian Premier League season.