A Group B Ranji Trophy match between Odisha and Jharkhand, which was scheduled to be played in Dindigul, in Tamil Nadu, from December 7, will be rescheduled.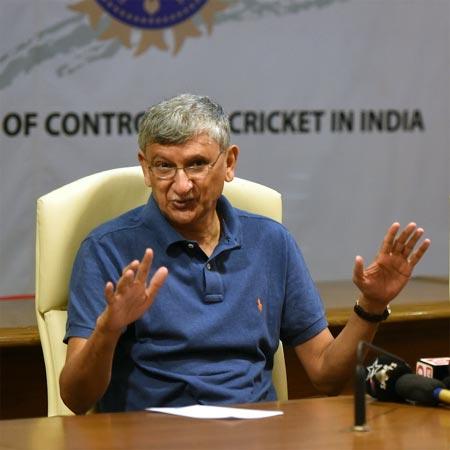 "It is going to be shifted to alternate venue," BCCI secretary Ajay Shirke Shirke said on Tuesday.
Fresh venue and dates of this match will be announced soon.
"(Announcement of the new venue) Of course won't be immediately. There will be a gap of couple of days because the alternate venue has to prepare the wickets, they have to take time, we are not sure whether we will be able to move the boys out in a given time because they, the local people, have advised us to keep them indoors today," said Shirke.
Under tremendous pressure from the Mumbai Cricket Association (MCA), the BCCI revoked its original decision to reschedule Bengal's smog-hit November 7-10 Ranji Trophy match against Gujarat, which was cancelled, awarding a point to each team.
It effectively means Bengal, now with 18 points from seven matches, are all but out of the contention as they play their last round group league encounter against Madhya Pradesh from Wednesday at the Air Force ground in Palam and need to win with a bonus (7 points) to harbour any chance to making it to the knock-outs.
On the other hand, Gujarat, with 25 points from seven games, are in a much better position to qualify for knock-outs.
Ironically, when the decision was being taken, Cricket Association of Bengal (CAB) president Sourav Ganguly was in Mumbai attending a MCC Cricket Committee meeting.
It will be interesting to see what will be the stand taken regarding this issue by Ganguly and CAB joint secretary Avishek Dalmiya, who faced the first challenge of his nascent administrative career.
It was learnt that Mumbai are on top of Group A with 29 points from seven games and Tamil Nadu, who are on 23 points also from seven games, had protested and also had written to BCCI to change the decision of rescheduling the Bengal versus Gujarat match from December 15-18 in Visakhapatnam. Their contention was that the teams would know what is required after all others had completed their matches.
Dalmiya had also written to BCCI requesting them not to revoke the decision.
While rescheduling of the Group C match between Hyderabad and Tripura at Karnail Singh Stadium has also been revoked but Hyderabad with 30 points and a match to go are all but sure to qualify and Tripura had no chance. So the team that suffers most is Bengal.
It was BCCI secretary Shirke, who had issued a press release on November 8 evening citing the prevailing weather conditions as the reasons for cancellation of the two matches. Accordingly BCCI had also rescheduled the two matches.
When asked about this reversal of original decision, Shirke explained: "There is little bit of an ambiguity. Let me explain to you the whole process. We went through the entire process, the terms of reference of technical committee (Ganguly is chairman), specifically do not come into play when the tournament is on.
"When the tournament is on, the senior Tournament Committee takes over and is responsible for adjudicating on any matters pertaining to the conduct of senior tournament. Therefore this matter should have been referred to senior tournament committee, whatever reasons, because of the umpires calling off the match on second day or whether the fog was a natural calamity or not or smog," Shirke said.
"There was some confusion on that we have now decided to make the rules more explicit so that such situations may not occur in future, everything is a learning process. This is the first time there was a smog-pollution affected match and therefore, I think what the senior tournament committee has decided is a fair call in the interest of cricket and within the rules."
Asked when the release was issued about the rescheduling of the game, whether he was misinformed, Shirke retorted, "There is no need to do any public prosecution of BCCI employees".
Will speak to Thakur and Shirke on revocation: Ganguly
Cricket Association of Bengal president Sourav Ganguly said that he will be taking up the issue of revocation of Bengal's rescheduled Ranji Trophy encounter against Gujarat with the BCCI brass including president Anurag Thakur and secretary Ajay Shirke.
It has been learnt from CAB sources that they will sent a formal letter to the BCCI regarding the current move.
"I am aware of the situation. I will be taking up this issue at the appropriate forum with president, Anurag Thakur and secretary Ajay Shirke," Ganguly told PTI on Tuesday.
Asked if the morale of the team will be down due to this decision as they play an important match against Madhya Pradesh, starting Wednesday, the former India captain said that he has spoken to the boys and told them to keep their chin up.
"I have told the boys that they should just focus on the match and not think about anything else. Their goal should be to win the match," the former skipper added.
Bengal's smog-hit Ranji encounter against Gujarat hit (November 7-10) was rescheduled when two days went without a ball being bowled. The match was rescheduled to December 15-18 in Visakhapatnam but Mumbai Cricket Association and Tamil Nadu Cricket Association (TNCA) took up the matter with BCCI citing it as an "unfair advantage" for the two teams.
Shirke's explanation is that there was some ambiguity and the prerogative of rescheduling lay with the tournament committee and not the technical committee, which Ganguly heads.
However in CAB, the contention in the matter is that this decision to revoke falls flat due to amended BCCI constitution Page 3 Clause F (ii) which states: "The Committee shall recommend change if any in the format or schedule of the Senior Tournaments to the Technical Committee".
The CAB plans to point out these particular amendment done in the playing conditions and rules.
Image: BCCI secretary Ajay Shirke
Photograph: BCCI