The International Cricket Council (ICC) may now initiate fresh investigations against Pakistan players Kamran Akmal and Wahab Riaz following the conviction of their team-mates Salman Butt and Mohammad Asif in the spot-fixing scandal, a newspaper report said in London.
- 'Spot-fixing will never happen again in Pakistan cricket'
According to a report in the Daily Telegraph, the guilty verdicts handed out to Butt and Asif by the Southwark Crown Court in London on Tuesday, could form the basis of a fresh anti-corruption probe against wicketkeeper Kamran and left-arm pacer Riaz, whose names appeared during the entire controversy.
"The International Cricket Council will examine closely evidence gathered by police officers in London who investigated the fixing case involving three Pakistan cricketers," the report claimed.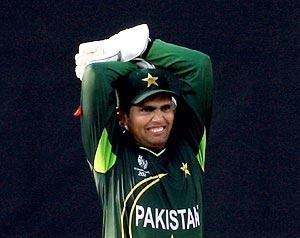 "Both [Akmal and Riaz] were mentioned on several occasions during the case, linked to scams organised by Mazher Majeed. Akmal's name also crops up in correspondence between the agent and his fixing contacts around the world in evidence collated by police from earlier stages of the tour," it read.
The report also read that during the hearing, Aftab Jafferjee, QC for the prosecution, said the roles of "Wahab Riaz and Kamran Akmal raise deep, deep suspicions."
Interestingly, Akmal and Riaz were among the seven Pakistan cricketers, whose names appeared on recordings during the conversation between alleged bookie Majeed and the undercover reporter of the News of the World, which broke the scandal.
Butt, Mohammad Amir, Asif, Umar Akmal and Imran Farhat were the other five Pakistan players, whom Majeed named during the conversation.
Butt and Asif were found guilty of conspiracy to cheat and conspiracy to accept corrupt payments by a criminal court on Tuesday, for fixing part of the Lord's Test last year.
The third accused, 19-year-old pacer Aamir, who was also involved in the conspiracy, did not face trial as he had pleaded guilty.
Photograph: Getty Images